Ballotpedia has been analyzing the 206 Pivot Counties that voted for Barack Obama (D) in 2008 and 2012 and Donald Trump (R) in 2016 by creating two new categories: Retained Pivot Counties, which voted for Trump again in 2020, and Boomerang Pivot Counties, which voted for Joe Biden (D). The analysis continues to shift as states certify their election results.
Since publishing our initial Pivot County analysis, four Retained Pivot Counties have flipped to become Boomerang Pivot Counties. Additionally, ten new counties have released vote totals, resulting in nine new Retained Pivot Counties and one new Boomerang Pivot County.
There are currently 179 Retained Pivot Counties and 25 Boomerang Pivot Counties. These numbers are still subject to change.
The four counties that flipped from Retained to Boomerang are all located in New York: Broome, Essex, Rensselaer, and Saratoga.
Based on current results, Biden's margins of victory in Broome, Essex, and Rensselaer are lower than Obama's in 2012, the last time a Democrat won these counties. Biden exceeded Obama's 2012 margin in Saratoga County. The table below shows the unofficial results with vote totals in parentheses.

Biden also won Kennebec County, Maine, by a margin of 0.39 percentage points, less than Obama's 2012 margin of 12.85 percentage points,
Trump won nine new Retained Pivot Counties, two in Mississippi and seven in Maine. Compared to 2016 results, his margins of victory increased in four and decreased in five. Those counties are listed below, split into those where his margin increased and those where it decreased: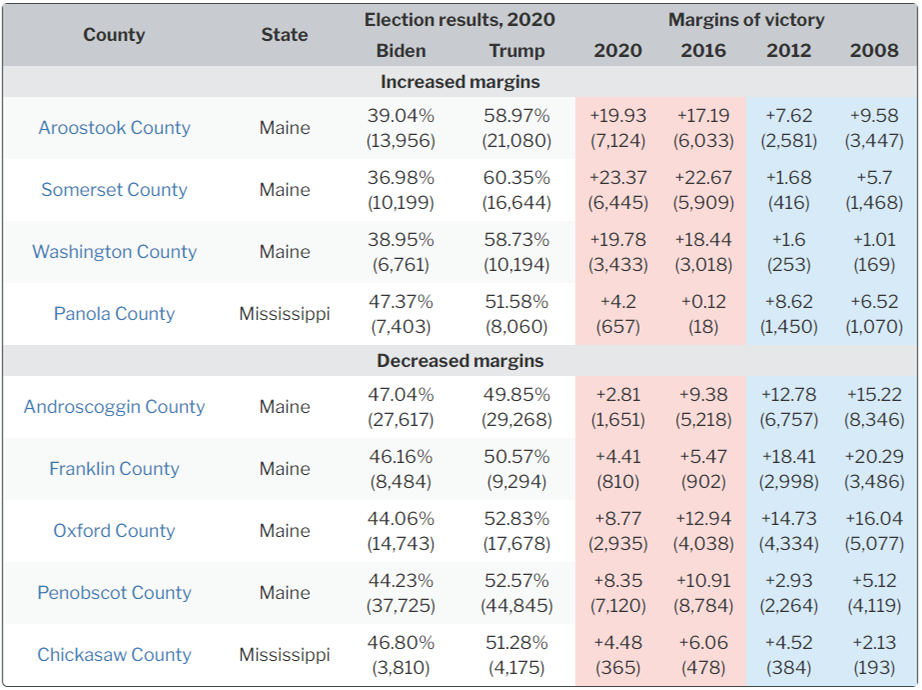 Two counties—Alexander and Henderson, Illinois—have not yet released results.
Ballotpedia will continue to provide updates as results become available. For more information updated weekly, click here.