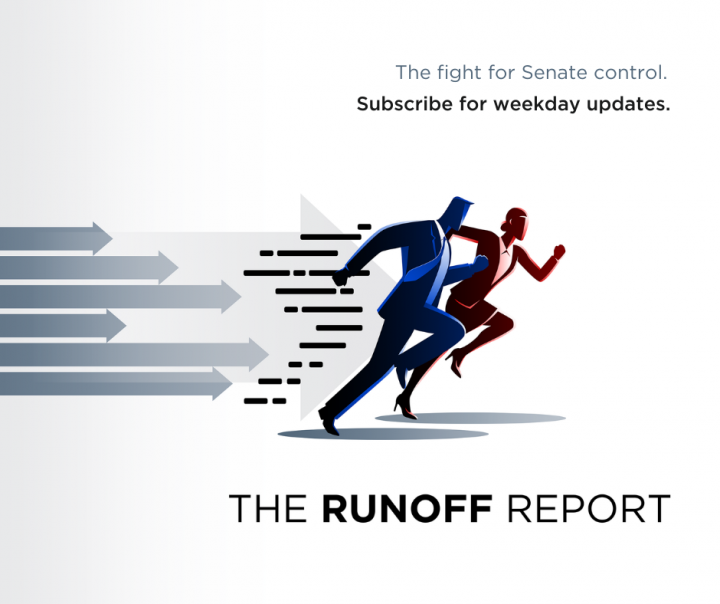 Republicans have secured 50 seats in the next U.S. Senate compared to Democrats' 48 (including two independents who caucus with them). Control of the next Senate comes down to Georgia's runoff elections. In The Runoff Report, we provide the latest on each race and the fight for Senate control.
Regular election updates
David Perdue campaigned in Dawson, Fannin, Union, Towns, and White counties Dec. 8 as part of his "Win Georgia, Save America" bus tour.
Jon Ossoff participated in an interview with WCTV's Michael Hudak. Ossoff discussed his relationship with former Rep. John Lewis (D-Ga.), Perdue's criticisms, and Perdue's decision not to participate in debates during the runoff.
This election is for a full six-year term ending January 2027. Perdue was first elected in 2014. Ossoff ran against Karen Handel (R) in the 6th Congressional District special election in 2017.
Click here for more coverage of the regular election.
Special election updates
Kelly Loeffler participated in an interview with Fox News' Martha MacCallum. Loeffler discussed election security and said it's important for Republican voters to turn out for the runoffs. She also criticized Warnock's past comments about police and the military.
Raphael Warnock released two new TV ads. In one, he discussed moral leadership, saying, 'I've always felt that my impact does not stop at the church door. That's actually where it starts." In the other, Warnock says his run for Senate is an extension of the work he's done on healthcare and education and for working people.
The special election will fill the remainder of the term Johnny Isakson (R) won in 2016. He resigned in Dec. 2019, and Gov. Brian Kemp (R) appointed Loeffler, co-owner of the WNBA team Atlanta Dream. Warnock is senior pastor at Ebenezer Baptist Church. The winner will complete the term ending in January 2023.
Click here for more coverage of the special election.
Overall campaign updates
Perdue and Loeffler issued a joint statement supporting Texas Attorney General Ken Paxton's (R) lawsuit against Georgia, Michigan, Pennsylvania, and Wisconsin. In the suit, Paxton alleges that the states made last-minute election changes that skewed results. Paxton filed the suit in the U.S. Supreme Court.
Perdue and Loeffler's joint statement read:
We fully support President Trump's legal recourses and Attorney General Paxton's lawsuit. The President has every right to use every legal recourse available to guarantee these simple principles: every lawful vote cast should be counted, any illegal vote submitted cannot be counted, and there must be full transparency and uniformity in the counting process. This isn't hard and it isn't partisan. It's American. No one should ever have to question the integrity of our elections system and the credibility of its outcomes.
Warnock and Ossoff released a joint statement Dec. 7 about Cobb County's decrease in early voting locations from 11 before the Nov. 3 election to five before the Jan. 5 runoffs. Cobb Elections Director Janine Eveler said they could only staff five early voting locations ahead of the runoffs. Ossoff and Warnock wrote:
Georgia voters have shown all year that when the polls open, they will show up and break records. We expect the same for the runoffs, which is why election officials' decision to cut the number of early vote locations in Cobb County in half is unacceptable. This plan will result in longer lines, longer wait times and more barriers to the basic right of casting a ballot. It's especially disturbing that the voters who stand to be impacted the most are people of color. Cobb County must change course and restore the 11 early voting locations so that Georgians can participate in this critically important election.
Today: Some partisan history
Democrats won most state legislative elections and top statewide elections in Georgia throughout the 1900s:
Republicans won most state legislative elections and top statewide elections in Georgia throughout the 2000s:
Republicans have controlled the state Senate since 2003 and the state House since 2005.
Georgia has elected Republican governors since 2004. Since Republicans have held both chambers of the legislature and the governorship, they have held trifecta status in the state since 2005.
Republicans also have triplex status—controlling the offices of governor, attorney general, and secretary of state. Republicans have held this status since 2011.
The state has had only Republican U.S. senators since 2005.
Republicans won the five presidential elections between 2000 and 2016 in Georgia.
The past two years:
The competitive Senate races of 2020 are two of a few examples demonstrating that, at least at the statewide level, Georgia elections have become competitive between the two parties.
Joe Biden's win in 2020 marked the first time a Democratic presidential candidate won the state since 1992. He received 49.5% of the vote to Trump's 49.3%.
In the 2018 gubernatorial election, Brian Kemp (R) defeated Stacey Abrams (D) 50.2% to 48.8%.
In the 2018 secretary of state runoff election, Brad Raffensperger (R) defeated John Barrow (D) 52% to 48%.
In the 2018 attorney general election, Chris Carr (R) defeated Charlie Bailey (D) 51% to 49%.