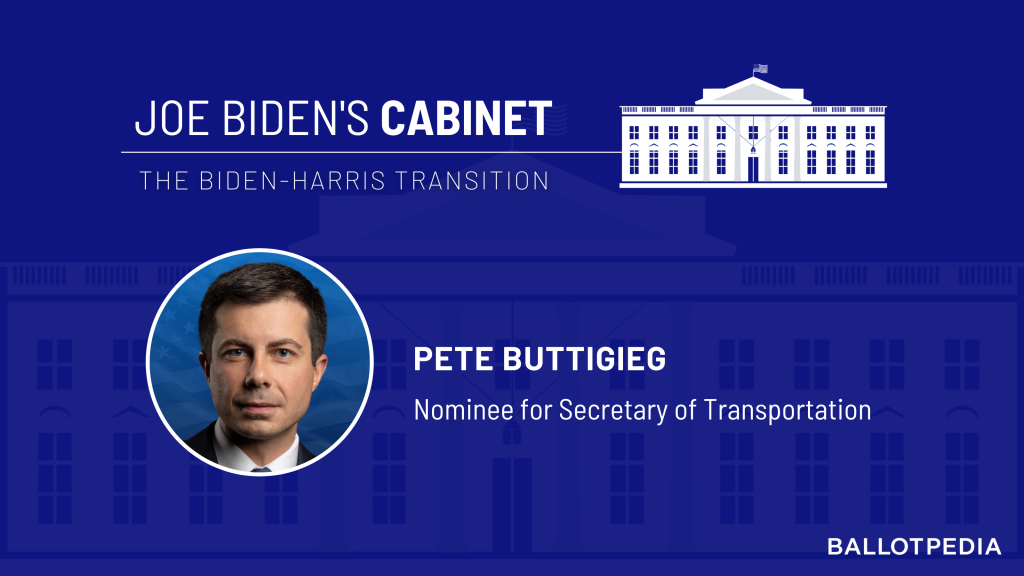 Prior to taking office on January 20, 2021, President-elect Joe Biden (D) and his team must prepare for the transition between presidential administrations, including selecting senior White House staff and appointees to top government positions.
In 2016, there were 1,714 government positions subject to presidential appointment: 1,242 positions required Senate confirmation and 472 did not. The new administration is also responsible for filling thousands of other positions across the federal government, including in operations and policy. Every weekday, Ballotpedia is tracking potential Cabinet nominees, appointments, and news related to the Biden presidential transition.
Appointments and Nominations
Pete Buttigieg, secretary of transportation
Pete Buttigieg is a former mayor of South Bend, Ind., and 2020 Democratic presidential candidate. He served in the United States Navy Reserve as an intelligence officer, where he earned the rank of lieutenant. He graduated from Harvard University and Oxford University as a Rhodes scholar.
Biden said in a statement, "Jobs, infrastructure, equity, and climate all come together at the DOT, the site of some of our most ambitious plans to build back better. I trust Mayor Pete to lead this work with focus, decency, and a bold vision — he will bring people together to get big things done."
If confirmed, Buttigieg will be the first openly gay Cabinet secretary in U.S. history.
News
Axios reported that Biden is considering selecting a Republican or conservative, like former Hewlett Packard CEO Meg Whitman, for secretary of commerce.
Biden has reportedly selected Gina McCarthy as his senior advisor on climate change and former Michigan Gov. Jennifer Granholm for secretary of energy, according to The New York Times.
The Inauguration Committee announced that Biden and Harris will be sworn in on the steps of the Capitol in January. They are calling on Americans to remain home rather than travel to Washington, D.C., and attend the event in person.
Transition in Context: Outcome of 2017 special elections caused by nominations to Trump's Cabinet
Five special elections were held in 2017 to fill vacancies created by Republican members of Congress who joined the Trump administration. One of the five resulted in a partisan flip to Democratic control.
Georgia's 6th Congressional District: Incumbent Tom Price (R) vacated the seat to serve as secretary of health and human services. Republican Karen Handel won the special election.
U.S. Senate in Alabama: Incumbent Jeff Sessions (R) vacated the seat to serve as U.S. attorney general. Democrat Doug Jones won the special election.
What We're Reading
Politico: Biden's Congress Whisperer