Ballotpedia has identified three state legislators who switched their party affiliation in December. One switched from Democrat to independent, one from Republican to Libertarian, and one from Democrat to Republican.
• On Dec. 7, Georgia Rep. Valencia Stovall announced that she was leaving the Democratic Party to join the Independent party. In a Facebook post, Stovall cited misleading, disruptive behavior from both parties during the Nov. 3, 2020 election as her reasons for switching.
• On Dec. 11, West Virginia Rep. Jason Barrett announced that he was leaving the Democratic Party to join the Republican Party. After changing his party affiliation at the West Virginia Secretary of State's office, Barrett said, "For me to be able to be the most effective legislator I can be and really move good policy forward in West Virginia, I think that joining the Republican Party in West Virginia is a way to do that."
• On Dec. 14, Maine Rep. John Andrews announced that he was leaving the Republican Party and joining the Libertarian Party of Maine. In a Facebook post on Dec. 12, Andrews cited House minority leader Kathleen Jackson Dillingham as his reason for leaving the party, saying, "My leaving the Republican party is a direct reflection of Kathleen Dillingham's lack of leadership and vindictive nature. The House GOP is in severe lack of leadership."
Ballotpedia also identified two state legislators—David Tomassoni and Thomas Bakk—who switched their partisan affiliation In November. Both are Minnesota state senators who left the Democratic-Farmer-Labor Party to form an independent caucus. Both senators cited extreme partisanship at the national and state level and a desire to work across the aisle.
Since 1994, Ballotpedia has identified 131 legislators—37 state senators and 94 state representatives—who switched parties. Seventy-two switched from Democrat to Republican, 19 switched from Republican to Democrat, and the remainder switched to or from independent or other parties.
The map below shows the number of party switches by state. The most party switches took place in Mississippi, which had 15 state legislators switch parties since 1994. Thirteen Democrats switched to the Republican party, and two Democrats became independents.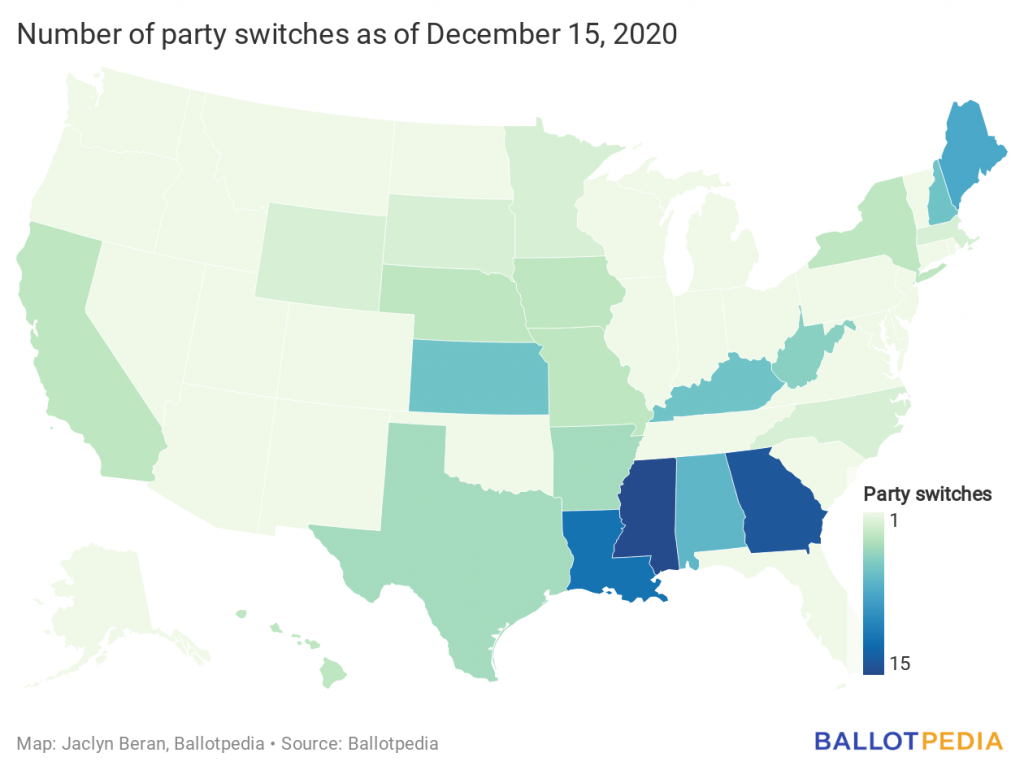 Additional reading: