In 2021, the minimum wage will increase in 25 states and Washington, D.C. The size of the increases range from $0.08 per hour (a 0.8% increase) in Minnesota to $2.25 per hour (a 31.03% increase) in Virginia, and the effective dates for the increases range from October 2020 to August 2021. Increases in 18 states are scheduled to take effect on January 1, 2021.
After these increases occur, minimum wages will range from the $7.25 per hour Federal rate in 20 states to $15.00 per hour in D.C., $14.00 per hour in California, $13.69 per hour in Washington, and $13.50 per hour in Massachusetts. In New York and Oregon, state laws provide for regional minimum wages.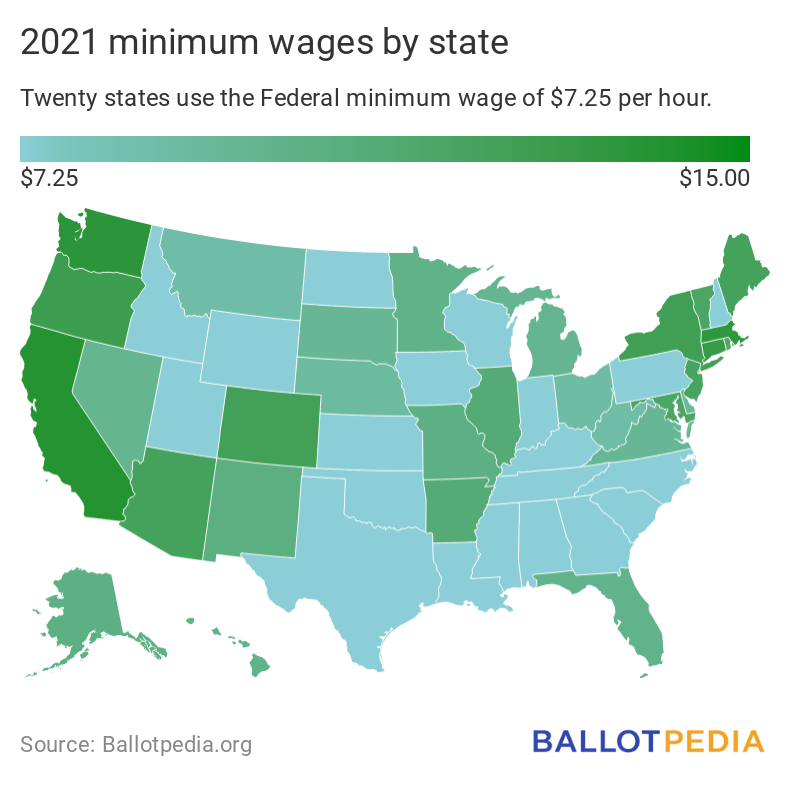 Below are some highlights from Ballotpedia's annual report on minimum wage increases:
In 2021, the largest minimum wage increases based on state laws are $2.25 in Virginia ($7.25 to $9.50), $1.50 in New Mexico ($9.00 to $10.50) and Oregon ($11.25 to $12.75), and $1.44 in Florida ($8.56 to $10.00).
Eleven states are increasing their minimum wage due to citizen initiatives approved by voters. The remaining 14 states and D.C. will have minimum wage increases due to bills approved by lawmakers.
Nine states index their minimum wage to changes in cost-of-living or inflation; 13 states and D.C. have legislative bills scheduling specific increases; and three states have citizen-initiated measures scheduling specific increases.
Out of the nine states with minimum wages indexed to changes in cost-of-living or inflation, eight have minimum wage laws passed through ballot initiatives, and one has a minimum wage law passed by the legislature.
Florida voters approved Amendment 2 on November 3, 2020. The citizen initiative was the first time voters considered a ballot measure designed to set a $15 per hour minimum wage.
Four states passed minimum wage increase laws in 2020: one ballot initiative in Florida and three legislative bills in Rhode Island, Virginia, and Vermont.
Of the 30 states that have a minimum wage higher than the $7.25 per hour Federal minimum wage, 12 passed their existing minimum wage laws through ballot initiatives.
Michigan's minimum wage law requires an adjustment to the state's minimum wage based on inflation unless the average unemployment rate for the year is 8.5% or higher. In 2020, the average unemployment rate is expected to be higher than 8.5% and the scheduled increase from $9.65 to $9.87 per hour was canceled.
For all the details and data, read the full report here: