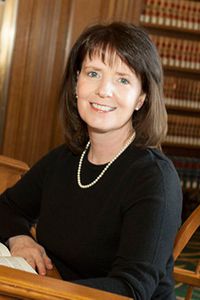 Director of Insurance Judith French (R) was appointed by Gov. Mike DeWine (R) on Jan. 19, to succeed interim director Tynesia Dorsey.
The director is a cabinet-level executive position in the Ohio state government and the chief officer of the Department of Insurance. The director is responsible for ensuring the laws and regulations related to insurance are enforced across the state.
Prior to her appointment, French served on the Ohio Supreme Court from 2013 to 2021. She was first appointed to the court by Gov. John Kasich (R). She ran for re-election to the seat and was defeated in the general election on Nov. 3 by Jennifer L. Brunner (D).
The office of insurance commissioner is nonpartisan in 38 states. The 12 states in which the position is partisan include the 11 states where the insurance commissioner is elected, as well as Ohio. Of the 12 states where the insurance commissioner has a partisan affiliation, the office is held by a Democrat in three and a Republican in nine.