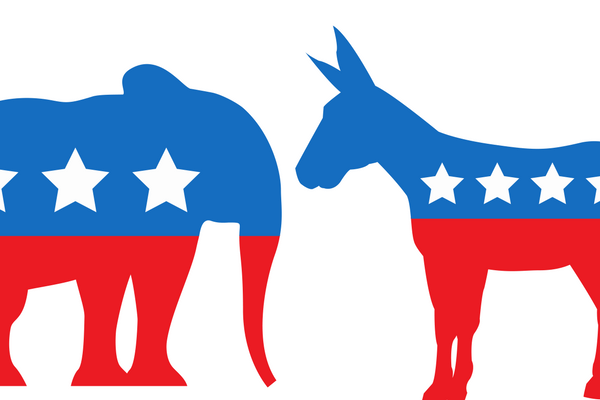 Two state legislators switched their political party affiliation the week of Sept. 13. New Hampshire state Rep. William Marsh switched from the Republican Party to the Democratic Party, and Minnesota state Rep. John Thompson became an independent after members of the Minnesota House Democratic-Farmer-Labor (DFL) caucus voted to expel him.
William Marsh—who represents Carroll County District 8 in the New Hampshire House—announced on Sept. 14 that he would leave the Republican Party and switch his affiliation to Democrat. Marsh told the Washington Post that he decided to switch because he disagreed with state Republicans' opposition to mask and vaccination mandates during the COVID-19 pandemic. "It's not in the interest of the public to allow Covid to spread in New Hampshire as it has in Florida," he said. "I'm a doctor first, so I stood up for my patients and said, 'I'm done with this.' And I left."
In Minnesota, members of the House DFL caucus voted on Sept. 14 to expel John Thompson, who represents District 67A. House Speaker Melissa Hortman and Majority Leader Ryan Winkle said there were credible allegations of abuse and misconduct against Thompson and that the caucus voted to expel him in the absence of a resignation. In response to his expulsion, Thompson said, "The DFL chose to release me from their caucus, but what they didn't do is dampen my resolve to continue serving my district and authentically making sure the voices of those that have been marginalized are clearly heard in the halls of power at the State Capitol."
Marsh was first elected to the New Hampshire House in 2016, running unopposed in the primary and general elections. He most recently defeated Eve Klotz (D), 63% to 37%, to win re-election in 2020. Marsh ran in both elections as a Republican. Thompson won election to the Minnesota House as a Democrat in 2020, defeating John Stromenger (R), 73% to 27%.
Ballotpedia has identified 145 state legislators—39 state senators and 106 state representatives—who have switched parties since 1994. Marsh is the seventh state legislator in New Hampshire we've identified who has switched parties and is the only one to switch to Democrat. Of the other six, four became Libertarians and two became Republicans. Thompson is the third Minnesota state legislator we've identified who has switched parties; all three switched to independent.
Eleven state legislators have switched parties so far in 2021. Seven state legislators switched parties in 2020, and 12 switched in 2019. Nationwide, 74 state lawmakers switched from Democrat to Republican, and 20 switched from Republican to Democrat since 1994. The others switched to or from being independent or other parties.
Additional reading: