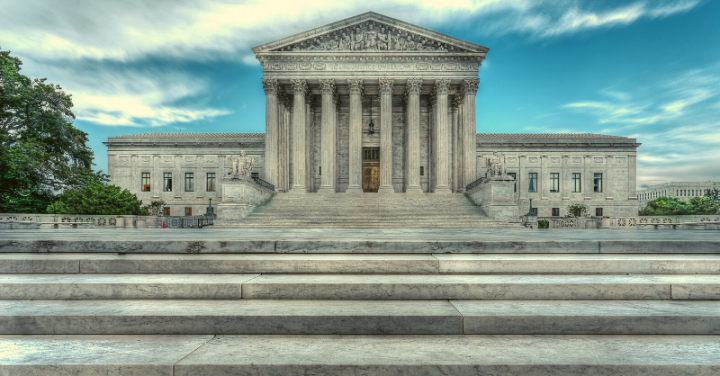 Welcome to the Nov. 30 edition of Robe & Gavel, Ballotpedia's newsletter about the Supreme Court of the United States (SCOTUS) and other judicial happenings around the U.S.
The year 2021 may be waning, but court activity is certainly waxing! SCOTUS has issued its first opinion in an argued case and published the first argument calendar of the new year. Let's gavel in, shall we?
Stay up to date on the latest news by following Ballotpedia on Twitter or subscribing to the Daily Brew.
We #SCOTUS and you can, too!
Noteworthy court announcements
On Nov. 17, SCOTUS released the January argument calendar, scheduling eight cases between Jan. 10 and Jan. 19:
Jan. 10
Jan. 11
Jan. 12
Jan. 18
Jan. 19
Grants
SCOTUS has accepted two new cases to its merits docket since our Nov. 8 issue:
To date, the court has agreed to hear 50 cases for the 2021-2022 term. SCOTUS dismissed four cases after they were accepted and removed one case from the argument calendar after both parties agreed to settle. Nine cases have yet to be scheduled for arguments.
Arguments
The Supreme Court will hear arguments in four cases this week. Click here to read more about SCOTUS' current term.
Click the links below to learn more about these cases:
Nov. 29
Nov. 30
Dec. 1
In its October 2020 term, SCOTUS heard arguments in 62 cases. Click here to read more about SCOTUS' previous term.
Opinions
SCOTUS issued one ruling since our Nov. 8 edition. It was the first opinion for the 2021 term in an argued case. The court decided two non-argued cases, Rivas-Villegas v. Cortesluna and City of Tahlequah, Oklahoma v. Bond, on Oct. 18.
Nov. 22
In Mississippi v. Tennessee, argued during the October sitting, the court unanimously dismissed the state of Mississippi's complaint, holding that the groundwater aquifer at issue was subject to the judicial remedy of equitable apportionment. This means each state has an equal right to use the waters at issue.
The case concerned groundwater access rights between Mississippi and Tennessee and came to the court under its original jurisdiction, as it was a dispute between states.
To date, the court has issued decisions in three cases. Two cases were decided without argument. Between 2007 and 2020, SCOTUS issued opinions in 1,062 cases, averaging between 70 and 90 cases per year.
Upcoming SCOTUS dates
Here are the court's upcoming dates of interest:
Nov. 29: SCOTUS will hear arguments in one case.
Nov. 30: SCOTUS will hear arguments in two cases.
Dec. 1: SCOTUS will hear arguments in one case.
Dec. 3: SCOTUS will conference. A conference is a private meeting of the justices.
SCOTUS trivia
Since 1901, how many presidents have had a Supreme Court nominee confirmed in their first year in office?
Choose an answer to find out!
Federal court action
Nominations
President Joe Biden (D) has announced two new Article III nominees since our Nov. 8 edition.
The president has announced 62 Article III judicial nominations since taking office on Jan. 20, 2021. For more information on the president's judicial nominees, click here.
Committee action
The Senate Judiciary Committee has held hearings on four new nominees since our Nov. 8 edition.
Confirmations
The Senate has not confirmed any nominees since our Nov. 8 issue.
Vacancies
The federal judiciary currently has 78 vacancies, 74 of which are for lifetime Article III judgeships. As of publication, there were 34 pending nominations.
According to the Administrative Office of U.S. Courts, there are 35 upcoming vacancies in the federal judiciary, where judges have announced their intention to leave active judicial status.
For more information on judicial vacancies during President Biden's term, click here.
Note: The above chart is updated at the start of each month.
Do you love judicial nomination, confirmation, and vacancy information? We figured you might. Our monthly Federal Vacancy Count monitors all the faces and places moving in, moving out, and moving on in the federal judiciary. Click here for our most current count.
Need a daily fix of judicial nomination, confirmation, and vacancy information? Click here for continuing updates on the status of all federal judicial nominees.
Or, keep an eye on our list for updates on federal judicial nominations.
Spotlight: Presidential nominations to federal courts
Hello, gentle readers! Grab your favorite stuffed bear and settle in for another stop in our journey through federal judicial history. Today, we visit the years between 1901 and 1909, highlighting President Theodore Roosevelt's (R) federal judicial nominees. Bully for us!

During his time in office, the U.S. Senate confirmed 78 of President Roosevelt's judicial nominees. The Senate rejected eight nominees. Three nominees were withdrawn.
Among the most notable appointees were three Supreme Court justices:
By the end of his first year in office, two of President Roosevelt's nominees had been confirmed. Both nominees were confirmed to U.S. District Courts.
Roosevelt averaged 9.5 judicial appointments per year. For comparison, President Jimmy Carter (D) had the highest average from 1901 to 2021 with 65.5 appointments per year.
Looking ahead
We'll be back on Dec. 6 with a new edition of Robe & Gavel. Until then, gaveling out!