Every state but Delaware requires voters to ratify proposed changes to a state's constitution.
There are four ways that proposed constitutional amendments can be proposed and put on the ballot:
Through legislatively referred constitutional amendments.
Through citizen-initiated constitutional amendments put on the ballot through signature petition drives. Eighteen states allow this method of amendment.
Through referral by constitutional conventions. In some states, automatic ballot referrals allow voters to decide at regular intervals whether or not to hold a convention.
In Florida, there is a commission-referred amendment process through the Constitution Revision Commission that meets every 20 years. It last met in 2018.
From 2006 through 2021 a total of 1,040 constitutional amendments were proposed and put before voters. This data only includes constitutional amendments put on the ballot for a statewide vote. It does not include certain state constitutional amendments that only apply to local jurisdictions and were voted on only by residents of particular local jurisdictions. It also does not include constitutional amendments in Delaware that weren't subject to voter ratification. Of this total, voters approved 749 (72%) proposed changes to state constitutions.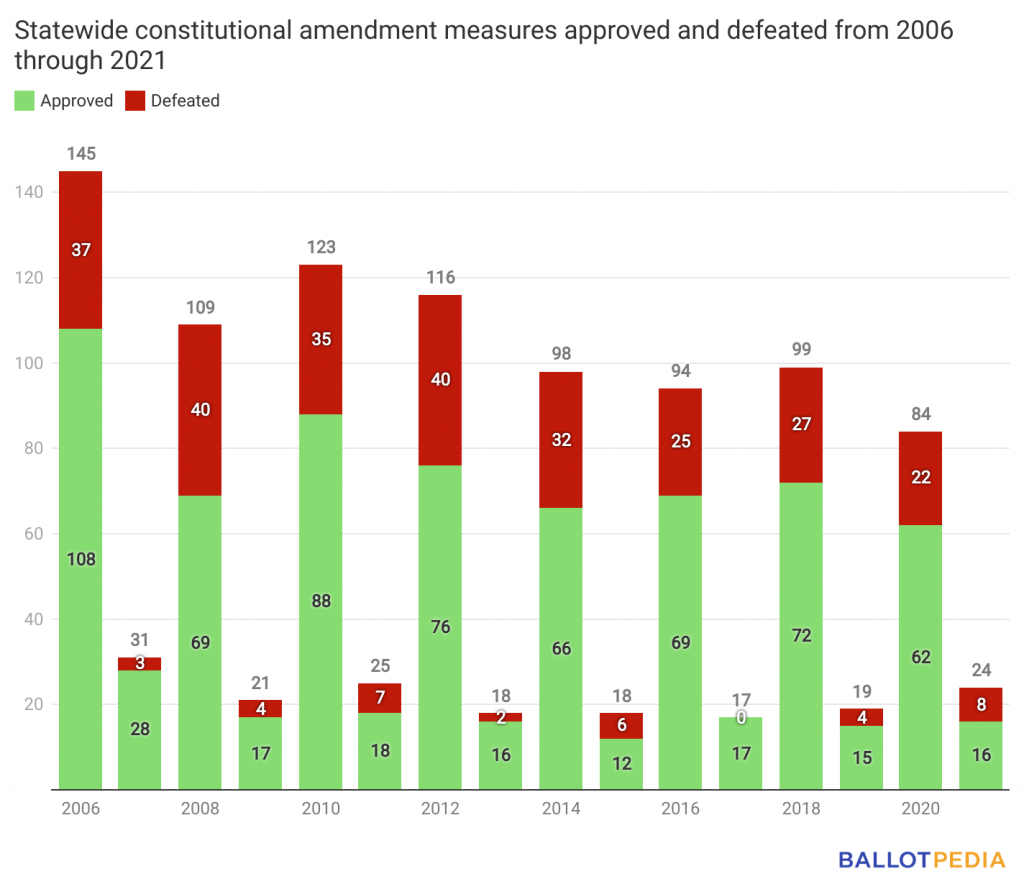 In 2021, voters in seven states decided 24 constitutional amendments. Of the 24 proposed amendments, state legislatures referred 23 to the ballot, and a signature petition drive was used to initiate one in Colorado. Of the 24 amendments, 16 (66.66%) were approved. The seven states with constitutional amendments in 2021 were:
Colorado – 1
Louisiana – 4
Maine – 1
New Jersey – 2
New York – 4
Pennsylvania – 3
Texas – 8
Below are some of the notable amendments approved in 2021:
Maine voters enacted a first-of-its-kind constitutional right to produce, harvest, and consume food.
New York voters enacted a constitutional right to clean air, clean water, and a healthful environment.
Pennsylvania voters approved two amendments providing limits to and giving the legislature additional authority over the governor's emergency declaration powers. Both were put on the ballot in response to conflict over responses to the COVID-19 pandemic.
Texas voters also approved two constitutional amendments in response to COVID-19: an amendment to prohibit the state or any political subdivision from enacting a law, rule, order, or proclamation that limits religious services or organizations; and an amendment creating a constitutional right for residents of nursing homes to designate an essential caregiver that may not be prohibited from visiting the resident.
Statistically, from 2006 through 2021, odd-year election cycles featured a higher approval rate for proposed constitutional amendments than even years. The average number of statewide constitutional amendments on the ballot in an odd-numbered year was 21, with an average approval rate of 81.10%. In even-numbered years, an average of 109 statewide constitutional amendments were on the ballot with an average approval rate of 70.27%.
Among states with a process for initiated constitutional amendments, Florida and Colorado featured the most proposed constitutional amendments on the ballot from 2006 through 2021, with a total of 56 and 53, respectively. Of that total, Florida voters approved 37, and Colorado voters approved 21. Among all 50 states, Louisiana featured the most proposed constitutional amendments (108) and the most approved amendments (77).
Additional reading: