Welcome to the Thursday, January 13, Brew.
By: David Luchs
Here's what's in store for you as you start your day:
Redistricting Roundup: New Mexico completes state legislative redistricting
Florida voters elect Sheila Cherfilus-McCormick (D) to the U.S. House
Filing deadlines upcoming in three states this month
Redistricting Roundup: New Mexico completes state legislative redistricting
It's been a quieter week in redistricting news since our last update on Jan. 5. Since then, one state—New Mexico—finished its legislative redistricting after enacting new Senate district maps.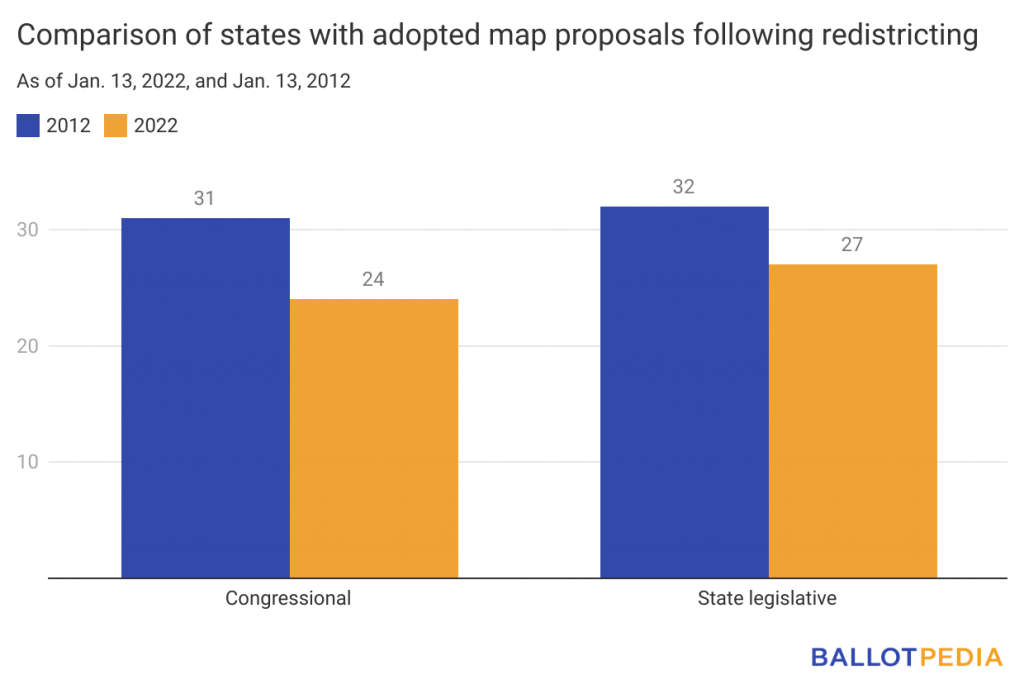 There has also been activity in Kentucky and North Carolina, so let's take a look:
New Mexico
New Mexico Gov. Michelle Lujan Grisham (D) signed the state's new Senate district map into law on Jan. 6. The map will take effect for New Mexico's 2022 elections.
The state Senate approved the Senate map 25-13 on Dec. 16, and the state House approved the plan 38-22 on Dec. 17.
After signing the maps into law, Grisham called it "a representative map respectful of New Mexico communities large and small alike, ensuring that New Mexicans are fairly represented in the state Senate."
New Mexico GOP spokesman Mike Curtis described the new maps as "a Democratic power grab and a clear attempt to put New Mexico's Congressional and legislative districts in the control of Democrats." Curtis added that the party was considering legal action.
New Mexico is the 28th state to complete legislative redistricting after the 2020 census. By this date after the 2010 census, 32 states had completed drawing new legislative district lines.
Kentucky
On Jan. 8, the Kentucky General Assembly voted in favor of new congressional, state legislative, and supreme court district maps, sending them to Gov. Andy Beshear (D).
As of Jan. 12, Beshear has not acted on the proposals. Kentucky is a divided government with Republicans controlling both chambers of the legislature and Democrats holding the governorship. Beshear could veto any map proposals from the legislature but Republicans can override his veto. Kentucky is one of six states that require a simple majority vote to override a veto.
Candidates for office in Kentucky have until Jan. 25 to file to run. Lawmakers moved the original deadline, Jan. 7, in order to enact the new district lines.
North Carolina
On Jan. 11, a three-judge panel on the Wake County Superior Court upheld congressional and state legislative maps passed by the Republican-controlled North Carolina General Assembly. Plaintiffs filed a lawsuit against those maps alleging partisan and racial gerrymandering.
In the superior court ruling, the judges said that the maps were "a result of intentional, pro-Republican partisan redistricting," but added that developing maps for partisan gain was not unconstitutional. The judges also ruled that plaintiffs failed to prove their claims of racial gerrymandering.
Under the current congressional map, developed under a court order in 2019, Republicans hold an 8-5 majority. According to a Politico analysis, the proposed congressional maps approved by the General Assembly would create eight strong Republican districts, three strong Democratic districts, and three competitive districts.
The same day as the superior court's ruling, plaintiffs filed a notice of appeal to the state supreme court, where Democrats hold a 4-3 majority.
As of Jan. 12, North Carolina had not set a filing deadline for the 2022 elections.
Florida voters elect Sheila Cherfilus-McCormick (D) to the U.S. House
Let's take a quick look at Tuesday's election results. Although there were no regularly-scheduled elections, there were four state legislative special election primaries, three state legislative special elections, one special election for a U.S. House seat, and two recall elections on the ballot across six states.
In the special election for Florida's 20th Congressional District:
Sheila Cherfilus-McCormick (D) was elected to succeed Alcee Hastings (D), who died last April.
Cherfilus-McCormick received 79% of the vote to Jason Mariner's (R) 20%.
Cherfilus-McCormick had been the top finisher in the Democratic primary, winning by a five-vote margin out of 49,000 votes cast.
Also Tuesday, special general elections took place in three state legislative districts in Maine, Massachusetts, and Virginia. Democratic candidates were elected in all three districts, filling vacancies opened by Democratic state legislators resigning.
Meanwhile, voters in two Nebraska school districts rejected proposals to recall school board members. Voters in Leyton, Nebraska, rejected the recall of board member Suzy Ernest 56% to 44% and Roland Rushman 60% to 40%. Voters in the Waverly School District in Lancaster County, Neb., rejected a recall of board president Andy Grosshans 83% to 18%.
Filing deadlines upcoming in three states this month
Three states—Kentucky, Alabama, and West Virginia—have filing deadlines for candidates running for statewide or federal office coming up this month. The last day for candidates running for state and federal office to file in Kentucky will be Tues., Jan. 25, followed by Fri., Jan. 28, for candidates in Alabama, and Sat., Jan. 29, for candidates in West Virginia.
The next five filing deadlines for statewide and federal office will be:
February 1 (New Mexico)
February 2 (Ohio, state-level candidates only)
February 4 (Indiana)
February 15 (Nebraska)
February 22 (Maryland)
The only state to have already had its statewide filing deadline pass was Texas, where candidates had until Dec. 13 to file. Texas will be holding the earliest primaries of the 2022 election season, scheduled for March 1. Kentucky, Alabama, and West Virginia are among the 12 states holding primaries in May.