Supreme Court of the United States (SCOTUS) Justice Stephen Breyer announced Wednesday he will retire at the end of the 2022 term this October.
Breyer, a Bill Clinton (D) appointee, has served on the court since 1994. He is one of three justices on the nine-member court to be appointed by a Democratic president.
Breyer's retirement will be President Joe Biden's (D) first opportunity to nominate a member to the court; both Donald Trump (R) and Barack Obama (D) nominated three SCOTUS justices while in office. Biden's nominee will need to win the approval of both the Senate Judiciary Committee and the full U.S. Senate before taking office.
Democrats currently hold a 50-50 majority in the full Senate, with Vice President Kamala Harris (D) able to cast a tie-breaking vote. Control of the committee is split 11-11. Under the organizing resolution the U.S. Senate adopted at the beginning of the current Congress, a tied vote in committee will not prevent a nomination from advancing to the full Senate.
President Biden will not need to wait for Justice Breyer's retirement to take effect before selecting a nominee, giving Democrats time to confirm a successor ahead of the November elections. In the 15 Supreme Court vacancies that have opened since 1975, an average of 76 days elapsed between the outgoing justice leaving office and a successor taking their place.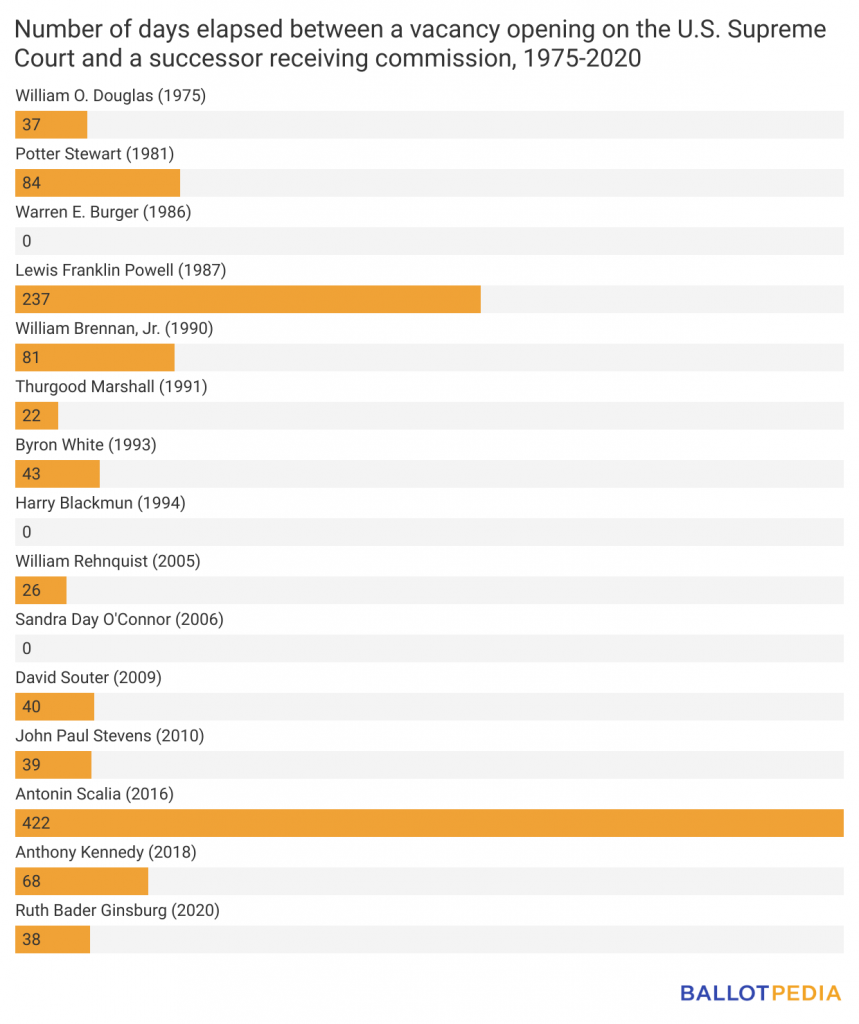 Three of these vacancies lasted for only a few hours each; the successor was sworn in the same day the retiring Justice officially left office. The longest vacancy under this definition was 422 days, following the death of Justice Antonin Scalia.
Additional reading: