On Jan. 24, the Michigan Supreme Court ruled provisions of a 2018 law adding restrictions to the state's initiative process unconstitutional.
The decision overturned two provisions of House Bill 6595 (HB6595):
a distribution requirement to allow no more than 15 percent of required signatures to come from a given congressional district and
a registration requirement for paid signature gatherers.
Justice Megan Cavanagh wrote, "It would run directly contrary to the clear intention that nothing more than a minimum number of signatures from the statewide population is necessary to propose changes to Michigan's laws."
The supreme court upheld a provision requiring paid circulators to identify that they are paid on petitions forms.
Background on HB 6595
In Dec. 2018, the state legislature passed and Gov. Rick Snyder (R) signed HB 6595, which added restrictions to the state's ballot initiative process. At the time, Michigan had a Republican Trifecta, with the legislature and governor's office controlled by Republicans.
Michigan voters approved three initiatives on the Nov. 2018 ballot to
legalize marijuana;
create an independent redistricting commission; and
add voting policies, including straight-ticket voting, automatic voter registration, same-day voter registration, and no-excuse absentee voting, as constitutional rights.
HB 6595 was written to require that no more than 15 percent of required signatures come from a given congressional district, which had the effect of requiring signatures to come from at least seven of Michigan's 14 congressional districts. HB 6595 also required paid signature gatherers to register with the secretary of state and state on petition sheets that they were paid, among other provisions related to the initiative process.
On Jan. 22, 2019, Secretary of State Jocelyn Benson (D) asked Attorney General Dana Nessel (D) for a formal opinion on whether HB 6596 violated the Michigan Constitution's initiative and referendum provisions. On May 22, 2019, Nessel released an opinion stating that certain provisions of HB 6595, including the distribution requirement, were unconstitutional. The opinion is binding on state officials unless it is overturned by a court ruling. In response to Nessel's opinion, Rep. Jim Lower (R), who sponsored HB 6595, said, "I don't think anybody's surprised. I disagree with the conclusions she has come to, and I think it will be litigated."
In June 2019, lawsuits were filed against Nessel's formal opinion. The Republican-controlled state House and Senate filed litigation against Nessel. On Sept. 27, 2019, Judge Cynthia Stephens of the Michigan Court of Claims ruled in favor of Attorney General Nessel, deciding that the distribution requirement was unconstitutional. Plaintiffs appealed the ruling to the Michigan Court of Appeals.
On January 27, 2020, the Michigan Court of Appeals, in a 2-1 ruling, decided that the state constitution's signature requirements for citizen-initiated ballot measures are self-executing. The Michigan State Legislature, according to the court, cannot "impose additional obligations on a self-executing constitutional provision." The Court of Appeals ruled that the distribution requirement was an "unreasonable restraint on the constitutional right of the people to initiate laws." The House and Senate appealed the decision to the Michigan Supreme Court, which initially vacated the case on Dec. 29, 2020, based on standing, but it ruled on the provisions of HB 6595 in Jan. 2022.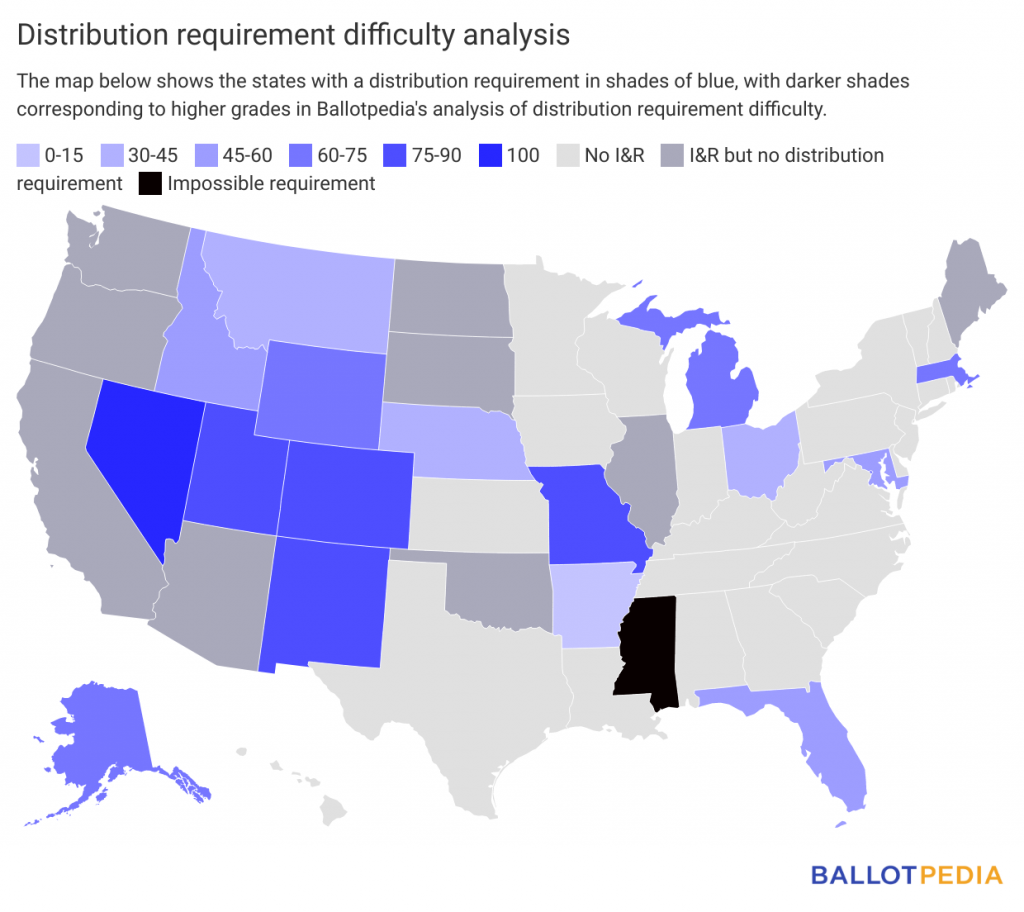 A distribution requirement states that petitions for an initiative or veto referendum petition must be signed by voters from different political subdivisions in order for the ballot measure or candidate to qualify for the ballot.
In the 26 states that feature the powers of initiative, veto referendum, or both, 16 have laws imposing distribution requirements, while 10 of them, including Michigan, do not.
In seven states, the distribution requirement for statewide initiative petitions is spread out over a state's counties (Arkansas, Massachusetts, Maryland, Nebraska, New Mexico, Ohio, and Wyoming). In five states, it is calculated based on state legislative districts (Alaska, Colorado, Idaho, Montana, and Utah). In the other four states with a distribution requirement, it is based on U.S. congressional districts (Florida, Mississippi, Missouri, and Nevada). Michigan's overturned distribution requirement law was also based on congressional districts. Washington, D.C., has a distribution requirement for citizen initiatives that is based on city wards.
Ballotpedia published an analysis comparing the difficulty of different state distribution requirements to meet. The analysis was based on two of the many factors determining the difficulty:
The percentage of jurisdictions from which signatures must be collected (i.e., from how much of the state must at least some signatures be collected) and
The size of the requirement in each required jurisdiction (i.e., how evenly must the signature gathering be spread out across the state).
Michigan's overturned distribution requirement was near the middle when compared to the other 16 states with distribution requirement laws for initiatives and veto referendums. Seven states had requirements ranked easier based on the two factors, and nine states and D.C. had requirements ranked harder or roughly equal. Mississippi's requirement, as interpreted by the Mississippi Supreme Court in a 2021 ruling, is mathematically impossible to meet with the states current four congressional districts.