The filing deadline for candidates running for state or federal office in Texas was Dec. 13, 2021. Our team has been crunching the numbers on the filings and sent along a report. This year, 223 candidates are running for Texas' 38 U.S. House seats, including 143 Republicans, 79 Democrats, and one independent candidate. That's 5.87 candidates per seat, less than the 6.53 candidates per seat in 2020 and 5.92 in 2018.
This is the first election to take place under new district lines following the 2020 census, which resulted in Texas gaining two U.S. House seats. Two members of the U.S. House are running for re-election in a different district than the one they currently represent: Lloyd Doggett (D) is running for re-election in the new 37th District, while Vicente Gonzalez (D) is running in the 34th District seat held by retiring Rep. Filemon Vela (D).
Six seats are open, meaning no incumbent is running. In addition to Gonzalez's and Doggett's current districts, they are the newly-created 38th District and the 1st, 8th, and 30th districts. 1st District incumbent Louie Gohmert (R) is running for state attorney general, while incumbents Kevin Brady (R) and Eddie Bernice Johnson (D) are retiring from the House.
This is the same number as 2012 (the last elections after redistricting) and 2020. There were seven open seats in 2018.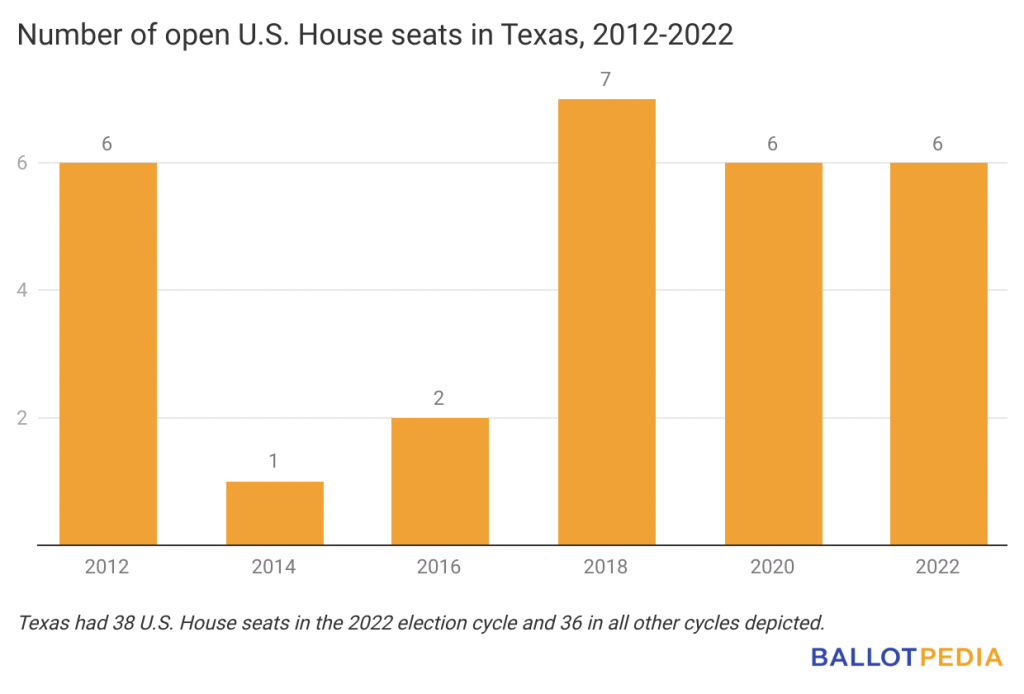 There are 13 districts where incumbents do not face primary challenges.
Three seats are guaranteed to Republican candidates because they face no opposition. Three more seats are likely to be won by Republicans because no Democrats filed. There are no districts where the same is true of Democratic candidates.
Fifteen candidates each are running in the 15th and 30th districts, more than any other. Six Democrats and nine Republicans are running in the 15th. Nine Democrats and six Republicans filed in the 30th. Both districts are open seats.
Texas' U.S. House primaries are the first in the country, on March 1, 2022. Candidates need at least 50% of the vote to win in the primary; in the event no candidate wins a majority of the vote, the top two finishers will advance to a May 24 runoff.
Additional reading: