The most recent campaign finance reports for federal candidates were due Jan. 31. Georgia's Raphael Warnock (D) has raised the most of all U.S. Senate candidates this cycle at $54 million. Warnock defeated incumbent Kelly Loeffler (R) in the special Senate election on Jan. 5, 2021.
The list of 10 Senate candidates who've raised the most includes:
9 incumbents and 1 non-incumbent 
6 Democrats and 4 Republicans
2 candidates from different parties running for the same seat (Florida) 
6 candidates in 5 battleground states (Arizona, Florida, Georgia, New Hampshire, and Nevada)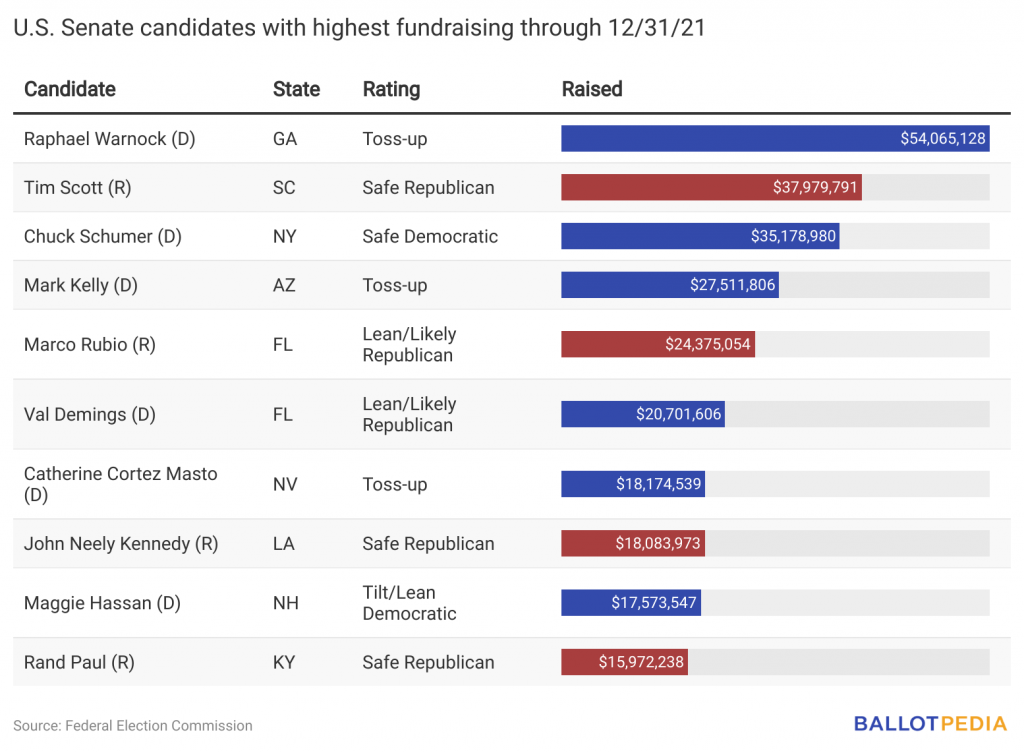 In most cases, the reports cover from Jan. 1, 2017, to Dec. 31, 2021. Warnock's report covers from Dec. 17, 2020, to Dec. 31 of last year. Kelly's and Demings' reports cover from Jan. 1 to Dec. 31, 2021. Kelly won a special election and assumed office in December 2020. Demings is the one non-incumbent Senate candidate in the list of top 10 fundraisers. Demings is also the one candidate in a primary that is currently on Ballotpedia's primary battleground list.
Overall, Democratic Senate candidates have raised $305 million and Republican candidates, $300 million so far.
Additional reading: