In this issue: A primary rematch in NY-12 and dueling endorsements in MI-11's incumbent-vs.-incumbent primary
Suraj Patel challenges Rep. Carolyn Maloney again in NY-12
New York's 12th Congressional District Rep. Carolyn Maloney faces at least seven challengers in the Democratic primary, including one she's faced twice before. Suraj Patel, who Maloney defeated most recently in 2020 43% to 39%, announced his bid this week.
Patel, a former campaign staffer for President Barack Obama, called himself "pro-growth, pro-democracy, pro-science and pro-safety" and said, "This is a new decade, a new district, and as we enter year 3 of a pandemic we've got new challenges, which means we need a government that proactively develops 21st-century solutions to 21st-century problems."
Maloney was first elected in 1992. Maloney's campaign website says her "position as a hard-hitting progressive leader is indisputable." When announcing her bid for a 16th term, Maloney said, "Now more than ever, our city needs innovative leaders to spearhead our rebuilding from the COVID-19 crisis … From securing federal funding to help New Yorkers get vaccinated, pay their rent, and feed their families, I have led efforts that will enable New York City and New York State to build back better."
Jewish Insider's Matthew Kassel said redistricting expanded the 12th District "westward into Manhattan, where [Maloney] is likely to pick up a cluster of new voters that will add to a traditional support base in her home neighborhood of the Upper East Side. Meanwhile, the new boundaries cut back on left-leaning enclaves in Brooklyn and Queens, where Maloney has performed poorly in recent elections." The new map is being challenged in court.
Patel said the new district map could benefit him, pointing to parts of the former 10th District—which Rep. Jerry Nadler represents—that became part of the 12th and saying his positions are closer to Nadler's than Maloney's are.
Candidate Rana Abdelhamid launched her campaign last April with support from Justice Democrats. Abdelhamid said, "As the pandemic has exacerbated inequities in our communities, this district deserves a representative who fights for renters instead of developers, and small shops instead of big banks … A leader who went to New York City public schools, isn't a millionaire, and answers to all of us — not just the corporate PACs who fund her reelection campaigns."
According to The City's Clifford Michel, candidate Maud Maron "is looking to promote issues such as public safety and wants to get rid of masking in schools. Her moderate credentials could siphon votes from Maloney while the incumbent tries to fend off a progresive [sic] challenge." Maron's campaign website says she "rejects ideological purity in favor of practical solutions. She was one of the very first candidates to reject 'Defund Police' proposals because all communities need safe streets, parks and transportation."
The primary is set for June 28.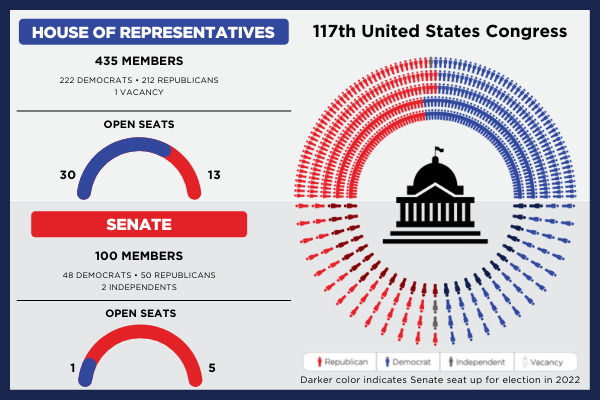 Ocasio-Cortez rallies, Sanders endorses in TX-28, TX-35
On Feb. 12 and Feb. 13, U.S. Rep. Alexandria Ocasio-Cortez (D-N.Y.) campaigned in Texas for U.S. House candidates Jessica Cisneros (District 28) and Greg Casar (District 35), including at a rally for the candidates in San Antonio.
Ocasio-Cortez criticized U.S. Rep. Henry Cuellar, who faces Cisneros in the March 1 primary, for saying last summer that he wouldn't vote for a budget resolution needed to pass the Build Back Better Act unless the House first voted on an infrastructure bill the Senate had passed, as we wrote about two weeks ago. Ocasio-Cortez said, "A lot of people say 'Manchin, Manchin, Manchin . . . But we know it's not just Manchin. You know who's helping him? Henry Cuellar." Ocasio-Cortez said, "If you're upset about Build Back Better, you can elect Jessica Cisneros."
The Build Back Better Act passed the House, with Cuellar's support, in November. The Senate has not yet taken it up.
Before the rally, Cuellar said, "The voters will decide this election, not far left celebrities who stand for defunding the police, open borders, eliminating oil & gas jobs, and raising taxes on hard working Texans. Members should take care of their own district before taking failed ideas to South Texas."
On Feb. 14, U.S. Sen. Bernie Sanders (I-Vt.) endorsed Cisneros and Casar.
Tannya Benavides is also running in the 28th District primary. Casar faces three other candidates in the open 35th District. If no candidate receives a majority of the vote, the top two vote-getters will advance to a runoff on May 24.
Three major race forecasters consider the 28th District general election either Lean or Likely Democratic. The 35th District is Safe or Solid Democratic.
Retiring Rep. Brenda Lawrence, Congressional Progressive Caucus endorse in two-incumbent primary
On Feb. 10, retiring Michigan 14th Congressional District Rep. Brenda Lawrence (D) and the Congressional Progressive Caucus (CPC) endorsed different incumbents running in Michigan's 11th Congressional District Democratic primary.
Lawrence endorsed Rep. Haley Stevens, saying that "no person represents the quality, the compassion, the work ethic better than Haley Stevens." The CPC endorsed Rep. Andy Levin, saying he "is a progressive champion driven by a commitment to universal justice and equity, not backroom special-interest agendas."
Both Stevens and Levin were first elected in 2018. According to data from Daily Kos, 45% of the newly drawn 11th District's population comes from Michigan's old 11th District (which Stevens represents), 25% comes from the old 9th District (which Levin represents), and 30% comes from the old 14th District (which Lawrence represents).
Last month, Stevens criticized Levin's decision to run in the 11th District, saying she "couldn't imagine abandoning over 70% of [her] current constituents in an open and winnable congressional seat to primary a fellow Democrat." Three independent race forecasters rate Michigan's new 10th District, which 71% of Levin's old district was drawn into, Tilt or Lean Republican. Levin said, "No current Member of Congress has represented the new districts as drawn, full stop. I am running in the district drawn around the home where I've lived for 16 years."
Independent forecasters rate the general election in Michigan's 11th Safe or Solid Democratic. The primary is scheduled for Aug. 2.
U.S. representatives not seeking re-election
As of the end of January—nine months ahead of the general election—42 members of the U.S. House had announced they would not seek re-election. At the same time in the 2020 election cycle, 34 representatives had announced they wouldn't seek re-election. That number was 45 in 2018.
On Tuesday, Rep. Kathleen Rice (D-N.Y.) announced her retirement, bringing the total up to 43 incumbents not seeking re-election this year.
Brooklyn Democratic Party, NY Working Families Party endorse in governor primary
The Brooklyn Democratic Party endorsed Gov. Kathy Hochul in the Democratic gubernatorial primary. The New York Working Families Party endorsed primary challenger Jumaane Williams.
New York Daily News' Tim Balk said the Brooklyn Democrats' vote dealt "a significant — but not unexpected — blow to city Public Advocate Jumaane Williams' bid to unseat the incumbent" and that Williams "will now officially be running without the support of his local Democratic Party chapter."
The New York Times' Nicholas Fandos wrote that Sochie Nnaemeka, director of the New York Working Families Party, "said she was concerned that without a robust voice from the left, Democratic leaders were being swayed by other candidates — centrists in their own party like Representative Tom Suozzi and Republicans like Representative Lee Zeldin — who have sought to stir up public outrage over Ms. Hochul's handling of the virus, the economy and public safety."
U.S. Sen. Kirsten Gillibrand (D-N.Y.) also recently endorsed Hochul. And the group Our Revolution endorsed Williams.
Hochul succeeded Gov. Andrew Cuomo (D) after he resigned last August. Hochul was elected lieutenant governor in 2014 and re-elected in 2018, defeating Williams in the Democratic primary that year 53% to 47%.
Five candidates are running in the Democratic primary so far. The primary is scheduled for June 28.
Illinois Sec. of State Jesse White endorses in state supreme court race
Last week, Illinois Secretary of State Jesse White (D) endorsed Elizabeth Rochford, a judge on the 19th Circuit Court, in the state supreme court 2nd District Democratic primary. Highland Park Mayor Nancy Rotering and 16th Circuit Court Judge René Cruz are also running in the primary.
Democrats currently hold a 4-3 majority on the court. There are two partisan elections and two retention elections taking place this year against the backdrop of redistricting.
The 2nd District position is open for two reasons.
In 2020, 3rd District Justice Thomas Kilbride (D) became the first justice in Illinois' history to lose a retention election. Robert Carter (D) was appointed to fill the vacancy and is not seeking election to a full term.
Last year, the Illinois Legislature redrew the state's five court district lines for the first time since they were enacted in 1964. As a result, the current 2nd District justice, Michael Burke (R), was moved to the 3rd District, where he is seeking election to a full term after his appointment in 2020.
According to the Center for Illinois Politics, under its new lines, the 2nd District voted for Joe Biden (D) over Donald Trump (R) 56-42% in 2020. In 2018, J.B. Pritzker (D) defeated then-Gov. Bruce Rauner (R) 48%-46% in the district. As with 2018, Illinois is holding a gubernatorial election this year.
Justices Rita Garman (R) in the state's western 4th District and Mary Jane Theis (D) in the 1st District (Cook County) face retention elections.
The primary is scheduled for June 28.