March 24, 2022
In this issue: Philadelphia Democratic Party endorses Conor Lamb for Senate and a look at 2024's presidential primary calendar debate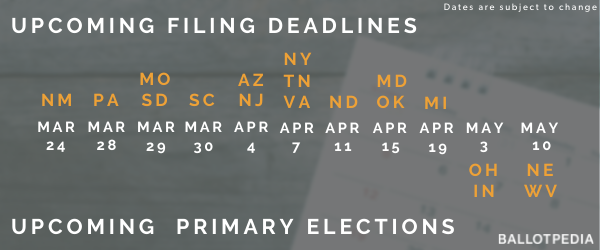 Philadelphia Democratic Party endorses Conor Lamb for Senate
The Democratic Party of Philadelphia, Pennsylvania's largest city, endorsed Conor Lamb for U.S. Senate. Lamb faces four other candidates in the Democratic primary, including state Rep. Malcolm Kenyatta and Lt. Gov. John Fetterman.
Philadelphia Democratic Party Chairman Bob Brady said Lamb "talked to every ward leader … he's talked to a lot of committee people. He's been in the city a lot, and he campaigned. Fetterman has done no campaigning whatsoever." Brady also said that "there are people who … didn't think Malcolm could win. They didn't think he had the money, and they don't think he could win the primary or the general."
Fetterman led in fundraising as of Dec. 31 with $12 million. Lamb was second with $4 million and Kenyatta third with $1.5 million.
Fetterman's representative, Joe Calvello, told The Daily Beast, "We believe this campaign is not going to be won in hotel ballrooms and by backroom deals. … It's going to be won by going to every county across the state and appealing to the actual voters."
The Philadelphia Inquirer called the city party's endorsement, along with former Mayor John Street's and his son state Sen. Sharif Street's endorsements of Lamb, "a somewhat expected snub" to Kenyatta, one of Philadelphia's representatives in the state House.
Kenyatta said that many committee people had endorsed his campaign and that he has "never been the candidate of the establishment— and that is not the path to winning this election."
As we wrote before, the state Democratic Party did not endorse in the Senate race. Lamb received 61% support on the second ballot at the party's meeting—short of the two-thirds required for an endorsement. Fetterman got 23% and Kenyatta, 15%.
See a summary of issue differences between these three candidates here.
Incumbent Sen. Pat Toomey (R) is retiring. The primary is May 17.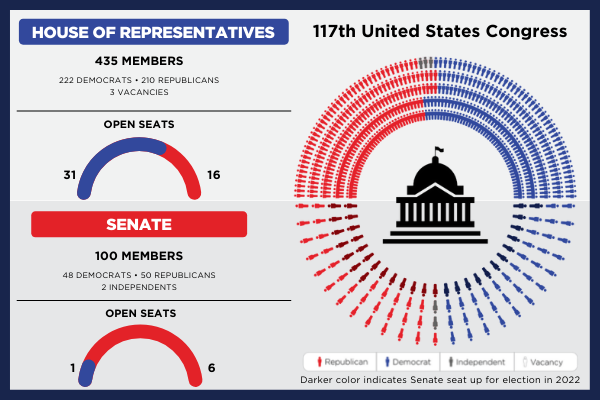 Tony Evers won't endorse in Wisconsin U.S. Senate primary; Marianne Williamson endorses Tom Nelson
Here's a quick look at the latest developments in Wisconsin's Democratic Senate primary.
Wisconsin Gov. Tony Evers (D) said on March 17 it would not be appropriate for him to pick a favorite in the Democratic primary for U.S. Senate as the state party's top elected official.
Former Democratic presidential primary candidate Marianne Williamson endorsed Outagamie County Executive Tom Nelson on Monday. Williamson said Nelson is "a change agent in confronting the various crises facing our nation."
Both Nelson and Williamson said the economy and labor are key issues in their Ballotpedia Candidate Connection survey responses. Nelson's answer to the question "What areas of public policy are you personally passionate about?" included the following:
From Kellogg to Starbucks to John Deere to local nurses, workers are demanding their rights to be paid fairly and with humane working conditions. I am a longtime advocate of repealing Taft-Hartley, which limits the ability of workers to strike and allows for right-to-work laws.
Read Williamson's 2020 survey responses here.
We've tracked 11 candidates in the Democratic primary so far, including Lt. Gov. Mandela Barnes, state Treasurer Sarah Godlewski, and Milwaukee Bucks executive Alex Lasry. Barnes' endorsers include Sens. Cory Booker (D-N.J.) and Elizabeth Warren (D-Mass.), three U.S. representatives, and the Working Families Party. In addition to Williamson, Nelson has endorsements from Sunrise Wisconsin and several labor groups. Lasry also has labor group endorsers. EMILY's List and former Rep. Donna Shalala (D-Fla.) are among Godlewski's endorsers.
Candidates have until June 1 to file for the Aug. 9 primary. Incumbent Sen. Ron Johnson (R) is seeking re-election. Two election forecasters rate the general election Leans Republican and one rates it Toss-up.
Two more U.S. House members endorse in IL-03
Two U.S. House members endorsed different candidates this week in the four-candidate Democratic primary for Illinois' 3rd Congressional District. Teresa Leger Fernandez (D-N.M.) endorsed Delia Ramirez, and Brad Schneider (D-Ill.) endorsed Gilbert Villegas.
Ramirez has been in the state House since 2019. Villegas has served on the Chicago City Council since 2015.
As we wrote in the February 24 issue, U.S. Rep. Chuy Garcia (D-Ill.) endorsed Ramirez, and U.S. Rep. Ruben Gallego (D-Ariz.) endorsed Villegas. Ramirez and Villegas both have endorsements from state legislators and Chicago City Council members. The Chicago Tribune said Ramirez's "congressional bid has drawn support from more progressive members of the Illinois legislature and City Council."
The two other candidates in the primary are Juan Aguirre and Iymen Chehade. Neither has published a list of endorsements. Aguirre is a patient care coordinator and a consultant with the National Diversity & Inclusion Cannabis Alliance. Chehade is a history professor at Columbia College and was a foreign policy advisor for U.S. Rep. Marie Newman's (D-Ill.) 2020 campaign.
The redrawn 3rd District's population is 47% Hispanic and includes Chicago's Northwest Side, Bensenville, Addison, and West Chicago. The primary is set for June 28. Newman, the 3rd District's current representative, is seeking re-election in the 6th District.
Primary date updates: Maryland court postpones primary date, Ohio state legislative primary date may change
On March 15, the Maryland Court of Appeals postponed the state's primary from June 28 to July 19. The court also extended the candidate filing deadline from March 22 to April 15. This is the second time the court has extended the filing deadline, which was initially set for Feb. 22.
The court's decision follows a series of petitions challenging the legislative district boundaries the General Assembly approved in January. Special Magistrate Alan Wilner scheduled a hearing for March 23 through March 25—after the former March 22 filing deadline. The order said Wilner intends to file a report with the court on April 5.
On March 23, Ohio Secretary of State Frank LaRose ordered county boards of election to remove state legislative races from the May 3 primary ballot. The order came a week after the Ohio Supreme Court ruled in a 4-3 decision that the state legislative maps did not meet the state constitution's anti-gerrymandering requirements.
This is the third set of legislative maps the court struck down. The court ordered the Ohio Redistricting Commission to draw new legislative maps by March 28.
According to Statehouse News Bureau, a panel of three federal judges will review a lawsuit a group of Republican voters filed: "The plaintiffs want the federal court to order the state to carry out the May 3 primary using those maps adopted by the commission on February 24," which the state supreme court most recently rejected. Hearings are scheduled for March 25 and March 30.
LaRose estimated that state legislative races could be added back to the May 3 primary ballot if the court rules in favor of plaintiffs by March 31. Otherwise, a new date will be set for state legislative primaries.
The U.S. Department of Justice announced on March 18 it would allow the state to send overseas and military voters ballots by April 5 instead of March 18.
Iowa's first-in-the-nation status in question for 2024
A look ahead to primaries beyond 2022…
On March 11, the Democratic National Committee's (DNC) Rules and Bylaws Committee discussed a proposal to change the election calendar ahead of the 2024 presidential primaries.
The Washington Post reported the party circulated a draft proposal on Monday that "defines three criteria for the party's Rules and Bylaws Committee to select early nominating states: the diversity of the electorate 'including ethnic, geographic, union representation, economic, etc.;' the competitiveness of the state in a general election; and the ability of the state to administer a 'fair, transparent and inclusive' process."
Iowa has held the nation's first presidential nominating contest since 1972. NBC News wrote, "Forces within the national party are pushing to cut Iowa, saying its caucus system is undemocratic and so convoluted that it completely broke down last time, not to mention Iowa is overwhelmingly white and now solidly Republican."
Iowa DNC member Scott Brennan defended the state's first-in-the-nation status: "We can't get to a ruling majority if we can't talk to rural folks."
On March 16, New Jersey Democratic State Committee Chair LeRoy J. Jones Jr. sent a letter to DNC Chair Jaime Harrison asking him to consider the state for early primary status, calling New Jersey an "ideal proving ground for political candidates across urban, suburban, and rural settings. In many ways, we are truly a microcosm of the country."
It's unclear how a DNC effort to change the primary calendar would interact with state laws. Iowa law requires presidential nominating caucuses and for those caucuses to be held at least eight days before any other states' nominating contest. New Hampshire law states its primaries must happen before a similar election in any other state. And last year, Nevada's governor signed a law attempting to make it the first primary state.
The draft proposal includes three virtual public hearings for the Committee to hear input on the process.