In this issue: Trump endorses Huizenga in MI-04 and rescinds Brooks endorsement in Alabama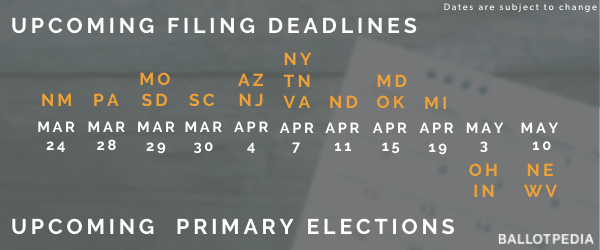 Trump endorses Huizenga in MI-04, Carra drops out
On March 11, former President Donald Trump (R) endorsed Rep. Bill Huizenga in the Republican primary for Michigan's 4th Congressional District. Huizenga, who has represented Michigan's 2nd Congressional District since 2011, announced he would run for re-election in the 4th District following redistricting.
The Michigan Independent Citizens Redistricting Commission adopted a new congressional map in December that placed Huizenga in the 4th District alongside Rep. Fred Upton (R). Upton has represented Michigan's 6th Congressional District since 1993 and has not announced whether he'll seek re-election.
On March 15, state Rep. Steve Carra (R) ended his candidacy in the 4th District primary. Carra said, "Now that Bill Huizenga has President Trump's and my support in the newly formed 4th Congressional district, he has a clear path to victory." Carra initially planned to challenge Upton in the 6th District, saying Upton "is seen as a moderate. … He is anti-Second Amendment; he voted for amnesty, he voted to impeach (former President Donald) Trump." In September, Trump endorsed Carra in the 6th. Carra announced earlier this year he'd run in the 4th District.
Upton was one of 10 House Republicans who voted to impeach Trump (Huizenga did not).
Upton released an ad in February in which he said, "I'm not afraid to take on anyone when they're wrong and work with anyone when they're right. … If you want a rubber stamp as your congressman, I'm the wrong guy." In a statement, Upton said, "Some believe the heart, soul and values of the Republican Party are defined by Donald Trump, but I believe our values are better defined by those espoused by Ronald Reagan. … Peace through strength, fiscal responsibility, dignity and honor."
Huizenga said he'd worked with Trump on law enforcement, energy, and border issues and that he is "honored to have President Trump's support in this fight."
The filing deadline is set for April 19 and the primary for Aug. 2.
Trump rescinds Brooks endorsement in Alabama U.S. Senate primary
On March 23, Trump rescinded his endorsement of Mo Brooks in the GOP primary for U.S. Senate in Alabama, saying Brooks "made a horrible mistake recently when he went 'woke' and stated, referring to the 2020 Presidential Election Scam, 'Put that behind you, put that behind you.'"
Brooks was the first member of Congress to vote against certifying the 2020 election. He was booed at a rally in August 2021 after telling the crowd they should move past the 2020 election.
On March 15, Trump said he was disappointed with Brooks' remarks at the August rally. On March 16, Brooks released a campaign ad highlighting his speech at Trump's rally on Jan. 6, 2021, and Trump's endorsement. Brooks said in an interview with AL.com the same day that Trump's comments surprised him and that "[Trump] wants me to remove Joe Biden from office so he can be president. … But the law doesn't permit that."
Trump said he'd make a new endorsement before the May 24 primary. Five other Republicans are running.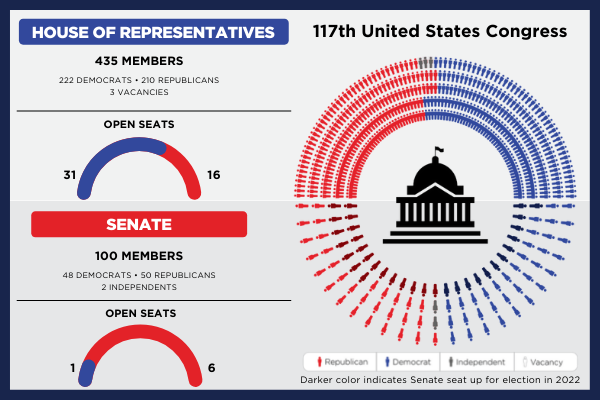 The Senate primaries with the most satellite spending
Decision Desk HQ's March 21 newsletter broke down independent expenditures in U.S. Senate primaries by top states, spenders, and supported or opposed candidates. Derek Willis wrote,
Outside spending in Senate primaries has already passed $68 million, well above the $48 million spent on Senate primaries at this point in the 2020 cycle. …

Republican races have so far brought in the bulk of independent expenditures reported to the Federal Election Commission: of the $68 million, just $2.7 million has been spent supporting or criticizing Democratic candidates.
As of March 18, four states saw satellite spending of more than $10 million on Senate primaries: Ohio, Pennsylvania, Alabama, and North Carolina. Republican incumbents are retiring in all four states. In Arizona, the state that's seen the fifth-highest satellite spending, Sen. Mark Kelly (D) is seeking re-election.
Seventeen PACs spent more than $1 million on Senate primaries—15 on Republican primaries (the Democratic PACs on the list, Moveon.org Political Action and Senate Majority PAC, had the 8th- and 16th-highest spending totals, respectively).
Club for Growth Action spent the most at more than $14 million as of March 18. The group has spent on primaries in North Carolina, where it endorsed Ted Budd, and Ohio, where it endorsed Josh Mandel and has released ads opposing J.D. Vance and Jane Timken.
The second-highest spender, Honor Pennsylvania, Inc., supports David McCormick in Pennsylvania. The group has released ads opposing Mehmet Oz and has spent $8.6 million.
Protect Ohio Values, the only other PAC to have spent more than $5 million, supports Vance in Ohio.
Oz, Vance, and Budd are the top three subjects of satellite spending. Also on the list are Brooks in Alabama and Blake Masters in Arizona.
Decision Desk HQ will break down satellite spending in House races next week.
Special primary to finish Don Young's term will be the first congressional top-four primary
Rep. Don Young (R-Alaska), the longest-serving Republican representative in U.S. history, died on March 18.
The special primary on June 11 to complete the remainder of Young's term will be the first congressional primary using the state's new top-four primary system. Every candidate will appear on the same primary ballot, regardless of party affiliation. The top four candidates will advance to the general election, in which voters can rank their preferences rather than voting for a single candidate.
Voters approved the new system via ballot measure in 2020. Click here for more details.
The special primary election will be held by mail. The special general election will take place alongside the regular primary election on Aug. 16.
April 1 is the filing deadline for the special primary. At least two candidates have said they'll run in the special election: Nick Begich (R) and Christopher Constant (D). Both are also running in the regularly scheduled election.
We've tracked five Republicans, one Democrat, and one independent running in the regular primary so far.
Ricketts, Foley split on gubernatorial endorsements in Nebraska
On March 15, Lt. Gov. Mike Foley (R) endorsed rancher Charles Herbster in the Republican gubernatorial primary. Foley said, "Charles is a job creator who has invested in this state. He is rooted in our conservative values and will rely on those values when leading our great state." Trump endorsed Herbster in October.
Incumbent Gov. Pete Ricketts (R), who is term-limited, endorsed University of Nebraska Regent Jim Pillen in January. Following Foley's endorsement of Herbster, Ricketts said, "I was very disappointed with the lieutenant governor's choice. … I think it's incredibly poor judgment on his part." Ricketts said Herbster had put jobs in a different state and paid property taxes late and that Herbster would have difficulty recruiting businesses to the state.
Herbster's campaign said that he "leads in the polls and leads the charge to be the next Governor of Nebraska. Like many of us, he wishes the current Governor, Pete Ricketts, would spend his remaining time in the office helping the state and staying out of politics."
Pillen said, "It's disappointing, but not surprising, that Mike Foley is endorsing Charles Herbster. He was pretty unhappy when I turned down his request to be my lieutenant governor. Herbster has always thrown his money around to buy political influence and favor. Nebraskans know what they want in a governor, and it is not backroom politics."
Foley said, "The Pillen campaign and other campaigns have reached out to me and that's fine. I'm flattered by that. And we've had conversations with other candidates and I've just decided Charles Herbster is the best choice and anything beyond that would be a mischaracterization of that arrangement."
Herbster and Pillen recently clashed on Pillen's record as a regent. Herbster said, "Because of his liberal ideology and weak leadership, Pillen is the reason the university is indoctrinating our students. … Jim Pillen's lack of action and courage on critical race theory when Nebraska students needed him the most is shocking."
Pillen's campaign manager Kenny Zoeller said, "Jim Pillen was the first elected regent in America to take a stand against critical race theory. … Jim has been a nationally recognized leader in the fight against CRT in higher education and in our schools."
Nine candidates are running in the May 10 primary.
Ricketts and Foley also endorsed different candidates in the Republican primary for Nebraska's 1st Congressional District: Ricketts is backing Mike Flood, while Foley supports incumbent Jeff Fortenberry.
Primary date updates: Maryland court postpones primary date, Ohio state legislative primary date may change
On March 15, the Maryland Court of Appeals postponed the state's primary from June 28 to July 19. The court also extended the candidate filing deadline from March 22 to April 15. This is the second time the court has extended the filing deadline, which was initially set for Feb. 22.
The court's decision follows a series of petitions challenging the legislative district boundaries the General Assembly approved in January. Special Magistrate Alan Wilner scheduled a hearing for March 23 through March 25—after the former March 22 filing deadline. The order said Wilner intends to file a report with the court on April 5.
On March 23, Ohio Secretary of State Frank LaRose ordered county boards of election to remove state legislative races from the May 3 primary ballot. The order came a week after the Ohio Supreme Court ruled in a 4-3 decision that the state legislative maps did not meet the state constitution's anti-gerrymandering requirements.
This is the third set of legislative maps the court struck down. The court ordered the Ohio Redistricting Commission to draw new legislative maps by March 28.
According to Statehouse News Bureau, a panel of three federal judges will review a lawsuit a group of Republican voters filed: "The plaintiffs want the federal court to order the state to carry out the May 3 primary using those maps adopted by the commission on February 24," which the state supreme court most recently rejected. Hearings are scheduled for March 25 and March 30.
LaRose estimated that state legislative races could be added back to the May 3 primary ballot if the court rules in favor of plaintiffs by March 31. Otherwise, a new date will be set for state legislative primaries.
The U.S. Department of Justice announced on March 18 it would allow the state to send overseas and military voters ballots by April 5 instead of March 18.