Welcome to The Heart of the Primaries, Democratic Edition
In this issue: Former Rep. Dan Lipinski endorses in IL-01 and a look at the Suffolk County, Mass. district attorney primary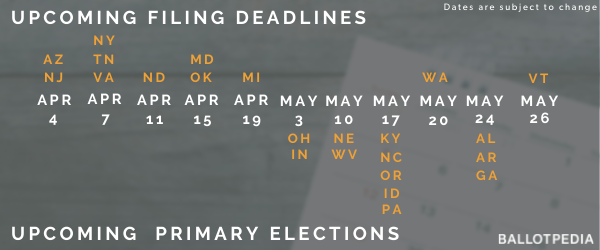 Jamaal Bowman down to one challenger in NY-16
Michael Gerald and Manuel Casanova withdrew from New York's 16th Congressional District Democratic primary in recent weeks, leaving one challenger to incumbent Jamaal Bowman just ahead of the April 7 filing deadline: Westchester County Legislator Vedat Gashi.
Casanova said, "I think [Gashi] is going to be able to put together the coalition that needs to be there to win this primary." Gerald said, "I am still neutral but leaning towards Gashi." Yonkers Democratic Committee Chair Tom Meier also considered a bid but backed Gashi instead.
As we wrote in February, Senate Majority Leader Chuck Schumer (D) endorsed Bowman.
Gashi is a refugee from Kosovo (formerly Yugoslavia) and worked with the U.S. Agency for International Development and the United Nations to help establish Kosovo as a state. He was first elected to the Westchester County Board of Legislators in 2019.
Bowman, a former middle school principal, was first elected to Congress in 2020 after defeating incumbent Rep. Eliot Engel in the Democratic primary.
Gashi criticized Bowman's vote against the Infrastructure Investment and Jobs Act: "I think we voted for Biden so we could have progress. … I felt that (Bowman's no vote) was out of step with the president's agenda, the party's agenda and frankly where the voters in the district are."
Bowman said he voted against the bill because House leadership decided to vote on the Build Back Better Act separately. Bowman said, "It was important for us to pass both bills at the same time because the [Build Back Better] bill had already been gutted so much from when it came to us from the Senate. It came to us at [$]3.5 trillion … all of a sudden some of my colleagues wanted to cut it down, and it ended up at [$]1.75 [trillion]."
Jewish Insider wrote that redistricting added "more moderate voters in northern Westchester as well as Putnam County" to the 16th District.
The primary is set for June 28.
Former Rep. Dan Lipinski endorses Chris Butler in IL-01
Former Rep. Dan Lipinksi (D) endorsed Chris Butler in the Democratic primary for Illinois' 1st Congressional District, saying he considers Butler "part of a new generation of leaders in the Democratic Party." Lipinksi spoke at a fundraising event for Butler last week called "Forward for Life."
Lipinksi represented Illinois' 3rd Congressional District from 2005 to 2021. Rep. Marie Newman (D) defeated Lipinski 47.3% to 44.7% in the 2020 Democratic primary. Last year, Lipinski described his record in Congress as "strongly pro-life and strongly pro-union, as well as pro-environment and pro-defense. I was not in line with the Democratic Party on every issue, but I was initially considered to be just another blue-collar Democrat."
Butler, a pastor, says he is a Democrat who opposes abortion, supports investing in and partnering with police, and "opening up every avenue of school option." When asked in a Washington Examiner interview if opposition to abortion would harm his candidacy as a Democrat, Butler said he's finding that "many, many people in the community are excited about the opportunity to vote for a candidate that is not going to force them to essentially choose between values that are very important to them but can actually bring a holistic view."
About 10% of the old 3rd District (that Lipinski represented) is part of the redrawn 1st District.
Butler is one of 20 Democratic primary candidates, including Chicago Alderman Pat Dowell, who former U.S. Sen. Carol Moseley Braun (D) endorsed; Jonathan Jackson, a college professor and Rev. Jesse Jackson's son; and former Chicago Cook Workforce Partnership CEO Karin Norington-Reaves, who incumbent Rep. Bobby Rush (D) endorsed.
Rush is retiring. The primary is set for June 28. Three election forecasters rate the general election Safe or Solid Democratic.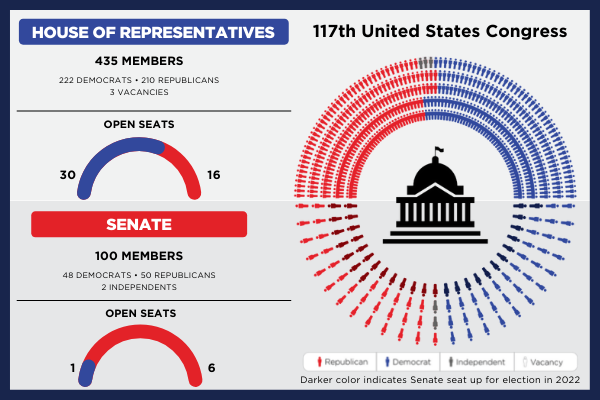 Democratic candidates for U.S. Senate in Ohio meet for debate
The three Democratic primary candidates for U.S. Senate—Tim Ryan, Morgan Harper, and Traci Johnson—met for a debate at Central State University Monday.
Cleveland.com's Seth A. Richardson said Harper "squarely focused nearly all her answers on what she described as Ryan's shortcomings during his two decades in Congress. Ryan was generally unapologetic about his record while shifting many of his answers to how the United States could compete with China."
Harper said Ryan accepted money from a political action committee associated with Sen. Joe Manchin (D-W.V.), who opposes the Build Back Better Act. Ryan said that he voted for Build Back Better and that he welcomed support from any source.
The candidates disagreed on the structure of the Supreme Court:
Harper said she supports expanding the court: "We have an institution that has been radicalized by the GOP. We need to be honest about the fact it's happening. We need to balance it, especially when it comes to abortion access."
Johnson said, "We need to tread lightly because if we expand the court as Democrats, then when Republicans come in, they'll expand the court, and then the court will lose its power."
Ryan said, "I am not for stacking the court. We need to nominate justices like Judge Jackson. She is the epitome of who we want on the Supreme Court: A record of supporting working people and Roe vs. Wade."
Harper was a senior advisor for the Consumer Financial Protection Bureau and challenged Rep. Joyce Beatty (D) in the 3rd Congressional District primary in 2020, losing 32% to 68%. Johnson is a tech executive. Ryan was first elected to the U.S. House in 2002.
No more debates between the three Democrats are currently scheduled. The primary is set for May 3.
Harper filled out Ballotpedia's Candidate Connection survey. Click here to read her responses.
Rep. Filemon Vela announces resignation, triggering possible special election in TX-34
Rep. Filemon Vela (D-Texas) announced on March 24 that he will resign in the coming weeks. Vela has represented Texas' 34th Congressional District since 2013 and was not running for re-election. Vela hasn't announced an effective date for his resignation.
Gov. Greg Abbott (R) may call a special election to fill the seat. Abbott will have the option to call the special election for Nov. 8, alongside the regularly scheduled general election, or to call an emergency special election before that. A special emergency election would have to occur between 36 and 64 days after Abbott calls it. The Texas Tribune's Patrick Svitek said Abbott could also call the special election for May 7—the next uniform election date—but that this was unlikely due to when military and overseas ballots were sent.
According to FiveThirtyEight, redistricting changed the 34th District's Democratic lean from D+5 to D+17. The special election would be held using the old district boundaries, so it would likely be a more competitive race than the general election in November.
The special election winner would serve until Jan. 3, the end of Vela's term, unless they were also the winner of the regularly scheduled election.
Rep. Vicente Gonzalez (D) and Mayra Flores (R) are running in the regular election. Gonzalez currently represents the 15th Congressional District. He chose to run in the 34th after redistricting placed his residence in that district. Flores said she'll run in the special election. Gonzalez—who would have to resign from the 15th to run in the special—said he won't.
There would be no special primary election. Candidates of all affiliations would run on the same ballot, and if nobody received a majority, a special runoff would be held.
Vela is one of two U.S. House members to announce his resignation in 2022 and one of seven to do so since the start of the 117th Congress.
Suffolk County District Attorney challenger picks up Senate endorsements
Democratic Sens. Ed Markey and Elizabeth Warren (Mass.) recently endorsed Ricardo Arroyo in the Democratic primary for Suffolk County district attorney in Massachusetts. Arroyo is challenging incumbent Kevin Hayden (D), who Gov. Charlie Baker (R) appointed after former incumbent Rachael Rollins (D) became U.S. attorney for Massachusetts in January.
Before that, Hayden served as chair of the state Sex Offender Registry Board. Arroyo was a public defender and was elected to the Boston City Council in 2019.
Arroyo said, "This race is a referendum on whether or not voters want to continue with the reforms Rachael Rollins has begun or go backwards." Rollins' agenda included a list of 15 charges the D.A.'s office would generally not prosecute, including trespassing, shoplifting, larceny, and disorderly conduct. Arroyo said he supports, and helped create, the list.
Hayden hasn't said that he'll maintain Rollins' list but said he supports "the overall notion behind it – the idea that our carceral footprint needs to be reduced, the notion that lower level crimes and criminalizing things like poverty, criminalizing things like race, criminalizing things like homelessness or drug addiction shouldn't happen or at least not happen without some very careful introspection as to what you're doing with that case."
The candidates disagree on the Boston Police Department's gang database. Hayden says the database is useful, that he is open to reforms, and that racial profiling can't be used to put the list together. Arroyo wants to get rid of the database, saying it targets young people of color using a biased point system.
The primary is Sept. 6.
Competitiveness data: Nebraska and Idaho
Nebraska's filing deadline for federal and state candidates was Feb. 15, and Idaho's was March 11. We've crunched some numbers to see how competitive the primaries will be compared to recent election cycles.
Nebraska
Idaho
Notes on how these figures were calculated:
Candidates per district: divides the total number of candidates by the number of districts holding elections.
Open districts: divides the number of districts without an incumbent running by the number of districts holding elections.
Contested primaries: divides the number of major party primaries by the number of possible primaries.
Incumbents in contested primaries: divides the number of incumbents in primaries by the number seeking re-election in the given election cycle.