Welcome to The Heart of the Primaries, Republican Edition
In this issue: Challengers to incumbents get support in Georgia and Wyoming, and Fortenberry resigns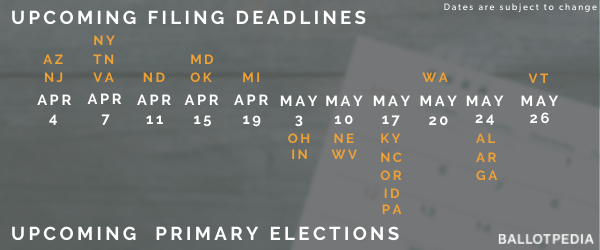 VIEWPAC endorses Jennifer Strahan against Marjorie Taylor Greene in GA-14
Value in Electing Women (VIEW) PAC endorsed Jennifer Strahan in Georgia's 14th Congressional District. Strahan faces Rep. Marjorie Taylor Greene and five others in the Republican primary. Roll Call reported that this is the first time the PAC has endorsed a primary challenger to an incumbent member of Congress.
VIEWPAC's website says it was founded in 1997 "to help elect qualified, viable Republican women to Congress."
Strahan is CEO of a healthcare advisory firm. She said in a campaign ad, "Out-of-control inflation, a crisis at the border, and 13 flag-draped caskets are a harsh reminder that this is not the time for unserious politicians who just want to hear themselves talk."
Greene, who used to own a CrossFit gym, was first elected in 2020. She said in a September campaign ad, "In 2022, I'm going to blow away the Democrats' socialist agenda," saying House Speaker Nancy Pelosi (D) tried to fund the Green New Deal in the Build Back Better budget. The ad depicts Greene blowing up a car with the word "Socialism" on it with a 50-caliber rifle.
VIEWPAC hasn't reported any independent expenditures in Georgia's 14th to the Federal Election Commission. Of the $56,000 in independent expenditures published on the FEC website as of Tuesday, $36,000 opposed and $20,000 supported Greene.
Right Women PAC is one of the groups supporting Greene. The group's website says there is "a desperate need in the US House of Representatives for bold, unflinching conservative women. … No other PAC focuses exclusively on electing solidly conservative women."
Redistricting placed a portion of Cobb County in the 14th District. The Associated Press wrote that the county is "a core part of the metropolitan area and a onetime GOP stronghold that shifted steadily to the left during the Trump era."
The primary is scheduled for May 24.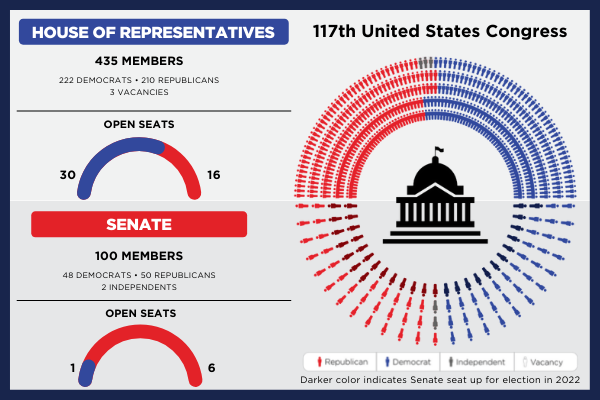 More than 100 House Republicans participate in fundraiser for challenger to Liz Cheney
On Wednesday, more than 100 Republican U.S. House members participated in a fundraiser for Harriet Hageman, who is challenging Rep. Liz Cheney (R) in the August 16 primary for Wyoming's At-large Congressional District.
House Republicans last May removed Cheney as Republican Conference chairwoman with a voice vote following her vote to impeach President Donald Trump in January 2021 and her public criticisms of Trump's statements on the 2020 election.
Fundraiser participants included Rep. Elise Stefanik, who replaced Cheney as Republican Conference chair, and Minority Leader Kevin McCarthy.
Cheney's representative Jeremy Adler said, "A leader with honor would be rejecting – not protecting – the pro-Putin, anti-Semitic, white nationalist members of the party, instead of fighting against Liz Cheney for telling the truth."
McCarthy told CNN that his endorsement of Hageman was a special case and that he supported the re-election campaigns of other Republicans who voted to impeach Trump.
Cheney was one of 10 House Republicans who voted to impeach. Of the seven who are running or may run for re-election, Trump has endorsed challengers to six.
U.S. Rep. Fortenberry resigns, exiting primary and triggering special election
On Saturday, U.S. Rep. Jeff Fortenberry (R-Neb.) announced his resignation from the House, effective today. Last week, a jury found Fortenberry guilty of one count of scheming to falsify and conceal material facts and two counts of making false statements to federal investigators.
Fortenberry said he would appeal the verdict. He said in a letter to supporters, "Due to the difficulties of my current circumstances, I can no longer effectively serve."
Fortenberry's resignation leaves four candidates running in the Republican primary for Nebraska's 1st Congressional District: Mike Flood, Curtis Huffman, John Glen Weaver, and Thireena Yuki Connely. Fortenberry's name will still appear on the ballot since the deadline to withdraw has passed. The primary is May 10.
Aside from Fortenberry, Flood has received the most media attention. Gov. Pete Ricketts (R) endorsed Flood.
A special election must be held within 90 days of Fortenberry leaving office, according to state law. Ricketts has yet to announce a date for the special election. Each major party's executive committee will pick its nominee for the special election, meaning there won't be a special primary. The special election winner will serve the remainder of Fortenberry's term, ending Jan. 3.
RGA releases second pro-Kemp ad, Trump campaigns for Perdue in Georgia
The Republican Governors Association (RGA) released its second ad supporting Gov. Brian Kemp, and former President Trump held a rally supporting primary challenger David Perdue.
RGA Georgia 2022 PAC, a Republican Governors Association (RGA) affiliate, released its second ad in the primary. As we wrote in February, this is the first time the RGA is airing ads supporting an incumbent facing a primary challenger. The second ad buy, at $350,000, brings the group's spending in the primary so far to $850,000.
The ad criticizes Democratic candidate Stacey Abrams, saying, "While some traveled the world seeking fame, promoting their businesses, putting themselves first, Georgia had a leader here at home working hard, solving problems, getting results: Governor Brian Kemp." Kemp defeated Abrams 50.2% to 48.8% in the 2018 gubernatorial election.
Kemp faces Perdue and three others in the primary. Perdue served in the U.S. Senate from 2015 to 2021, when he lost his re-election bid to Jon Ossoff 49.4% to 50.6% in a runoff election. In the 2020 general election, Perdue received 49.7%—less than the majority needed to win outright—to Ossoff's 47.9%.
Trump held a "Save America Rally" in Commerce, Georgia, on March 26, featuring Perdue and other candidates, including Senate candidate Herschel Walker and Georgia's 14th Congressional District Rep. Greene, as speakers.
Trump said at the rally, "Before we can defeat the Democrat socialists and communists … we first have to defeat the RINO sellouts and the losers in the primaries this spring."
Perdue said at the rally that "our elections in 2020 were absolutely stolen." Kemp certified the presidential election results after two statewide recounts.
The primary is scheduled for May 24.
Maryland Gov. Larry Hogan (R) officially endorses in GOP gubernatorial primary
Term-limited Gov. Larry Hogan (R) made his endorsement of gubernatorial candidate Kelly Schulz (R) official on March 22.
Schulz served as director of the state Department of Commerce under Hogan. Hogan said, "There's only one candidate who has the experience, the ability, and the desire to keep moving Maryland forward, to keep changing Maryland for the better, who can get the job done and can continue the legacy."
In November, we wrote about Hogan's support for Schulz and Trump's endorsement of state Del. Dan Cox in the primary. Trump said on Nov. 22 that Cox was "MAGA all the way—unlike his opponent, Kelly Schulz, who was handpicked by her 'boss,' RINO Larry Hogan, who has been terrible for our Country and is against the America First Movement."
Cox currently serves as one of three District 4 representatives in the state House of Delegates. Schulz previously held one of the three District 4 seats.
Hogan has endorsed Republicans around the country who have been critical of Trump and, in some cases, who face primary challengers Trump endorsed.
The Associated Press reported that Hogan planned to host events for Sen. Lisa Murkowski (R-Alaska)—one of seven GOP senators who voted to convict Trump in the 2021 impeachment trial—and Rep. David Valadao (R-Calif.)—one of the 10 House GOP members who voted to impeach. Hogan has also fundraised for Brian Kemp in Georgia.
Maryland's primary is scheduled for July 19.
Competitiveness data: Nebraska and Idaho
Nebraska's filing deadline for federal and state candidates was Feb. 15, and Idaho's was March 11. We've crunched some numbers to see how competitive the primaries will be compared to recent election cycles.
Nebraska
Idaho
Notes on how these figures were calculated:
Candidates per district: divides the total number of candidates by the number of districts holding elections.
Open districts: divides the number of districts without an incumbent running by the number of districts holding elections.
Contested primaries: divides the number of major party primaries by the number of possible primaries.
Incumbents in contested primaries: divides the number of incumbents in primaries by the number seeking re-election in the given election cycle.