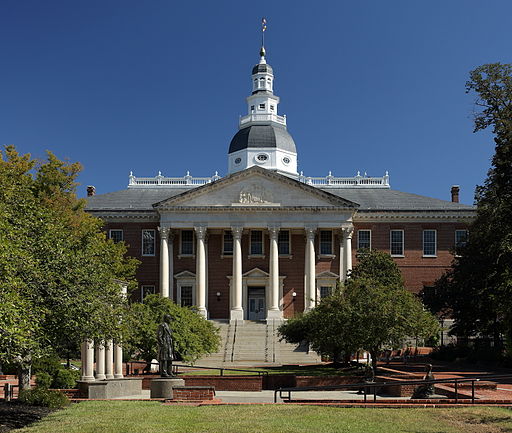 Maryland adopted new congressional district boundaries on April 4 when Gov. Larry Hogan (R) signed revised redistricting legislation that the General Assembly had finalized on March 30. Hogan signed the new map after state Attorney General Brian Frosh withdrew his appeal of Circuit Court Judge Lynne Battaglia's March 25 ruling overturning the state's previous congressional redistricting plan.
Maryland was apportioned eight seats in the U.S. House of Representatives after the 2020 census, the same number it received after the 2010 census. This map will take effect for Maryland's 2022 congressional elections.
The state Senate approved the revised congressional district boundaries 30-13 with all votes in favor by Democrats and all votes opposed by Republicans on March 29. The House of Delegates approved the revised map on March 30 by a vote of 94-41 with votes in favor by Democrats and 40 Republicans and one Democrat voting "no."
After Gov. Hogan signed the maps, Greg Giroux at Bloomberg Government wrote, "The new map will continue to favor Democrats in seven of eight districts while restoring a strongly Republican district for Rep. Andy Harris (R)….The new map replaces a more aggressive Democratic proposal that the legislature enacted in December over Hogan's veto. That map created seven safe Democratic districts and converted Harris' eastern 1st District into a swing district, raising the possibility Democrats could win all eight districts. Democrats won seven of eight districts in the past decade of House elections."
After signing the revised map, Gov. Hogan said, "When these maps came out in December, I said they were unconstitutional and violated the law. The courts agreed, described it as extreme partisan gerrymandering, and a clear violation of the Constitution, ordered the legislature to go back and draw new maps, which they did. Now they weren't, in my opinion, as good as the ones drawn by the citizen commission, and we shouldn't have wasted so much time—but they are a huge improvement." After Gov. Hogan announced he would sign the revised district boundaries, Frosh released a statement which said, in part, "We are pleased Governor Hogan has agreed to sign the proposed congressional redistricting map approved by the General Assembly. This map, like the one previously passed by the General Assembly, is constitutional and fair. Both sides have agreed to dismiss their appeals, and our state can move forward to the primary election."
As of April 5, 39 states have adopted congressional district maps. Four states have not yet adopted congressional redistricting plans after the 2020 census, and New York's maps were overturned by court action. Six states were apportioned one U.S. House district, so no congressional redistricting is required.
Congressional redistricting has been completed for 365 of the 435 seats (83.9%) in the U.S. House of Representatives.
Additional reading: