The filing deadline for candidates running for state or federal office in Arkansas was March 1. This year, 16 candidates are running for Arkansas' four U.S. House districts, including eight Republicans, four Democrats, three Libertarians, and one independent. That's an average of 4 candidates per district, more than the 2.3 candidates per district in 2020 and fewer than the 5.5 in 2018.
Here are some other highlights from this year's filings:
This is the first election to take place under new district lines following the 2020 census. Arkansas was apportioned the same number of congressional districts as after the 2010 census.
Incumbents are running in all elections. Arkansas hasn't had an open House district since the 2014 elections, when two incumbents didn't run.
District 4 incumbent Rep. Bruce Westerman is running unopposed in the Republican primary. This year's elections have the highest number of incumbents in contested primaries (3, or 75%) since at least 2012. The second-highest was in 2018, when two incumbents (50%) faced contested primaries. No incumbents had primary challengers in 2020.
At least one candidate filed for each major party primary in each district.
The 1st District race has five candidates, the most of any district. Three Republicans, two Democrats, and one independent are running.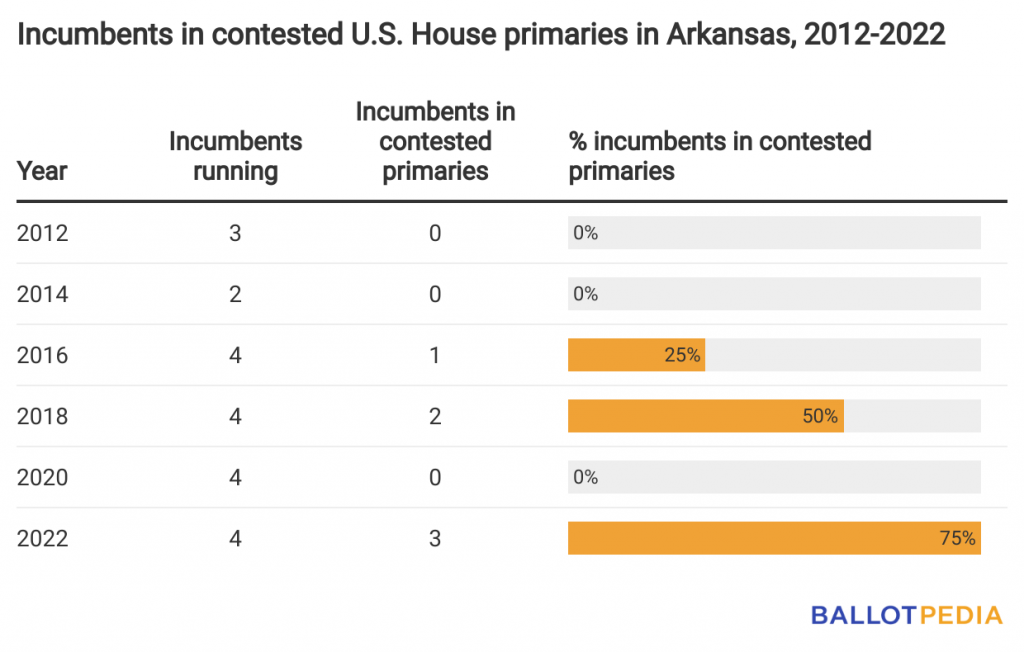 Arkansas' U.S. House primaries are on May 24, with a June 21 runoff in the event that no candidate receives a majority in a primary. Alabama and Georgia also hold primaries on May 24. Ten states hold primaries before that date.
Additional reading: