The filing deadline for candidates running for Congress in Georgia this year was March 11, 2022. Eighty-two candidates are running for Georgia's 14 U.S. House districts, including 31 Democrats and 51 Republicans. That's 5.86 candidates per district, more than the 5.5 candidates per district in 2020 and the 3.42 in 2018.
Here are some other highlights from this year's filings:
This is the first election to take place under new district lines following the 2020 census. Georgia was apportioned 14 districts, the same number it was apportioned after the 2010 census.
The 82 candidates running this year are the most candidates running for Georgia's U.S. House seats since at least 2012, when 44 candidates ran.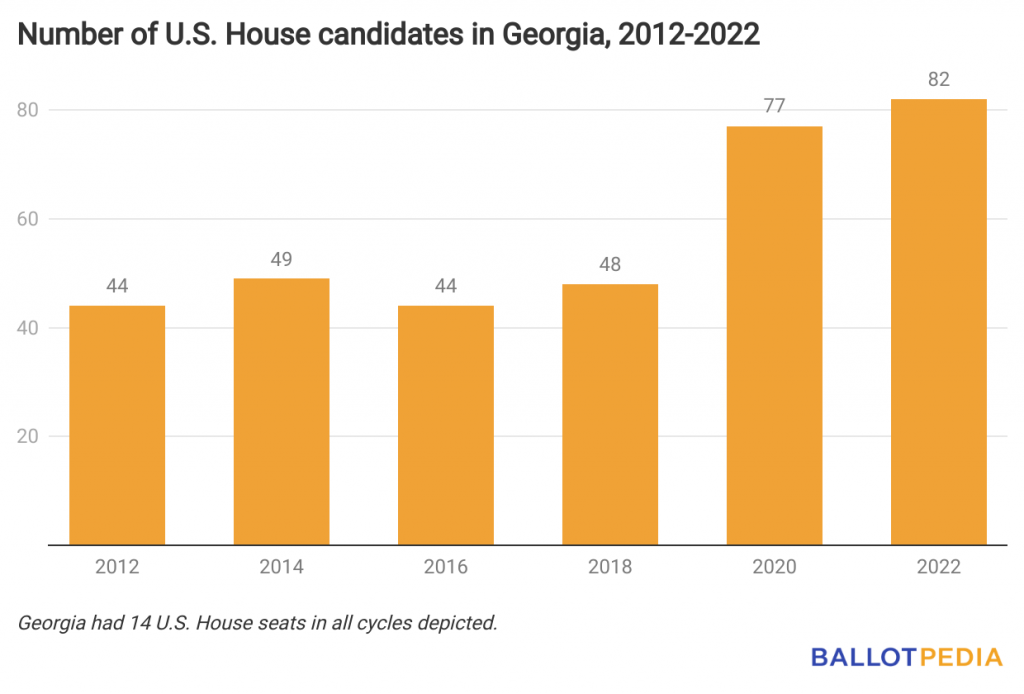 Two seats — the 6th and the 10th — are open, meaning no incumbents are running. That's one less than in 2020 when three seats were open. There were no open seats in 2018, one in 2016, and three in 2014.
Rep. Jody Hice (R), who represents the 10th district, is running for Georgia Secretary of State. Thirteen candidates — five Democrats and eight Republicans — are running to replace him, the most candidates running for a seat this year.
Rep. Lucy McBath (D), who represents the 6th district, is running in the 7th district this year. She is the only incumbent running in a different district than the one she currently represents.
Rep. Carolyn Bourdeaux (D), the incumbent in the 7th district, is running for re-election. That makes the 7th district the only district featuring two incumbents running against each other.
There are eight contested Democratic primaries this year, the same number as in 2020 and 2018.
There are nine contested Republican primaries, one more than in 2020 and the highest number since at least 2012.
There are eight incumbents in contested primaries this year, the most since at least 2012.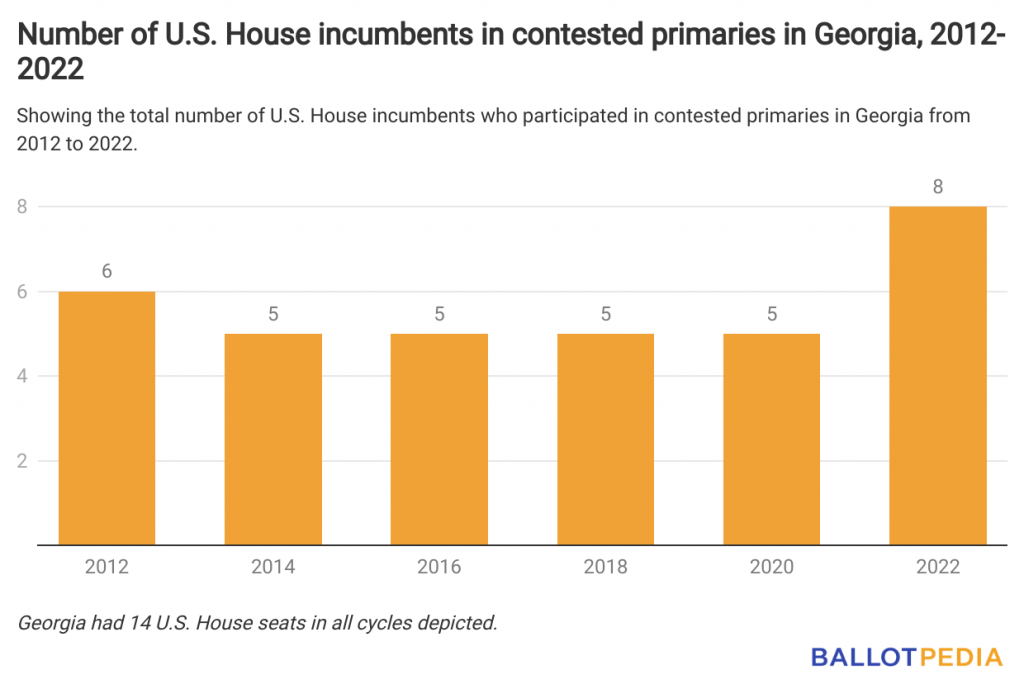 Five incumbents are not facing any primary challengers. 
Candidates filed to run in the Republican and Democratic primaries in all 14 districts, so no seats are guaranteed to either party this year. The last year in which a party was guaranteed a seat because no candidate from the other party filed was 2018, when then-incumbent Rep. John Lewis (D) ran unopposed in the general election for the 5th district. 
Georgia and two other states — Alabama and Arkansas — are holding primary elections on May 24. A candidate must receive a majority of votes in order to win a primary election in Georgia. If no candidate wins an outright majority of votes cast, a runoff primary between the top two vote-getters will be held on June 21.
Additional reading: