The filing deadline for candidates running for Congress in Virginia this year was April 7, 2022. Thirty-three candidates are running for Virginia's 11 U.S. House districts, including 12 Democrats and 21 Republicans. That's three candidates per district, more than the 2.36 candidates per district in 2020 and less than the 4.09 in 2018.
This is the first election to take place under new district lines following the 2020 census. Virginia was apportioned 11 districts, the same number it was apportioned after the 2010 census.
All 11 incumbents filed to run for re-election, meaning there are no open seats this year for the first time since 2012.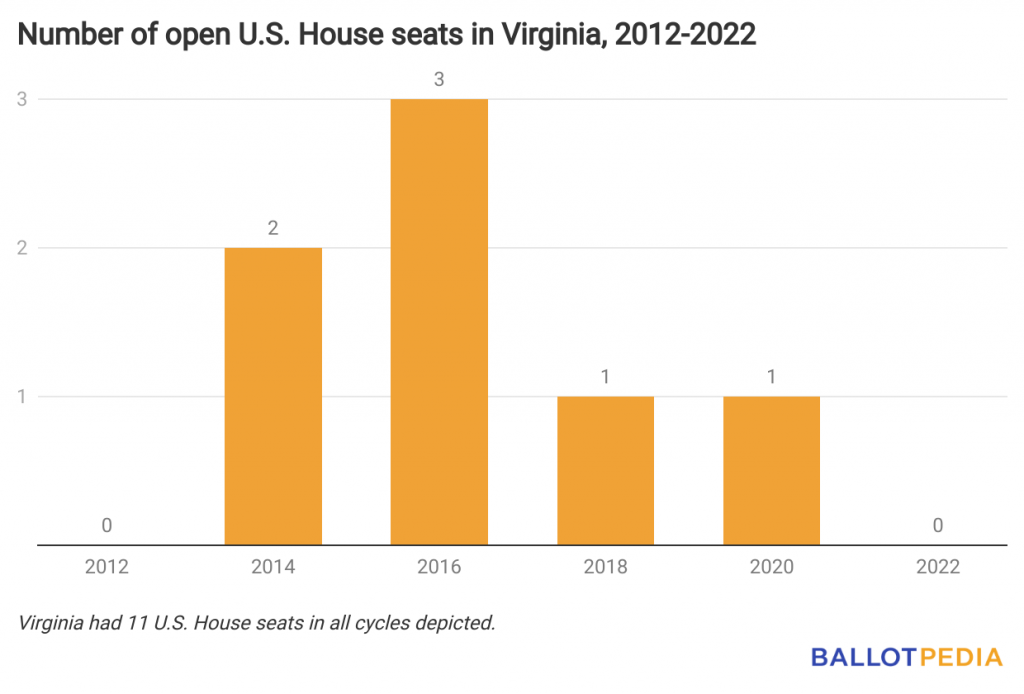 There are five contested primaries — one Democratic and four Republican — this year. That's the fewest contested primaries since 2014, when four primaries were contested.
Two incumbents — Rep. Ben Cline (R) from the 6th district and Rep. Don Beyer (D) from the 8th district — face primary challengers. That's the same as every year since 2014, except for 2016, when only one incumbent faced a primary challenger.
Republican and Democratic candidates filed to run in all 11 districts, so no seats are guaranteed to either party this year. 
Seven candidates, including incumbent Abigail Spanberger (D), are running in the 7th district. That's the most candidates running in a district holding primaries this year.
Virginia is holding primary elections on June 21. In Virginia, political parties decide for themselves whether to nominate their candidates via primary or convention, and the non-primary methods of nomination may take place on a date other than the statewide primary. Six congressional district committees  — two Democratic and four Republican  — chose to hold nominating conventions or caucuses instead of primaries this year. Ballotpedia does not include statistics from nominating conventions or caucuses in its overall primary competitiveness calculations.
Additional reading: