Kansans rejected an amendment to provide that the state constitution does not secure a right to abortion on August 2. With 100% of precincts reporting, the vote was 58.78% 'No' to 41.22% 'Yes'.
Based on unofficial results, 908,745 people voted on the constitutional amendment compared to 727,360 in the gubernatorial primaries and 718,545 in the U.S. Senate primaries. Turnout on the amendment exceeded overall turnout at the 2018 (457,598) and 2020 (636,032) state primaries.
Democratic voter turnout, relative to total turnout, for the gubernatorial and U.S. Senate primaries were also at their highest since at least 2014.
Of those who voted in the gubernatorial primaries, 38% voted in the Democratic primary compared to 33% in 2018 and 20% in 2014.
Of those who voted in the U.S. Senate primaries, 35% voted in the Democratic primary compared to 32% in 2018, 24% in 2016, and 20% in 2014.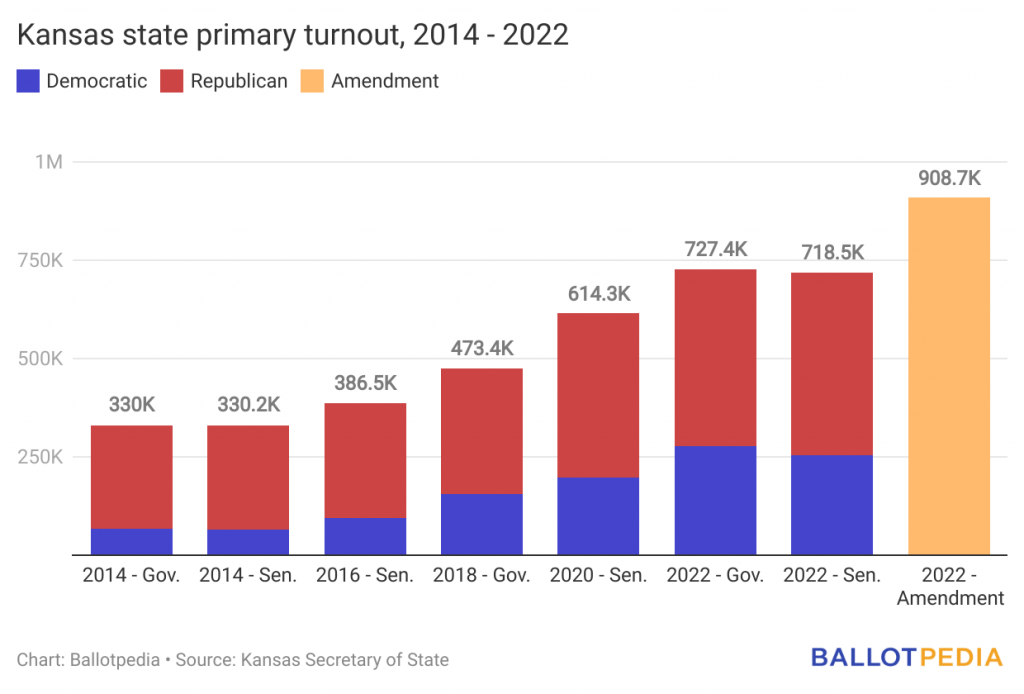 Kansas is the seventh state to vote on an amendment addressing constitutional interpretation and abortion. These types of amendments are designed to address previous or future state court rulings on abortion that have prevented or could prevent legislatures from passing certain abortion laws. In Kansas, for example, the state Supreme Court ruled that the state's Bill of Rights provided a state constitutional right to abortion in 2019.
Since 2014, voters in four states – Alabama, Louisiana, Tennessee, and West Virginia – have approved such amendments. The last state to reject one was Florida in 2012. The next state to vote on this type of amendment is Kentucky on November 8, 2022.
In Kansas, the Value Them Both PAC led the campaign in support of the amendment. Supporters included U.S. Sen. Roger Marshall (R) and former U.S. Secretary of State Mike Pompeo (R). The campaign received $6.03 million through July 18, including $2.95 million from the Archdiocese of Kansas City.
Kansans for Constitutional Freedom led the campaign in opposition to the amendment. Opponents included Gov. Laura Kelly (D) and U.S. Rep. Sharice Davids (D-3). The campaign received $7.35 million through July 18, including $1.39 from the Sixteen Thirty Fund.
The constitutional amendment was the first abortion-related ballot measure to be decided following Dobbs v. Jackson Women's Health Organization, where the U.S. Supreme Court overruled Roe v. Wade. Both campaigns issued statements placing the amendment within the context of that decision. Value Them Both said, "The U.S. Supreme Court restored the people's ability to come to individual consensus on abortion limits — but not in Kansas. As it stands today, unelected judges in Kansas are the ones who will decide the fate of abortion limits." Kansans for Constitutional Freedom said, "The Supreme Court has voted to strike down Roe v. Wade. On August 2, Kansas will be the first state in the nation to vote on reproductive freedom following this decision."
In November, voters will decide on four more abortion-related ballot measures. Beside the constitutional amendment in Kentucky, measures will be on the ballot in California, Montana, and Vermont. Voters in California and Vermont will be the first to decide ballot measures to establish state constitutional rights to abortion. Michigan, where signatures are being verified for an initiated constitutional amendment, could join California and Vermont as well. In Montana, voters will decide a measure to provide that infants born alive at any stage of development are legal persons and must receive medical care after an attempted abortion, induced labor, cesarean section, or other method. A campaign in Colorado is collecting signatures for an initiative to prohibit abortion in the state.
Additional reading:
2022 abortion-related ballot measures