In 2022, there are six ballot measures addressing abortion—the most on record. Measures have been certified for the ballot in California, Kansas, Kentucky, Michigan, Montana, and Vermont. Votes on these ballot measures follow Dobbs v. Jackson Women's Health Organization, which held that the U.S. Constitution does not confer a right to abortion.
Voters in California, Michigan, and Vermont will be the first to decide on ballot measures to establish state constitutional rights to abortion. These measures are also the first abortion-related ballot measures since 1992 to have the support of organizations that describe themselves as pro-choice/pro-reproductive rights.
In August, voters in Kansas rejected a measure to provide that the state constitution cannot be interpreted to establish a state constitutional right to abortion. Turnout on the amendment was 49%, exceeding the number of votes cast in the state's U.S. Senate and gubernatorial primaries on August 2. On November 8, voters in Kentucky will decide on a similar amendment. These types of amendments are designed to address previous and future state court rulings on abortion that have prevented or could prevent legislatures from passing certain abortion laws. 
In November, voters will decide on five abortion-related ballot measures:
From 1970 to August 2022, there have been 48 abortion-related ballot measures, and 41 (85%) of these had the support of organizations that described themselves as pro-life. Voters approved 11 (27%) and rejected 30 (73%) of these 41 ballot measures. The other seven abortion-related ballot measures had the support of organizations that described themselves as pro-choice or pro-reproductive rights. Voters approved four (57%) and rejected three (43%).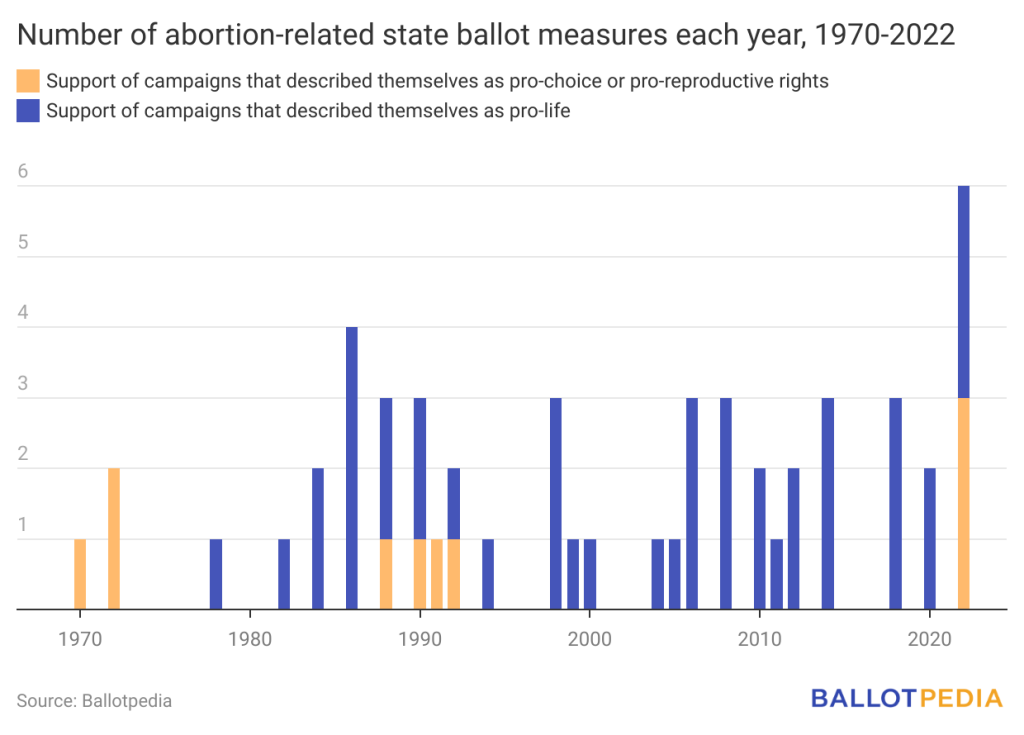 Additional reading: