In 2022, 140 state ballot measures were certified for the ballot, including 132 for November 8. As of November 1, Ballotpedia identified $1.03 billion in contributions to support or oppose this year's statewide measures. In 2020, for comparison, $1.24 billion was raised through December 31, 2020, to support or oppose 129 state ballot measures.
California accounts for 69.5% of the cumulative contributions across the states. In California, $713.5 million has been raised for seven ballot propositions. The next four states with the most contributions are:
Michigan, where three measures are on the ballot, at $93.6 million or 9.1% of the cumulative total.
Massachusetts, where four measures are on the ballot, at $57.3 million or 5.6% of the cumulative total.
Colorado, where 11 measures are on the ballot, at $41.5 million or 4.0% of the cumulative total.
Nevada, where three measures are on the ballot, at $21.1 million or 2.1% of the cumulative total.
In 2020, the top three states were California (61.58%), Illinois (9.96%), and Massachusetts (4.97%). In 2018, the top three states were California (31.12%), Nevada (10.76%), and Florida (10.63%).
The chart below compares total contributions between 2018, 2020, and 2022, along with the amount associated with campaigns in California: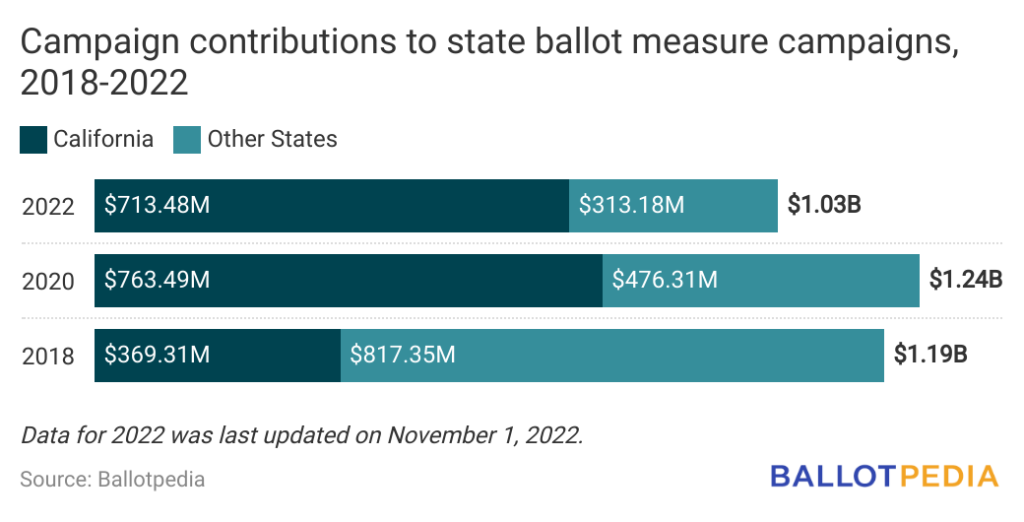 California Proposition 27 has seen the most contributions at $418.5 million between supporters and opponents. Proposition 27 would legalize online and mobile sports betting in the state. Between Proposition 27 and Proposition 26, which would legalize sports betting at licensed racetracks at American Indian-owned casinos, campaigns surrounding the sports betting issue in California have received $462.2 million. Several PACs are spending funds supporting or opposing both initiatives. The San Manuel Band of Mission Indians is the largest donor to a ballot measure committee in 2022, providing $103.1 million to oppose Proposition 27.
Outside of California, the most expensive ballot measure is Michigan Proposal 3, a citizen-initiated measure to provide a state constitutional right to reproductive freedom – a term defined to include abortion, contraceptives, and other pregnancy-related matters. Supporters raised $45.75 million, including $5.51 million from the Sixteen Thirty Fund and $5.25 million from the ACLU. Opponents raised $17.35 million, including $9.43 million from Right to Life Michigan and $6.07 million from the Michigan Catholic Conference.
Campaigns surrounding the following 10 ballot measures have received the most contributions: