Five hundred and thirty-one people have filed with the Federal Election Commission (FEC) to run for president in 2024 as of January 17. The list includes 77 Democratic candidates (14.5%), 145 Republican candidates (27.3%), and 309 nonpartisan or minor party candidates (58.2%). This figure excludes candidates whose filings have expired or who we identified as fake candidates.
Any person running for president that raises or spends more than $5,000 for a campaign must file a Statement of Candidacy with the FEC within 15 days. To do so, that person must be a natural-born citizen of the United States, at least 35 years old, and a resident of the United States for at least 14 years. A Statement of Candidacy includes basic information like the candidate's name and address and any campaign committees working for them.
The number of filings in the 2024 election is the third most in forty years. In 2016, 1,762 candidates filed with the FEC to run for president. In 2020, 1,212 candidates filed.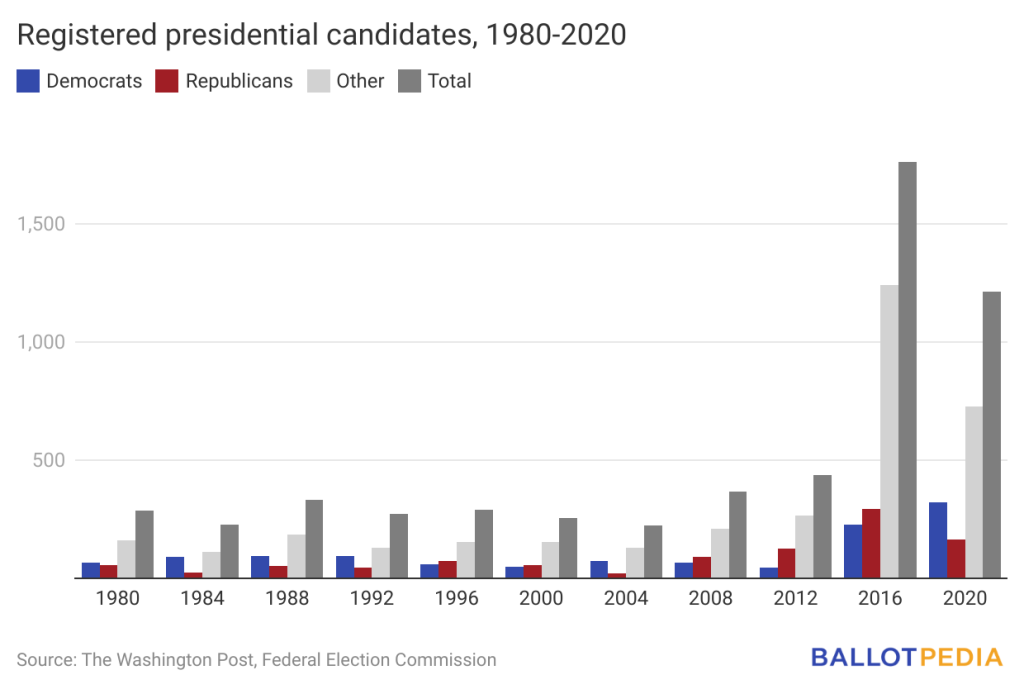 The 1984 presidential election had the highest proportion of Democratic candidates since 1980—40.1%. The major party candidates running that year were incumbent Ronald Reagan (R) and Walter Mondale (D). The 2012 election, had the highest proportion of Republican candidates in that time—29.0%. The major party candidates that year were incumbent Barack Obama (D) and Mitt Romney (R). The highest proportion of nonpartisan or minor party candidates filed in 2016 (70.4%), which featured Hillary Clinton (D) and Donald Trump (R).
The current proportion of 2024 candidates—14.5% Democratic, 27.3% Republican, and 58.2% nonpartisan or minor party candidates—most closely resemble the averages seen in presidential elections with a Democratic incumbent. President Joe Biden (D) has not announced a re-election campaign, but he is eligible to run for a second term in 2024.