The 2024 Republican presidential primary may be about to gain its second noteworthy candidate, according to The Post and Courier. The paper reported that former South Carolina Governor and U.N. Ambassador Nikki Haley (R) plans to announce her campaign on February 15. She'd be joining former President Donald Trump (R), who announced his campaign in November.
On the Democratic side, President Joe Biden (D) has not yet announced whether he intends to run for a second term.
By February 1, 2019, the equivalent point in the 2020 campaign, ten noteworthy candidates had announced their campaigns: nine Democrats and one Republican, Trump. They were:
February 1, 2019: Cory Booker (D)
January 28, 2019: Marianne Williamson (D)
January 23, 2019: Pete Buttigieg (D)
January 21, 2019: Kamala Harris (D)
January 15, 2019: Kirsten Gillibrand (D)
January 12, 2019: Julián Castro (D)
January 11, 2019: Tulsi Gabbard (D)
November 6, 2017: Andrew Yang (D)
August 10, 2017: John Delaney (D)
January 20, 2017: Donald Trump (R)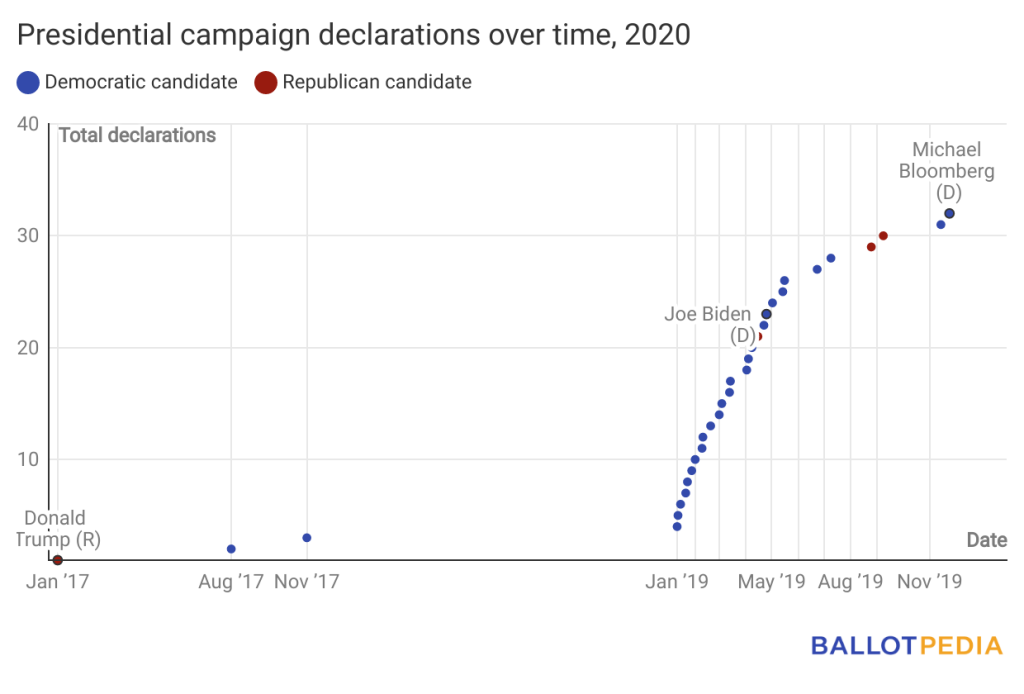 Additionally on February 1, 2019, Politico reported that Kamala Harris (D), Biden, and Booker were courting the Congressional Black Caucus for an endorsement. Trump also filed his first campaign finance report of 2019, showing he had $19.3 million in his campaign account.
At this point in the 2016 cycle, no noteworthy candidates had announced campaigns for the presidency yet. The race was still getting media coverage though, including an interview with Mike Pence (R) published by Indianapolis Monthly on February 1, 2015, where the outlet asked him whether he'd enter the race. Pence never did enter as a presidential candidate, but he became Trump's running mate in July 2016.