The Republican National Committee (RNC) has outraised the Democratic National Committee (DNC) so far in the 2024 presidential election cycle, according to their most recent filings with the Federal Election Commission.
From January 2021, the beginning of the 2024 presidential election campaign finance cycle, through January 2023, the RNC has raised $340 million in cumulative receipts, while the DNC has raised $315 million, giving the RNC an 8% fundraising advantage.
These are the tightest fundraising numbers between the national committees at this point in a presidential election cycle since at least 2012. In 2020 and 2016, the RNC led in cumulative receipts by 19% and 61%, respectively. In 2012, the DNC led by 14%.
The Democratic National Committee (DNC) and Republican National Committee (RNC) each spend on behalf of their party's candidate during presidential elections. The following chart displays the percentage difference between the DNC and RNC's overall fundraising every month for the 2012, 2016, 2020, and 2024 presidential election cycles. A positive number indicates that the RNC had outraised the DNC at that point while a negative number indicates that the DNC had outraised the RNC. "Year 1" refers to the year after the last election (2009/2013/2017/2021), "Year 2" to the midterm before the election (2010/2014/2018/2022), etc.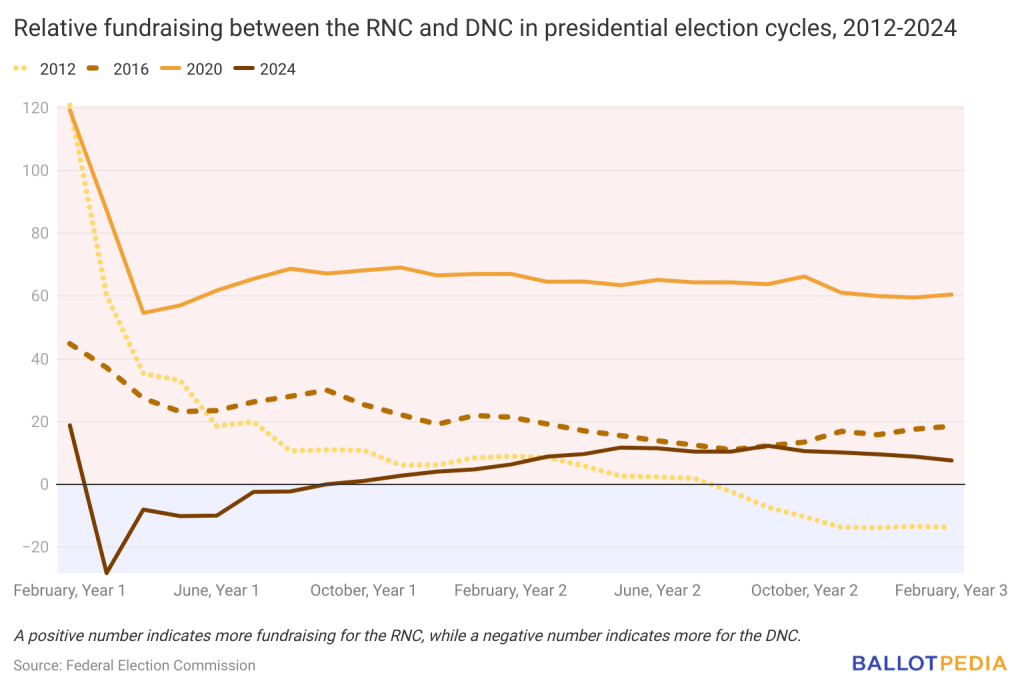 Additional reading: