As of Feb. 26, Ballotpedia has tracked four election-related bills in the Iowa State Senate since the beginning of the year. Of the four, Ballotpedia tracked three from Feb. 20-26. Republicans sponsored two, while no sponsors have been listed for the remaining bill. The three bills are:
IA SF342: A bill for an act relating to the conduct of elections, including the casting of provisional ballots by persons registering to vote on election day or when casting an in-person absentee ballot, and the use of automatic tabulating equipment and optical scan voting systems, Sen. Sandy Salmon (R).

Removes the possibility for a person who registers on election day to vote a regular ballot, and instead requires the person to vote by provisional ballot.
Allows the commissioner to determine whether ballots will be counted by hand or electronically for all related elections.
Makes an optical scanning system optional rather than required.

IA SF351: A bill for an act relating to the conduct of elections, including challenges to voter registrations by persons in other counties and the preparation of lists of registered voters, and making penalties applicable, Sen. Sandy Salmon (R).

Establishes that the registration of a registered voter may be challenged by another registered voter of a county in which the challenged voter does not live, with certain requirements.
Specifies what must be included with a challenge.
Requires the state registrar of voters to create a form to allow a registered voter to challenge the registration of a registered voter in another county.
Provides that a challenger is not required to attend a hearing regarding a filed challenge.
Prohibits the registrar from imposing any requirements other than those required by code in preparation of a list of registered voters, and requires the registrar to immediately prepare a list of registered voters in certain situations.

IA SSB1034: A bill for an act relating to the administration of elections, no sponsors listed.

Removes an exception about when a commissioner's office will close for registration if deadline falls on the day after Thanksgiving.
Requires the state commissioner to adopt rules to implement instruction for precinct election officials, and removes the requirement that at least two precinct election officials be present.
Requires a commissioner to provide an explanation in writing if all precinct results are not reported.
Specifies data to be included in the written report by commissioners at the conclusion of a recount.
During the week of Feb. 20-26, Ballotpedia tracked 48 Senate election-related bills nationally. As of Feb. 26, Ballotpedia has tracked 595 Senate bills nationally. Ballotpedia tracked the most Senate bills this year in the New York State Senate with 111, while Ballotpedia tracked the fewest Senate bills in Delaware, Louisiana, Maine, Massachusetts, and West Virginia with zero. Republicans sponsored 268 of these bills, while Democrats sponsored 255. Third party sponsorship and bills with no sponsors accounted for 53 bills, while bipartisan legislators sponsored 19.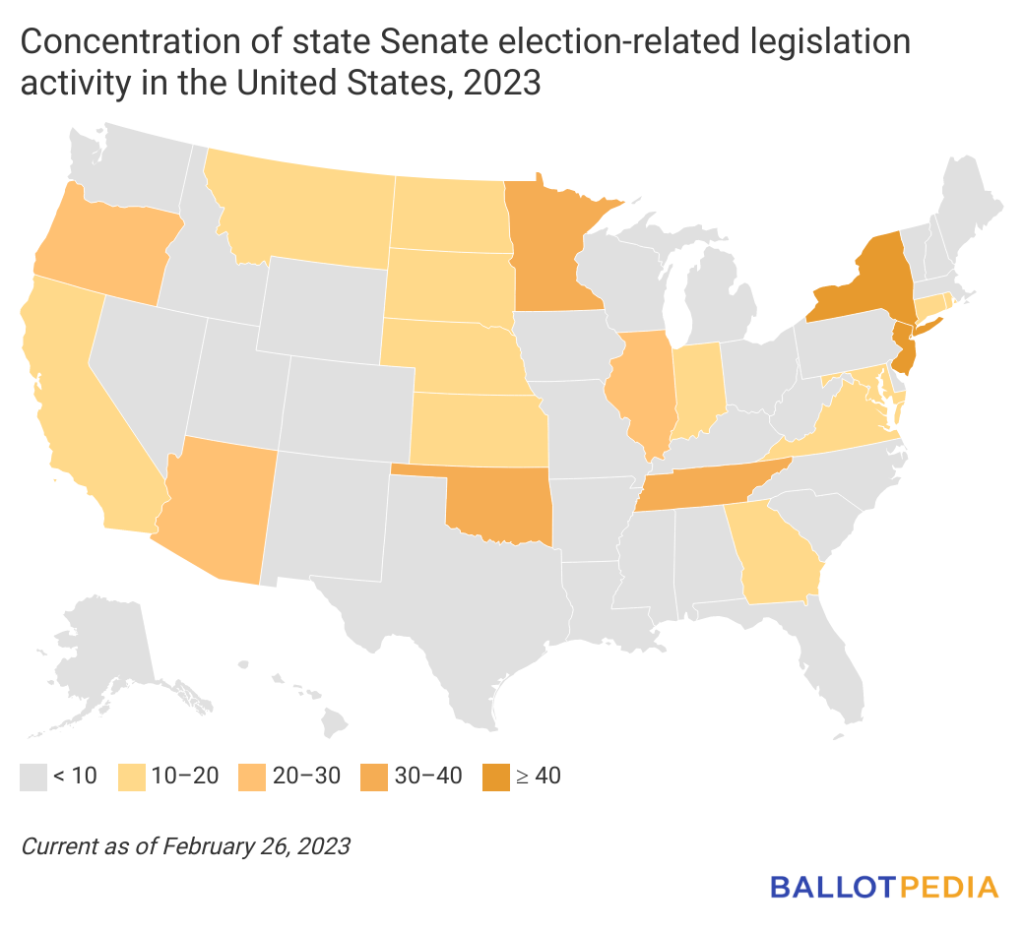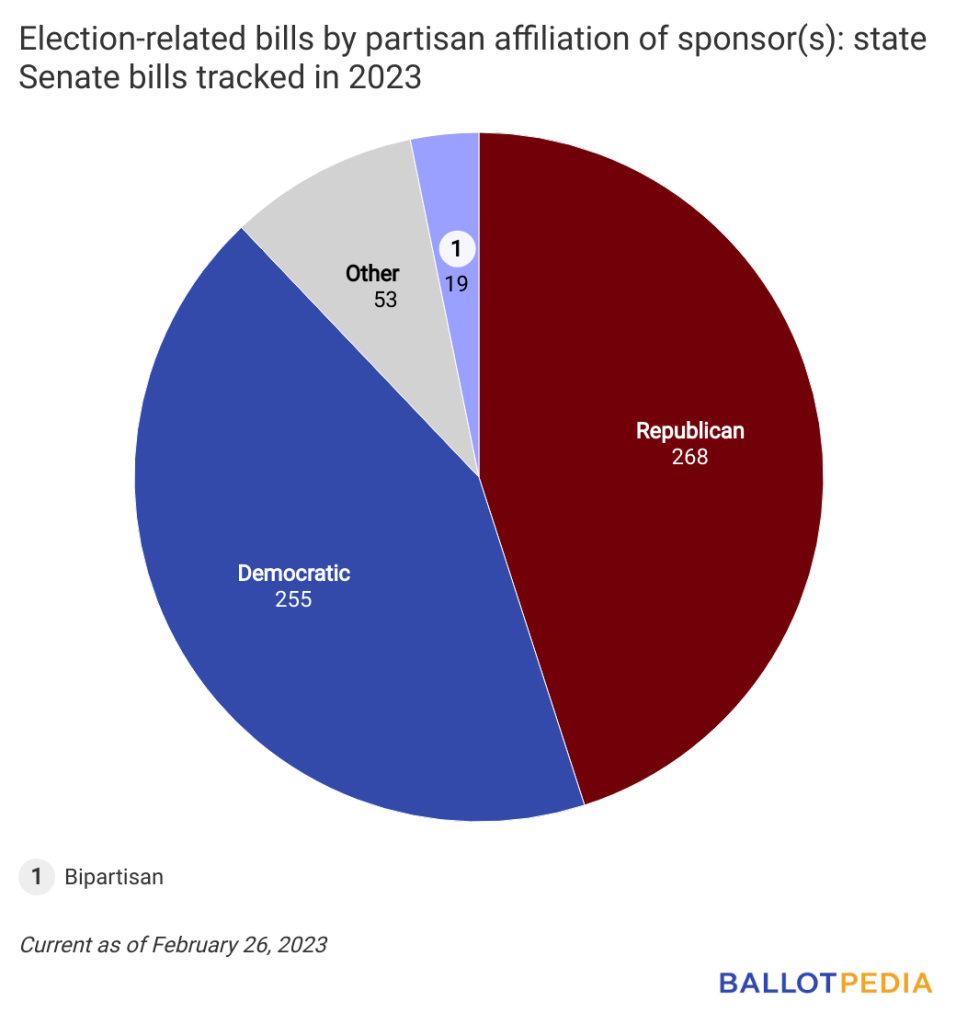 As of Feb. 26, Ballotpedia has tracked 321 Senate bills in Democratic trifectas and 206 Senate bills in Republican trifectas. A trifecta is when one political party holds the governorship and majorities in both chambers of the state legislature. Ballotpedia has tracked 68 Senate bills in states where neither party holds trifecta control.
The Iowa Senate is scheduled to be in session from Jan. 9 to April 28 this year. In 2022, Ballotpedia tracked nine Senate bills related to election administration. Two of these bills passed both chambers and both were enacted into law. Iowa is a Republican trifecta.
Additional reading: