As of Feb. 26, Ballotpedia has tracked eight election-related bills in the Kentucky State Senate since the beginning of the year. Of the eight, Ballotpedia tracked two from Feb. 20-26. Republicans sponsored these bills. The two bills are:
KY SB250: AN ACT relating to elections, Adrienne Southworth (R) and Lindsey Tichenor (R).

Prohibits voting systems or equipment from having foreign components and requires these systems to be certified by the Department of Defense.
Directs that U.S. suppliers be accredited by the Defense Microelectronics Activity of the United States Department of Defense.
Specifies that no voting equipment or system may be used in elections that has not been certified using existing specified guidelines.

KY SB232: AN ACT relating to elections, Adrienne Southworth (R).

Introduces gender neutral language, as well as makes clarifying and conforming edits.
Clarifies that a candidate who is qualified to contest the nomination of a successful candidate must file a petition in the circuit court, with specified existing guidelines.
Removes a requirement for execution of a "supersedeas bond" (defendant's appeal bond) when an appeal is filed regarding a contest case.
Provides that a candidate qualified to bring a contest may also request a recount and outlines specific requirements to be included in the request.
Requires recount requests filed in a circuit court to be heard without delay and specifies requirements for the setting of the bond.
Specifies procedures for if the recount request results in change of the outcome of the election, including notifications, new filing deadlines, and instances of further recounting.
Establishes that the clerk of the circuit court will be designated as the custodian of the materials for materials in possession of the court.
Stipulates the the court may use law enforcement to transport materials and includes related guidelines.
Directs the court to designate commissioners to assist in the recount, with certain stipulations.
Allows each political party that is represented at the county board of elections to appoint a representative to be present for the recount, and each candidate, and/or candidate's representative to be present.
Specifies that attorneys representing the parties may be present at all hearings and at the recount and provides that the court will authorize representatives of the media to observe the count.
Requires the court to file and enter a judgement of record of the results of the recount.
Changes the deadline for a recount commence from five days after filing of a petition, to 30 days following any election.
Modifies who will [complete] the recount from the county board of elections to the court.
During the week of Feb. 20-26, Ballotpedia tracked 48 Senate election-related bills nationally. As of Feb. 26, Ballotpedia has tracked 595 Senate bills nationally. Ballotpedia tracked the most Senate bills this year in the New York State Senate with 111, while Ballotpedia tracked the fewest Senate bills in Delaware, Louisiana, Maine, Massachusetts, and West Virginia with zero. Republicans sponsored 268 of these bills, while Democrats sponsored 255. Third party sponsorship and bills with no sponsors accounted for 53 bills, while bipartisan legislators sponsored 19.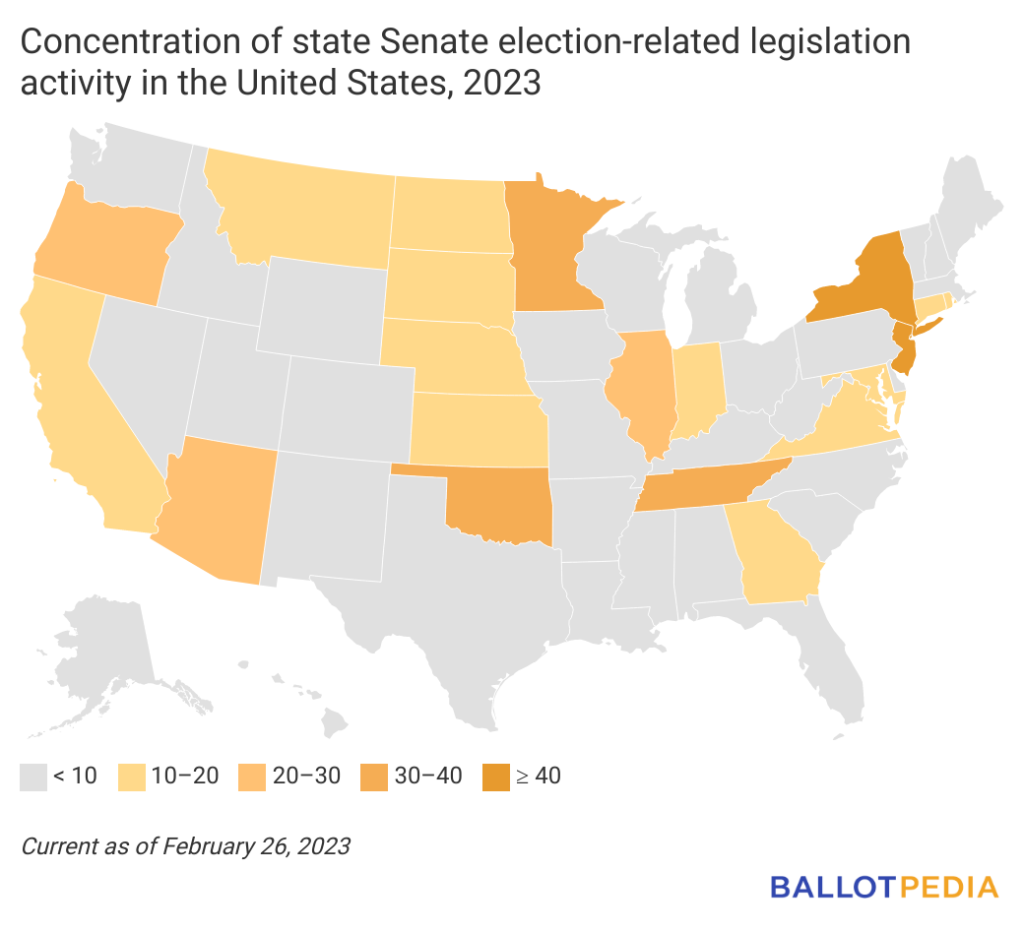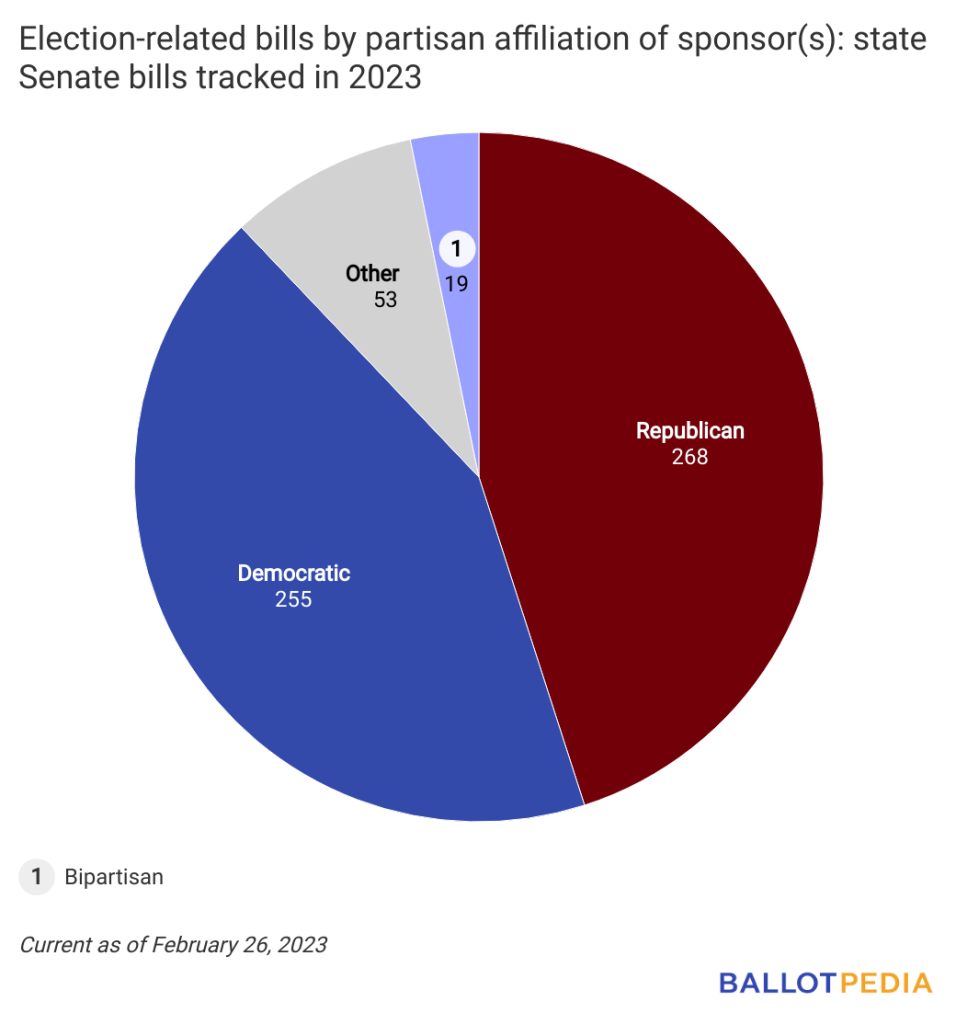 As of Feb. 26, Ballotpedia has tracked 321 Senate bills in Democratic trifectas and 206 Senate bills in Republican trifectas. A trifecta is when one political party holds the governorship and majorities in both chambers of the state legislature. Ballotpedia has tracked 68 Senate bills in states where neither party holds trifecta control.
The Kentucky Senate is scheduled to be in session from Jan. 3 to March 30 this year. In 2022, Ballotpedia tracked nine Senate bills related to election administration. One of these bills passed both chambers and was enacted into law. Kentucky is a divided government, meaning neither party holds trifecta control.
Additional reading: