As of Feb. 26, Ballotpedia has tracked three election-related bills in the North Carolina State Senate since the beginning of the year. Of the three, Ballotpedia tracked one from Feb. 20-26. A bipartisan group of legislators sponsored the bill. The bill is:
NC S137: Const. Amendment/Repeal Literacy Test, Sens. Gale Adcock (D), Valencia Applewhite (D), Sydney Batch (D), Michael Garrett (D), Lisa Grafstein (D), Rachel Hunt (D), Paul Lowe (D), Natasha Marcus (D), Graig Meyer (D), Mujtaba Mohammed (D), Natalie Murdock (D), Gladys Robinson (D), DeAndrea Salvador (D), Kandie Smith (D), Joyce Waddell (D), Mike Woodard (D), Ted Alexander (R), Danny Britt (R), Amy Galey (R), Ralph Hise (R), Matthew Johnson (R), Michael Lazzara (R), Michael Lee (R), Thomas McInnis (R), Tim Moffitt (R), Paul Newton (R), Jim Perry (R), Norman Sanderson (R), and Benton Sawrey (R).

Proposes a constitutional amendment repealing the literacy test requirement.
Submits the amendment to the electorate via a question at the November 5, 2024 election.
Provides language for the question on the ballot.
Establishes that a majority of votes is [required] in favor of the amendment for the amendment to pass.
Outlines duties of the secretary of state if the amendment passes or if it fails.
Provides an effective date.
During the week of Feb. 20-26, Ballotpedia tracked 48 Senate election-related bills nationally. As of Feb. 26, Ballotpedia has tracked 595 Senate bills nationally. Ballotpedia tracked the most Senate bills this year in the New York State Senate with 111, while Ballotpedia tracked the fewest Senate bills in Delaware, Louisiana, Maine, Massachusetts, and West Virginia with zero. Republicans sponsored 268 of these bills, while Democrats sponsored 255. Third party sponsorship and bills with no sponsors accounted for 53 bills, while bipartisan legislators sponsored 19.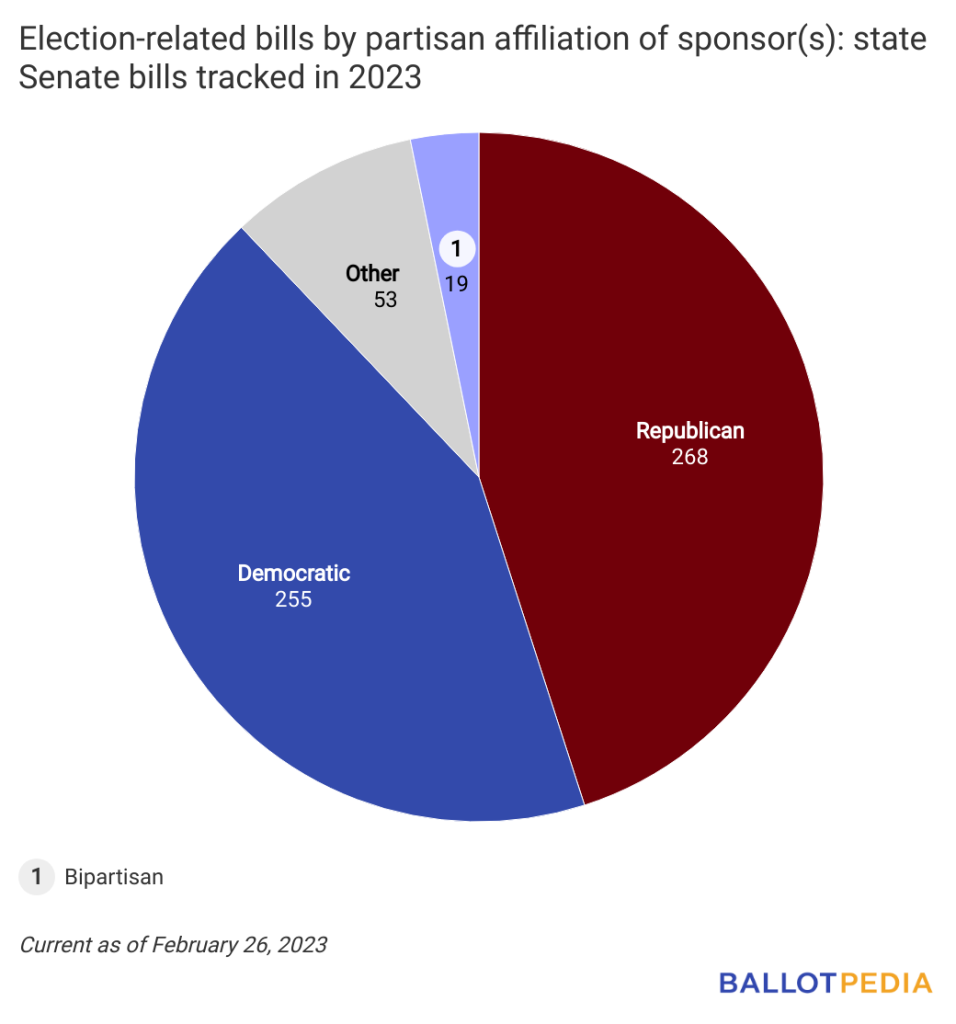 As of Feb. 26, Ballotpedia has tracked 321 Senate bills in Democratic trifectas and 206 Senate bills in Republican trifectas. A trifecta is when one political party holds the governorship and majorities in both chambers of the state legislature. Ballotpedia has tracked 68 Senate bills in states where neither party holds trifecta control.
The North Carolina Senate is scheduled to be in session from Jan. 11 to Aug. 31 this year. In 2022, Ballotpedia tracked eight Senate bills related to election administration. Two of these bills passed both chambers and one was enacted into law. North Carolina is a divided government, meaning neither party holds trifecta control.
Additional reading: