Vice President Kamala Harris (D) cast her 29th tie-breaking vote in the Senate on March 1, breaking a 48-48 tie to approve Margaret R. Guzman to be United States District Judge for the District of Massachusetts. Harris is now tied with John Adams (1789-1797) for the second-most tie-breaking votes cast by a vice president in United States history.
Harris has cast 23 votes related to confirming judges and administration officials, and six votes related to the American Rescue Plan Act and the Inflation Reduction Act. Both of these bills were passed through the reconciliation process during the 117th Congress, and subsequently signed into law by President Joe Biden (D).
John C. Calhoun cast 31 tie-breaking votes during his tenure from 1825 to 1832, the most of all vice presidents. After Adams and Harris, George M. Dallas cast the next most (19) from 1845 to 1849.
Harris has cast the most tie-breaking votes of any vice president since 1981. Mike Pence (R), Harris' predecessor, cast 13 tie-breaking votes.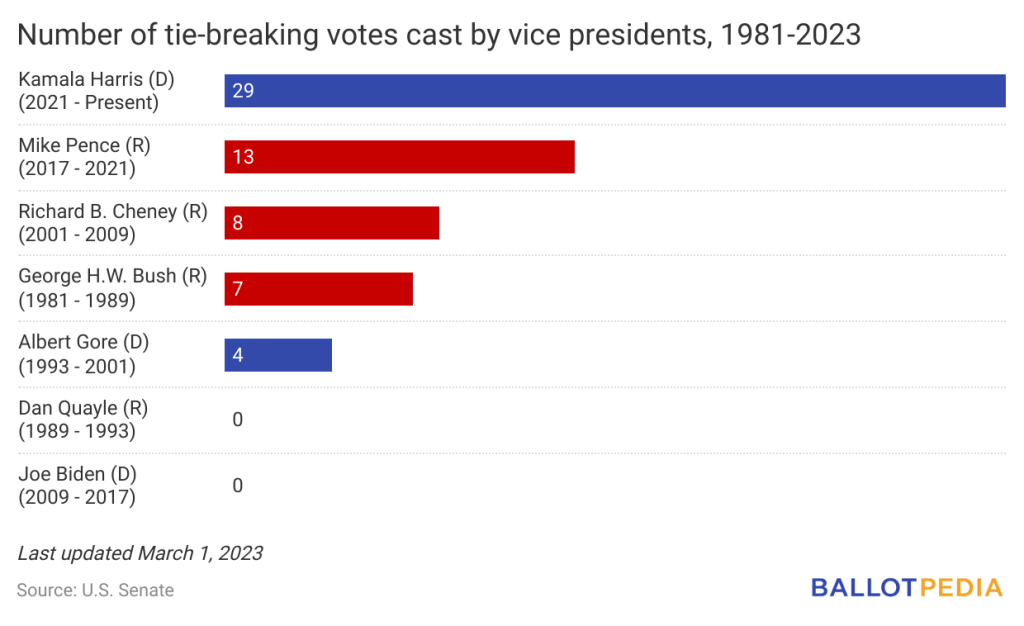 As of March 1, 2023, all 37 vice presidents have cast 296 tie-breaking votes. Adams cast the first tie-breaking vote ever on July 18, 1789.