As of March 5, members of the New York State Legislature, which includes the New York State Assembly and the New York State Senate, have passed two bills related to election administration since the beginning of the year. Of those two bills, legislators passed both during the week of Feb. 27-March 5. Democrats sponsored both bills. The two bills are:
NY S00822: Permits electronic correspondence with regard to determinations on objections to designating petitions, independent nominating petitions, certificates of nomination or ballot access documents upon the consent of the objector, Sen. Rachel May (D). 

Provides that notice regarding the sufficiency of a petition may be given electronically instead of by overnight mail, with the consent of the objector or candidate.
Outlines how a candidate or objector may consent to electronic notice.

NY S00852: Relates to the accessibility of congressional, senatorial, assembly and election district maps in downloadable digital file formats compatible with geographic information (GIS) software, Sen. James Skoufis (D).

Specifies that election district maps on websites must be available in a specific downloadable digital format.
Governor Kathy Hochul (D) signed both bills into law.
From Feb. 27-March 5, legislators passed 18 bills related to election administration nationally. As of March 5, South Dakota legislators have passed the most bills this year with 14, while legislators in 41 states have passed none. Wyoming Gov. Mark Gordon (R) and Gov. Hochul have signed the most bills with two enacted in each state, while governors in 44 states have signed none.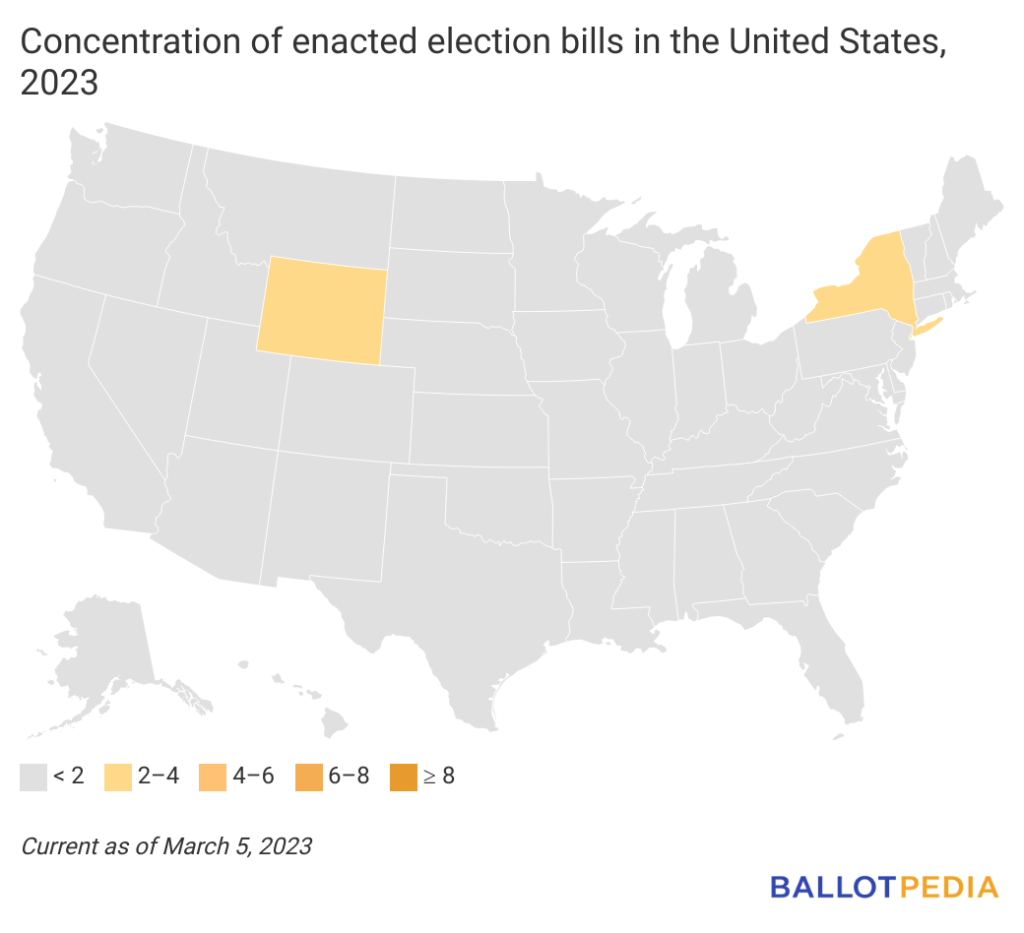 The New York State Legislature is scheduled to be in session from Jan. 4 to June 8 this year. In 2022, New York legislators passed 17 election-related bills, 10 in the state Senate and seven in the state House. Thirteen of the bills were enacted into law, eight in the state Senate and five in the state House. New York is a Democratic trifecta, meaning Democrats control the governorship and both chambers of the state legislature.
Additional reading: