As of March 12, Ballotpedia has tracked five election-related bills in the Iowa State Senate since the beginning of the year. Of the five, Ballotpedia tracked one from March 6-12. No sponsors were listed on the bill. The bill is:
IA SF507: A bill for an act concerning public contracts with companies that boycott certain companies or that engage in nonpecuniary social investment policies. (Formerly SSB 1094.), no sponsors listed. 
During the week of March 6-12, Ballotpedia tracked 27 Senate election-related bills nationally. As of March 12, Ballotpedia has tracked 659 Senate bills nationally. Ballotpedia tracked the most Senate bills this year in the New York State Senate with 120, while Ballotpedia tracked the fewest Senate bills in Louisiana, Massachusetts, and West Virginia with zero.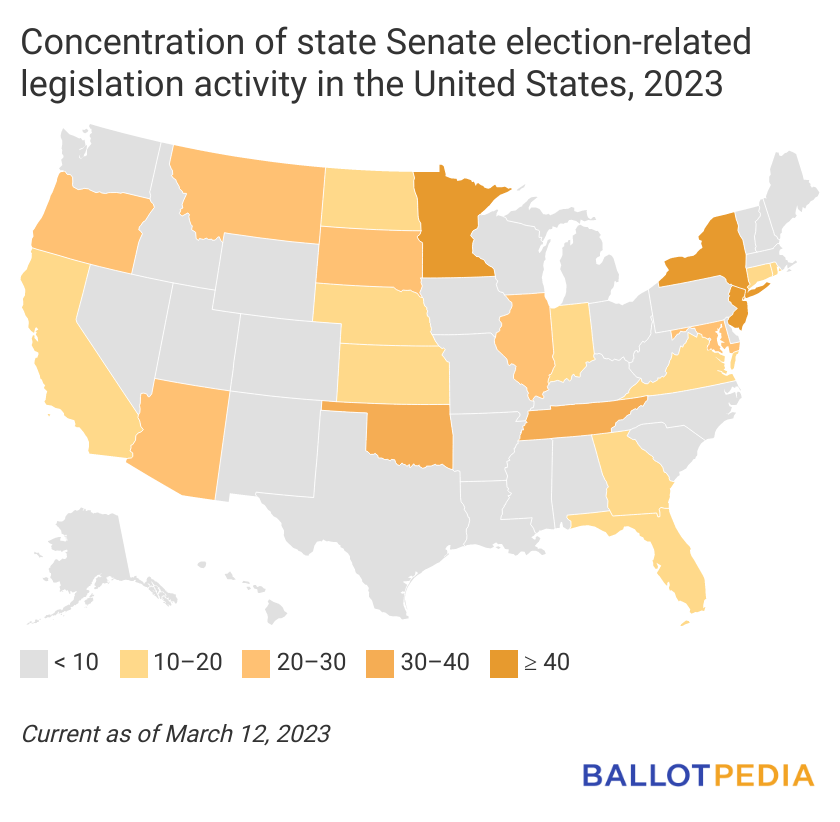 As of March 12, Ballotpedia has tracked 356 Senate bills in Democratic trifectas and 230 Senate bills in Republican trifectas. A trifecta is when one political party holds the governorship and majorities in both chambers of the state legislature. Ballotpedia has tracked 73 Senate bills in states where neither party holds trifecta control.
The Iowa Senate is scheduled to be in session from Jan. 9 to April 28 this year. In 2022, Ballotpedia tracked nine Senate bills related to election administration. Two of these bills passed both chambers and both were enacted into law. Iowa is a Republican trifecta.
Additional reading: