As of March 12, Ballotpedia has tracked four election-related bills in the North Carolina State Senate since the beginning of the year. Of the four, Ballotpedia tracked one from March 6-12. Democrats sponsored the bill. The bill is:
NC S226: Freedom to Vote, Sens. Gale Adcock (D), Valencia Applewhite (D), Sydney Batch (D), Dan Blue (D), Mary Bode (D), Jay Chaudhuri (D), Michael Garrett (D), Lisa Grafstein (D), Rachel Hunt (D), Paul Lowe (D), Natasha Marcus (D), Julie Mayfield (D), Graig Meyer (D), Mujtaba Mohammed (D), Natalie Murdock (D), Gladys Robinson (D), DeAndrea Salvador (D), Kandie Smith (D), and Mike Woodard (D).
During the week of March 6-12, Ballotpedia tracked 27 Senate election-related bills nationally. As of March 12, Ballotpedia has tracked 659 Senate bills nationally. Ballotpedia tracked the most Senate bills this year in the New York State Senate with 120, while Ballotpedia tracked the fewest Senate bills in Louisiana, Massachusetts, and West Virginia with zero.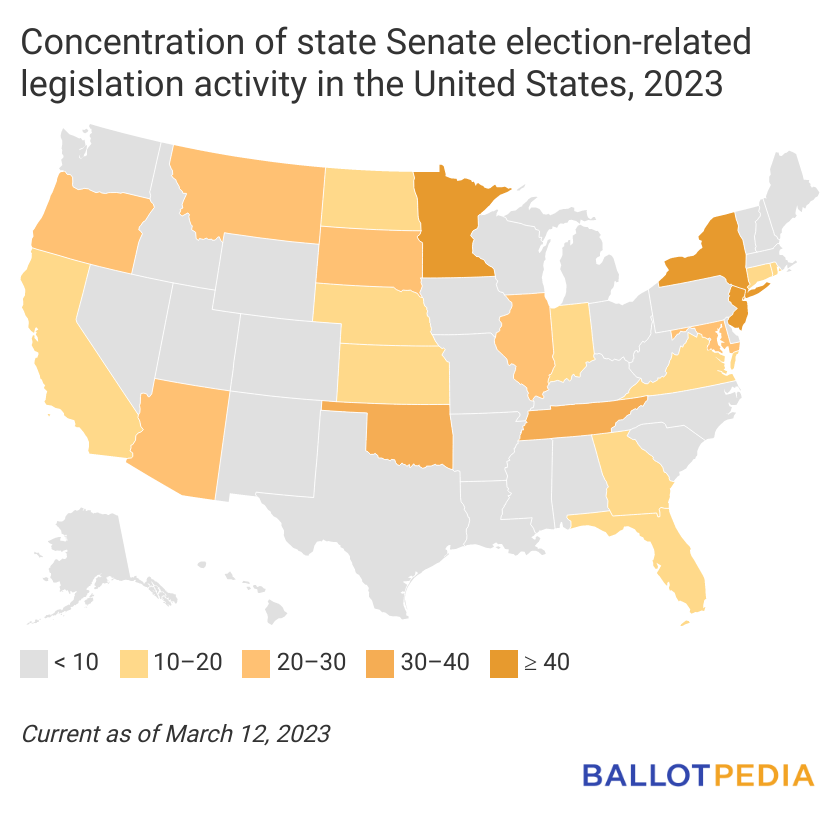 As of March 12, Ballotpedia has tracked 356 Senate bills in Democratic trifectas and 230 Senate bills in Republican trifectas. A trifecta is when one political party holds the governorship and majorities in both chambers of the state legislature. Ballotpedia has tracked 73 Senate bills in states where neither party holds trifecta control.
The North Carolina Senate is scheduled to be in session from Jan. 11 to Aug. 31 this year. In 2022, Ballotpedia tracked eight Senate bills related to election administration. Two of these bills passed both chambers and one was enacted into law. North Carolina is a divided government, meaning neither party holds trifecta control.
Additional reading: