As of March 12, Ballotpedia has tracked five election-related bills in the Wisconsin State Senate since the beginning of the year. Of the five, Ballotpedia tracked one from March 6-12. Republicans sponsored the bill. The bill is:
WI SB98: Verifying citizenship of individuals on the official voter registration list and contents of operator's licenses and identification cards (FE), Assembly Members Scott Allen (R), David Armstrong (R), Elijah Behnke (R), Amy Binsfeld (R), Janel Brandtjen (R), Robert Brooks (R), Barbara Dittrich (R), Cindi Duchow (R), James Edming (R), Chanz Green (R), Rick Gundrum (R), Joel Kitchens (R), Dan Knodl (R), Gae Magnafici (R), Tom Michalski (R), Clint Moses (R), David Murphy (R), Jeffrey Mursau (R), Adam Neylon (R), Jerry O'Connor (R), Nik Rettinger (R), Donna Rozar (R), Michael Schraa (R), Paul Tittl (R), and Ron Tusler (R) and Sens. Julian Bradley (R), Rachael Cabral-Guevara (R), Robert Cowles (R), Stephen Nass (R), Duey Stroebel (R), and Cory Tomczyk (R).

As introduced, this bill requires the department of transportation to provide the elections commission access to personally identifiable information in order to verify that individuals on the voter registration list are U.S. citizens.
During the week of March 6-12, Ballotpedia tracked 27 Senate election-related bills nationally. As of March 12, Ballotpedia has tracked 659 Senate bills nationally. Ballotpedia tracked the most Senate bills this year in the New York State Senate with 120, while Ballotpedia tracked the fewest Senate bills in Louisiana, Massachusetts, and West Virginia with zero.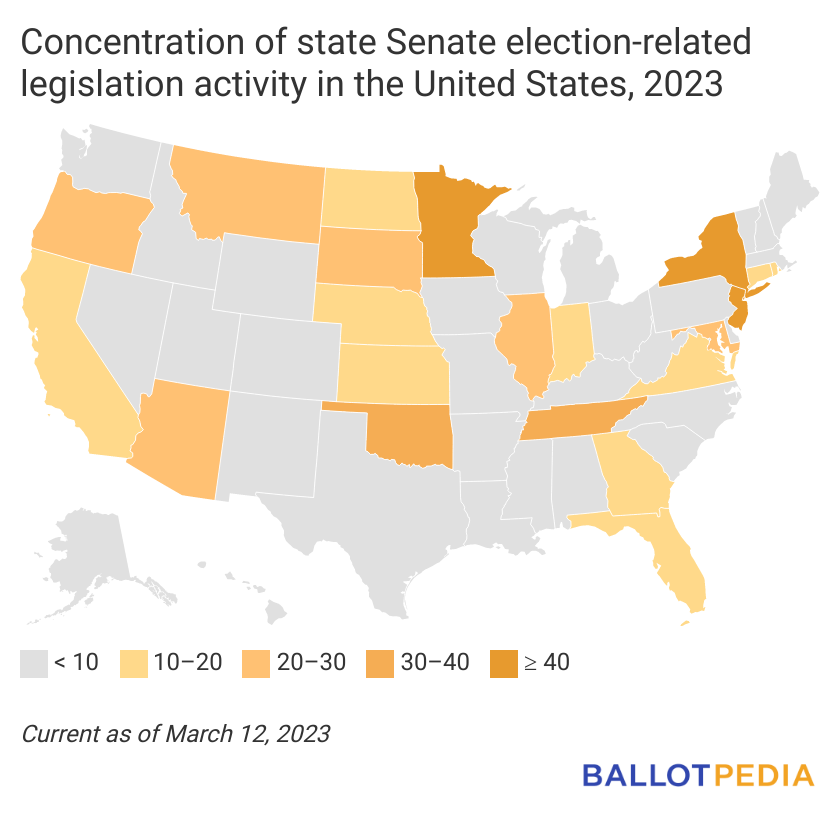 As of March 12, Ballotpedia has tracked 356 Senate bills in Democratic trifectas and 230 Senate bills in Republican trifectas. A trifecta is when one political party holds the governorship and majorities in both chambers of the state legislature. Ballotpedia has tracked 73 Senate bills in states where neither party holds trifecta control.
The Wisconsin Senate is scheduled to be in session from Jan. 3 to Dec. 31 this year. In 2022, Ballotpedia tracked 37 Senate bills related to election administration. Two of these bills passed both chambers and both were enacted into law. Wisconsin is a divided government, meaning neither party holds trifecta control.
Additional reading: