As of March 19, members of the New Mexico State Legislature, which includes the New Mexico House of Representatives and the New Mexico State Senate, have passed four bills related to election administration since the beginning of the year. Of those four bills, legislators passed three during the week of March 13-19. Democrats sponsored all three bills. The three bills are:
NM SB335: Delay Part Of Local Election Act, Sen. Gerald Ortiz y Pino (D). 

As introduced, this bill delays the implementation of the Local Election Act until 2025 for districts created in the Conservancy Act and their election procedures. The 2023 election can be conducted using emergency paper ballot, electronic voting machine, or any other state certified tabulating voting machine. 

NM SB180: Election Changes, Sens. Katy Duhigg (D) and Leo Jaramillo (D).

Requires the secretary of state to implement a secure internet application to gather and verify electronic signatures in accordance with existing rules, by Jan. 1, 2024.
Changes the definition of a "registration officer" to include a clerk authorized member of an election board, instead of a board of registration member.
Specifies that the Election Code, rather than the Inspection of Public Records Act, applies when the Code provides for disclosure or nondisclosure of public records.
Requires an election related organization to register with the secretary of state at least 70 days before an election, or 42 days before a special or U.S. House vacancy election.
Directs the secretary of state to maintain an election security program that advises specified people regarding cybersecurity requirements and implementation, liaises with federal oversight and intelligence agencies regarding election infrastructure, outlines roles and responsibilities of the program, and provides related definitions.
Click the hyperlinked bill number above for more information.

NM SB43: Intimidation Of Election Officials, Sens. Katy Duhigg (D) and Peter Wirth (D).

As introduced, this bill expands the felony definition of intimidation to include actions taken against a number of election officials including employees of the secretary of state, county clerks, municipal clerks, member of an election board, and more.
The bills have not been enacted into law as of March 19.
From March 13-19, legislators passed 19 bills related to election administration nationally. As of March 19, South Dakota legislators have passed the most bills this year with 17, while legislators in 33 states have passed none. The state with the most enacted bills is Utah with five, while 40 states have enacted none.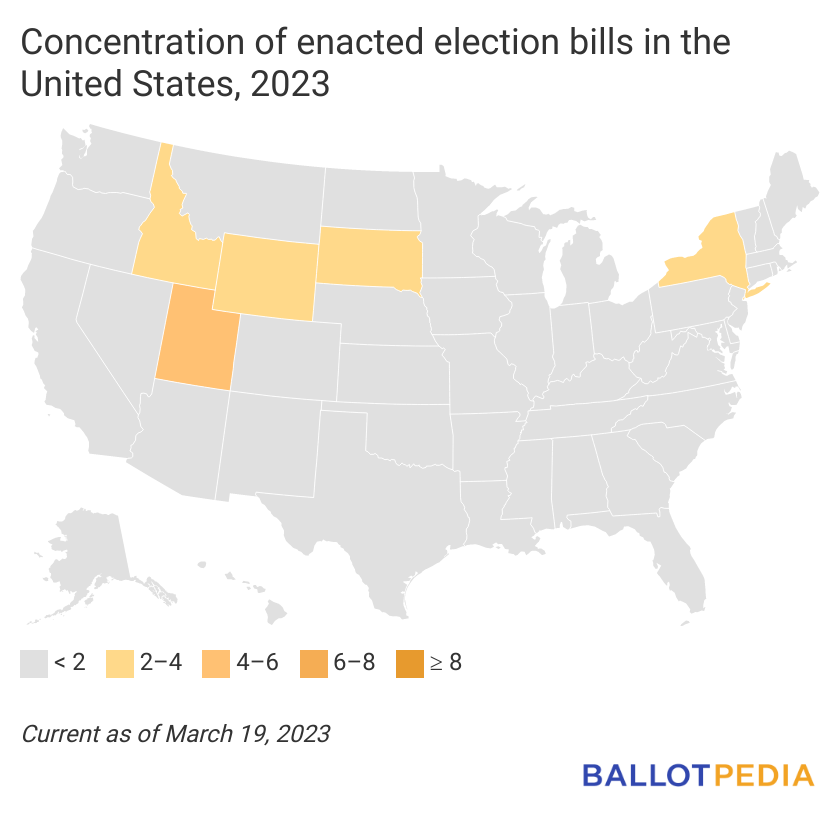 The New Mexico State Legislature was scheduled to be in session from Jan. 17 to March 18 this year. In 2022, New Mexico legislators passed one election-related bill in the state Senate. The bill was not enacted into law. New Mexico is a Democratic trifecta, meaning Democrats control the governorship and both chambers of the state legislature.
Additional reading: