As of March 19, Ballotpedia has tracked 138 election-related bills in the New York State Assembly since the beginning of the year. Of the 138, Ballotpedia tracked three from March 13-19. Republicans sponsored two, while Democrats sponsored one. The three bills are:
NY A05494: Requires the county seat in Delaware county (Delhi) to have at least one polling place designated for early voting, Assembly Member Joe Angelino (R).

As introduced, this bill designates at least one early voting polling place in Delaware County, on a public transportation route, if possible.

NY A05473: Requires funeral directors to ensure that death certificates are delivered to the state health department and the department of health of the city of New York who shall in turn deliver certain certificates to the state board of elections, Assembly Member Doug Smith (R).

As introduced, this bill requires all funeral directors to deliver death certificates to the state health department and for each county board of elections to ensure that any deceased voter is promptly removed from the voter registration list. This bill also makes conforming changes.

NY A05477: Exempts income earned working at the polls from the definition of income, Assembly Members William Colton (D), Inez Dickens (D), Edward Gibbs (D), Deborah Glick (D), Aileen Gunther (D), Jonathan Jacobson (D), John McDonald (D), Phil Ramos (D), Gina Sillitti (D), Phillip Steck (D), Steve Stern (D), and Monica Wallace (D).

As introduced, this bill exempts income earned by election inspectors, poll clerks, and election coordinators working on elections from the definition of "income" related to gross income for federal income tax purposes.
During the week of March 13-19, Ballotpedia tracked 92 House election-related bills nationally. As of March 19, Ballotpedia has tracked 1,059 House bills nationally. Ballotpedia tracked the most House bills this year in the New York State Assembly with 138, while Ballotpedia tracked the fewest House bills in the Massachusetts House of Representatives with zero. Republicans sponsored 491 of these bills, while Democrats sponsored 430. Third party sponsorship and bills with no sponsors accounted for 74 bills, while bipartisan legislators sponsored 64.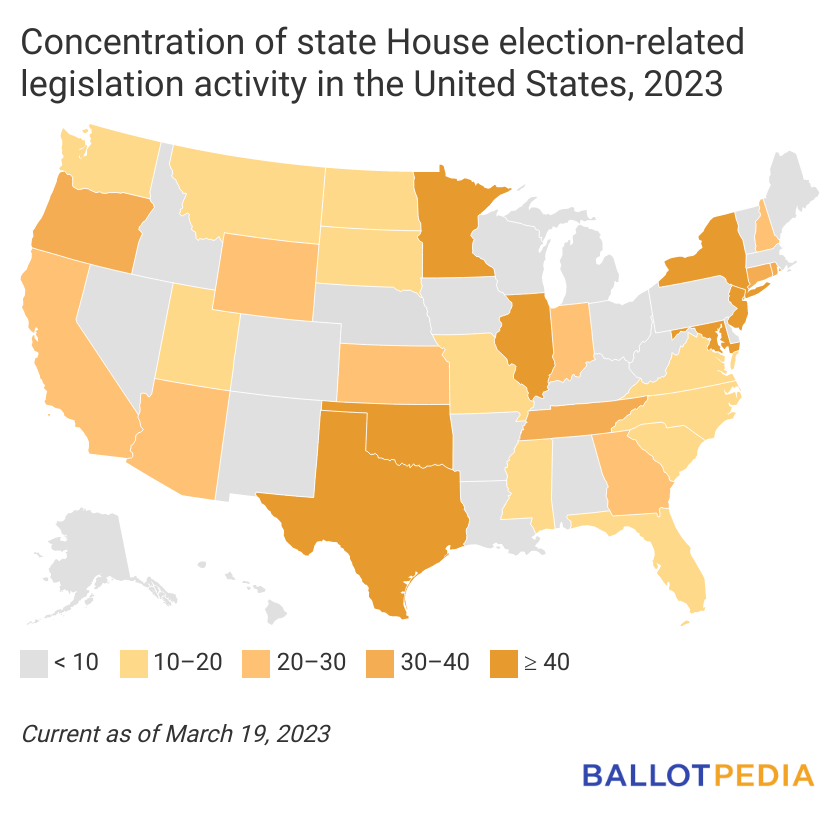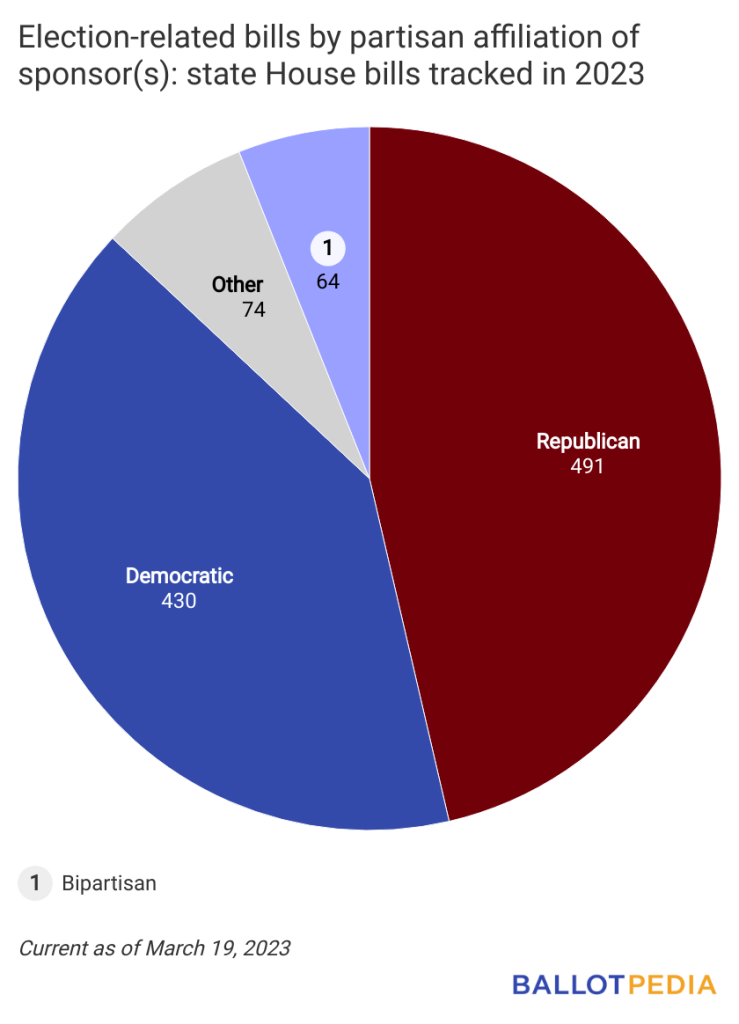 As of March 19, Ballotpedia has tracked 561 House bills in Democratic trifectas and 392 House bills in Republican trifectas. A trifecta is when one political party holds the governorship and majorities in both chambers of the state legislature. Ballotpedia has tracked 106 House bills in states where neither party holds trifecta control.
The New York House is scheduled to be in session from Jan. 4 to June 8 this year. In 2022, Ballotpedia tracked 226 House bills related to election administration. Seven of these bills passed both chambers and five were enacted into law. New York is a Democratic trifecta.
Additional reading: