As of April 2, members of the Indiana General Assembly, which includes the Indiana House of Representatives and the Indiana State Senate, have passed two bills related to election administration since the beginning of the year. Of those two bills, legislators passed two during the week of March 27-April 2. Republicans sponsored both bills. The two bills are:
IN HB1335: Various election law matters, Sens. Jon Ford (R) and Linda Rogers (R) and Rep. Timothy Wesco (R).  

This bill, as introduced on Jan. 17, 2023, removes election scheduling for past election cycles and adds new election years information for future precinct committeemen, presidential electors, senators, statewide office, judicial, municipal, and political party primary elections.

IN SB0177: School board candidate filing deadline, Sens. James Buck (R) and Eric Koch (R) and Reps. John Prescott (R) and Timothy Wesco (R).

This bill, as amended, changes the deadline for petition and declaration filings for school board candidates. Petition filings are due between the day voter registration begins after the primary election and 30 days from the first day declaration of intent filings can be submitted. Declaration of intent filings can be submitted between 90 days and 74 days before the general election. The candidate withdrawal deadline is July 15. Adds the same new filing deadlines to statements submitted questioning a candidate's petition or nomination.
None of the bills have been enacted yet.
From March 27-April 2, legislators passed eight bills related to election administration nationally. As of April 2, South Dakota legislators have passed the most bills this year with 18, while legislators in 28 states have passed none. The state with the most enacted bills is South Dakota with 16, while 32 states have enacted none.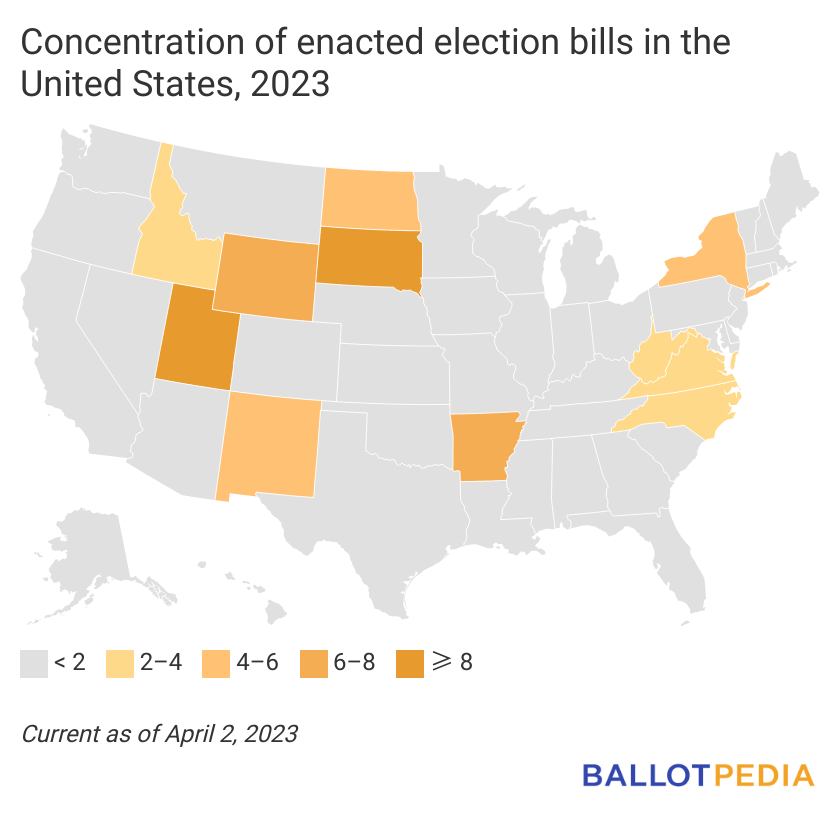 The Indiana General Assembly is scheduled to be in session from Jan. 9 to April 27 this year. In 2022, Indiana legislators passed three election-related bills, two in the state House and one in the state Senate. All three bills were enacted into law. Indiana is a Republican trifecta, meaning Republicans control the governorship and both chambers of the state legislature.
Additional reading: