As of April 2, Ballotpedia has tracked 128 election-related bills in the New York State Senate since the beginning of the year. Of the 128, Ballotpedia tracked three from March 27-April 2. Democrats sponsored all three bills. The three bills are:
NY S05943: Modifies the order in which candidates appear on the ballot; requires that offices shall be listed on the ballot in descending order based on the size of the electorate and requires certain federal offices to be listed before state, county or local offices, Sens. Leroy Comrie (D), John Liu (D), Zellnor Myrie (D), Roxanne Persaud (D), and James Skoufis (D).

As introduced, this bill changes the order candidates must appear on the ballot.

NY S05984: Provides for conditional registration of voters during early voting, Sen. Brian Kavanagh (D).

A summary has not been provided yet.

NY S06008: Relates to voting rights expansion, voter registration on election day, expansion of the use of and requirements for absentee voting, creation of a real-time state wide voter registration database, special ballots for election employees, and voter affidavits, Sens. Kevin Parker (D) and Luis Sepulveda (D).

As introduced, this bill:

Provides for same day registration at the polling place and defines "election day."
Authorizes someone registering on election day to be able to vote after a qualifying registration.
Clarifies that if a person is standing in line to register to vote and the polls close, the person will be able to register and to vote.
Provides that any voter may choose to vote absentee and defines "board of elections."
Requires the board of elections for all counties and cities to mail an absentee ballot to every qualified voter by 30 days before an election, and specifies procedures for a primary election.
Click the hyperlinked bill number above for more information.
During the week of March 27-April 2, Ballotpedia tracked 102 Senate election-related bills nationally. As of April 2, Ballotpedia has tracked 872 Senate bills nationally. Ballotpedia tracked the most Senate bills this year in the New York State Senate with 128, while Ballotpedia tracked the fewest Senate bills in Louisiana and Massachusetts with zero.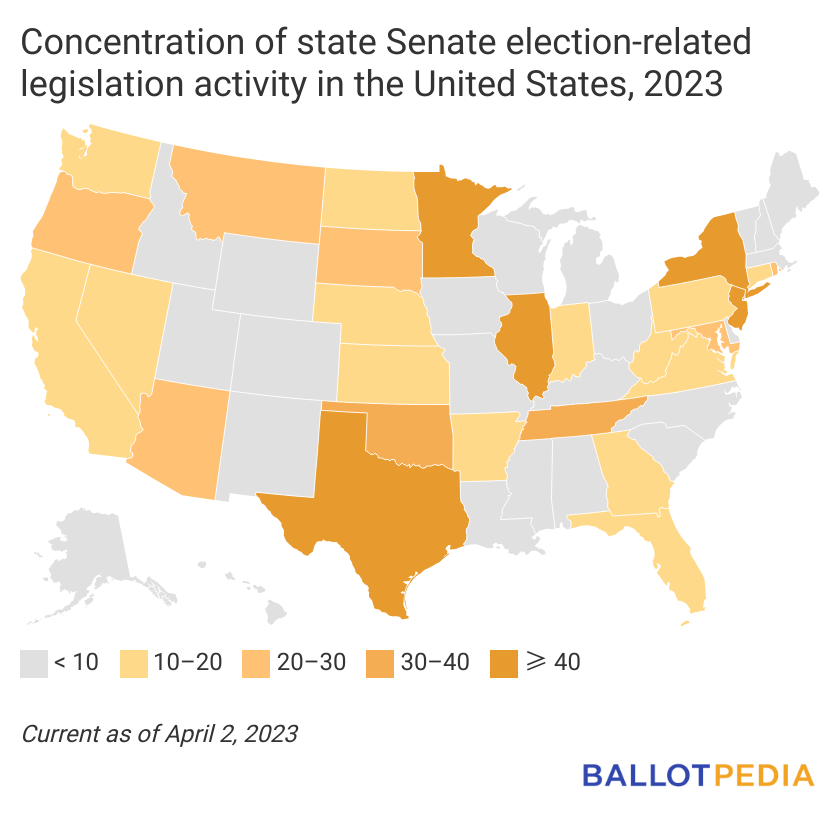 As of April 2, Ballotpedia has tracked 401 Senate bills in Democratic trifectas and 367 Senate bills in Republican trifectas. A trifecta is when one political party holds the governorship and majorities in both chambers of the state legislature. Ballotpedia has tracked 104 Senate bills in states where neither party holds trifecta control.
The New York Senate is scheduled to be in session from Jan. 4 to June 8 this year. In 2022, Ballotpedia tracked 190 Senate bills related to election administration. Ten of these bills passed both chambers and eight were enacted into law. New York is a Democratic trifecta.
Additional reading: