As of April 2, Ballotpedia has tracked 20 election-related bills in the North Carolina House of Representatives since the beginning of the year. Of the 20, Ballotpedia tracked one from March 27-April 2. Republicans sponsored the bill. The bill is:
NC H485: Provisional Ballot/Same-Day Registration, Reps. Hugh Blackwell (R), Mike Clampitt (R), George Cleveland (R), Kevin Crutchfield (R), Ted Davis (R), Dudley Greene (R), Frank Iler (R), Jeffrey McNeely (R), Grey Mills (R), Phillip Shepard (R), Carson Smith (R), Steve Tyson (R), William Ward (R), Harry Warren (R), and Jeff Zenger (R).

A summary has not been provided yet.
During the week of March 27-April 2, Ballotpedia tracked 179 House election-related bills nationally. As of April 2, Ballotpedia has tracked 1,289 House bills nationally. Ballotpedia tracked the most House bills this year in the Texas House of Representatives with 177, while Ballotpedia tracked the fewest House bills in the Massachusetts House of Representatives with zero.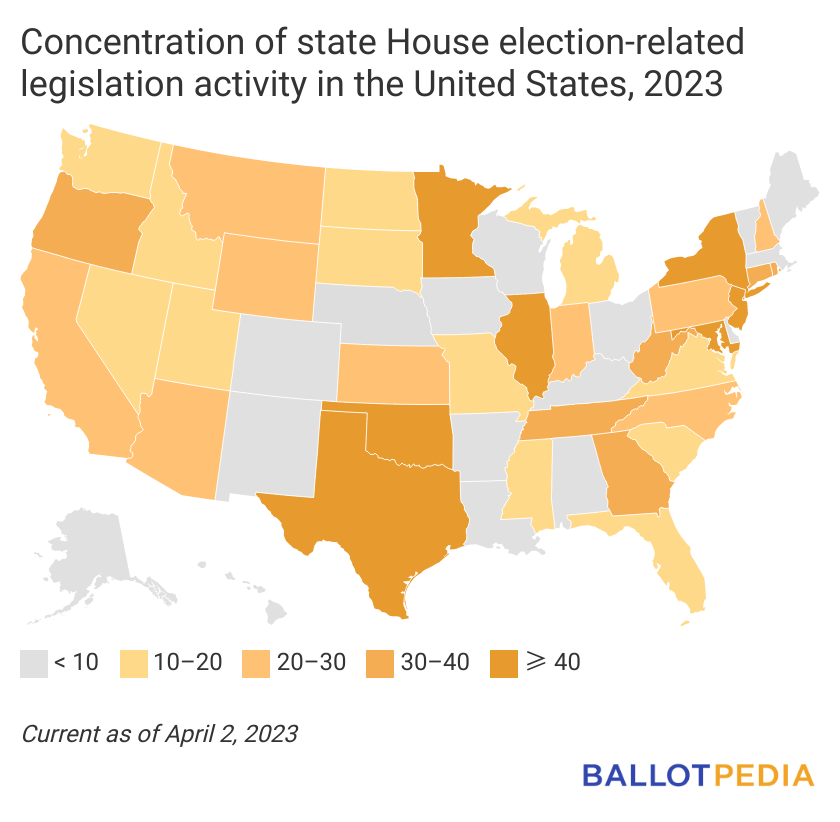 As of April 2, Ballotpedia has tracked 594 House bills in Democratic trifectas and 558 House bills in Republican trifectas. A trifecta is when one political party holds the governorship and majorities in both chambers of the state legislature. Ballotpedia has tracked 137 House bills in states where neither party holds trifecta control.
The North Carolina House is scheduled to be in session from Jan. 11 to Aug. 31 this year. In 2022, Ballotpedia tracked 17 House bills related to election administration. One of these bills passed both chambers, but it was not enacted into law. North Carolina is a divided government, meaning neither party holds trifecta control.
Additional reading: