Welcome to the Wednesday, April 19, Brew.
Here's what's in store for you as you start your day:
Texas legislators have proposed 295 state constitutional amendments this year
At least 27 state legislators have been expelled since 2000
Last week was the Federal Register's most active this year
---
Texas legislators have proposed 295 state constitutional amendments this year
The Texas Legislature has proposed 295 constitutional amendments during its 2023 legislative session, up from 251 in 2021 and 216 in 2019. The legislature adjourns on May 29.
As of April 14, 14 of the 295 proposed amendments (4.7%) have passed one chamber and could appear on the 2023 ballot if the second chamber approves. No proposals have qualified for the ballot yet.
Texas is one of a handful of states that frequently vote on constitutional amendments in odd-numbered years.
Between 2009 and 2021, Texas legislators filed an average of 196 constitutional amendments per session. Most of these amendments never make the ballot. On average, nine amendments—4.7% of the average number introduced—appear on the ballot.
Both legislative chambers must approve an amendment with a two-thirds vote for it to appear on the ballot: 21 votes in the Senate and 100 in the House. Republicans currently represent 19 Senate districts and 86 House districts, meaning they need support from at least two Senate Democrats and 14 House Democrats to place an amendment before the voters.
Voters usually approve amendments. Since 1995, Texans have decided 175 measures in odd-numbered years, approving 160 (91%) and defeating 15 (9%).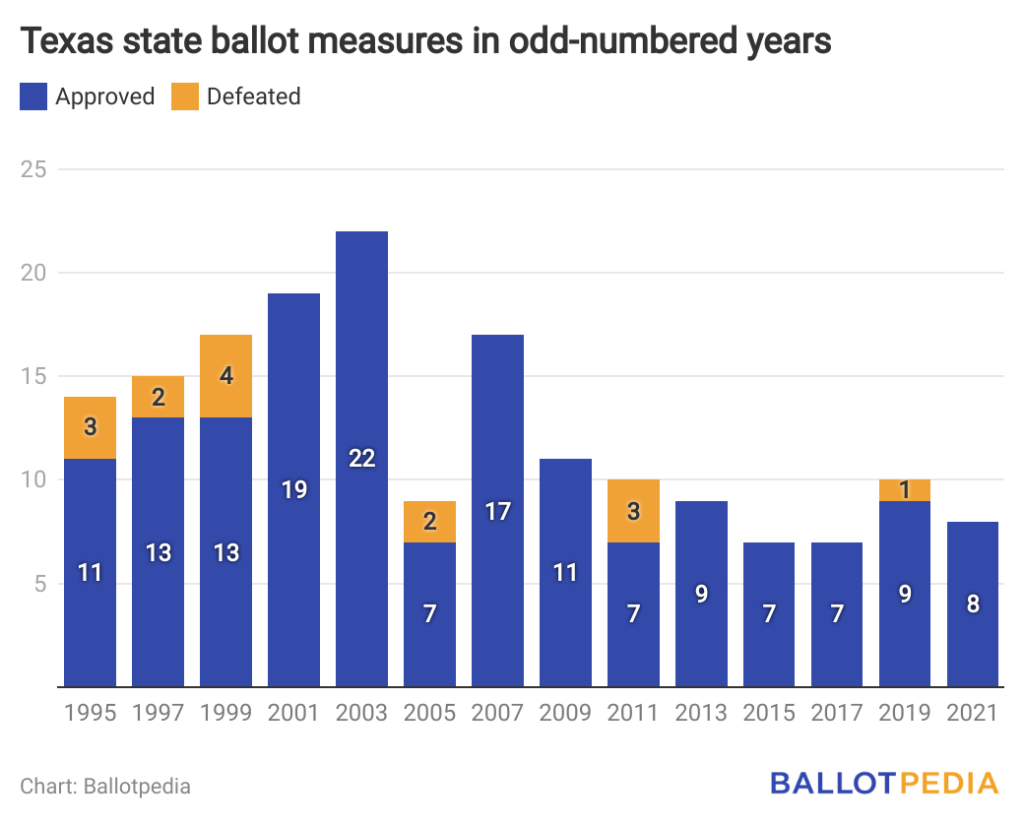 The proposed amendments that have already passed one chamber range from topics like financing water projects to citizen-voting requirements. One proposal would require the governor to convene a special legislative session if an emergency declaration lasts more than 30 days under certain circumstances.
---
At least 27 state legislators have been expelled since 2000
Over the past month, three elected officials were expelled from state legislatures: Reps. Liz Harris (R-Ariz.), Justin Jones (D-Tenn.), and Justin Pearson (D-Tenn.).
Local officials later re-appointed Jones and Pearson to their seats. For Harris, local Republican committee members gave the Maricopa County Board of Supervisors three names—including Harris'—to choose from on April 18.
In order to determine how often lawmakers are expelled, we have been digging into the historical data.
Including the three recent expulsions in Arizona and Tennessee, we have found 27 cases of elected officials expelled from state legislatures since 2000. For Nineteen, the chambers voted to expel them, and eight were removed automatically following criminal convictions under state law.
Of those 27, 21 expelled legislators were members of their chamber's majority party, and six were minority party members, shown below: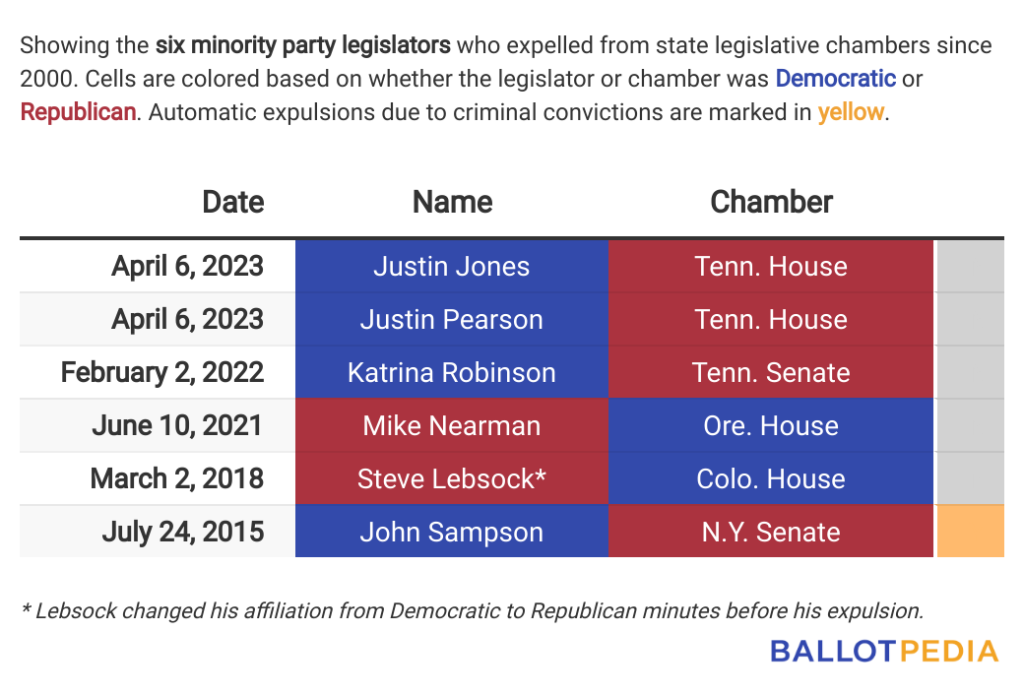 Looking further back, we have found 61 expulsions, in total, between 1837 and 2023. This includes 35 Democrats, 20 Republicans, and six members of the Socialist Party.
Some noteworthy cases include:
John Wilson (D), former Speaker of the Arkansas House, was expelled in 1837 after killing a colleague during a knife fight on the chamber floor;
New York Assemblymen August Claessens, Louis Waldman, Charles Solomon, Samuel Orr, and Samuel DeWitt, all members of the Socialist Party, were expelled in 1920 for alleged disloyalty to the United States. All five were re-elected in special elections, after which the Assembly expelled Claessens, Solomon, and Waldman again.
Sheldon Silver (D), former Speaker of the New York Assembly, was automatically expelled in 2015 after being convicted of federal corruption charges; and,
Larry Householder (R), former Speaker of the Ohio House, was expelled in 2021 after being charged with conspiracy to participate in a racketeering scheme.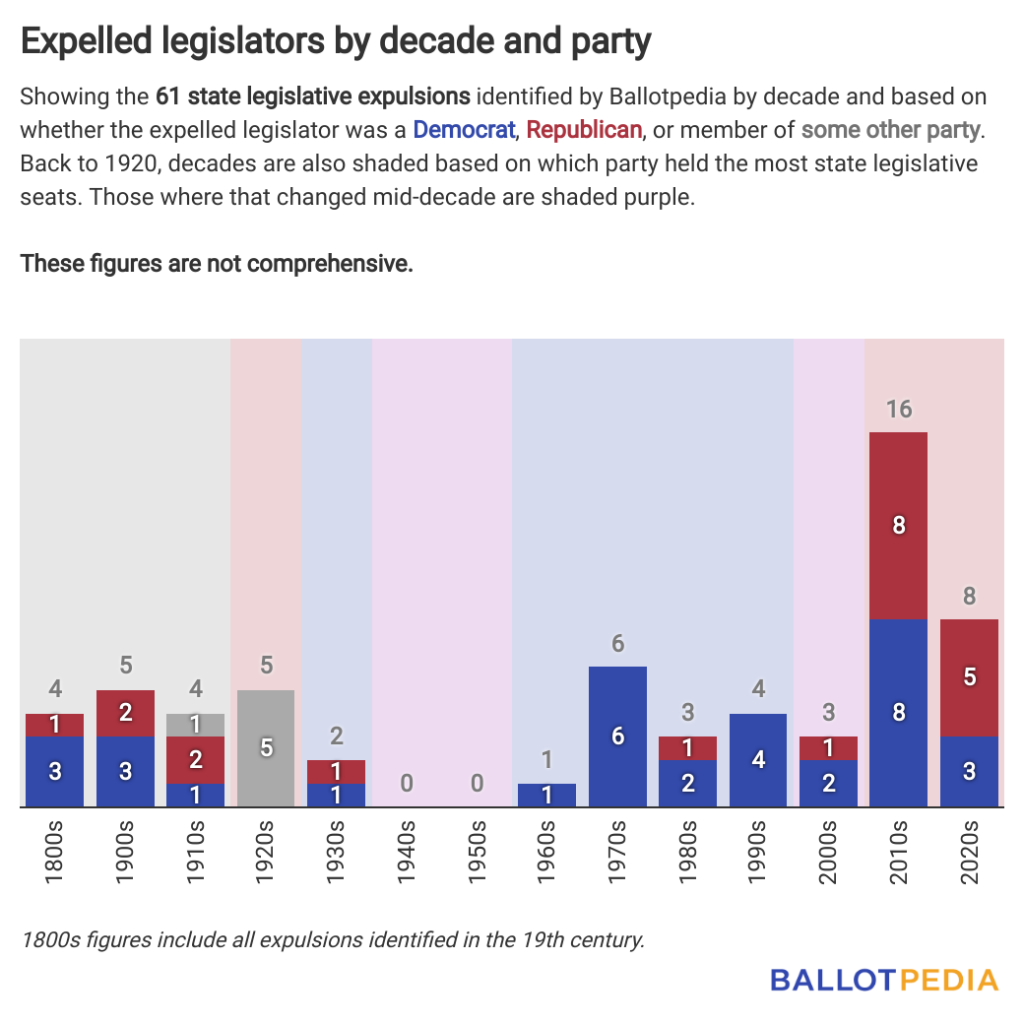 This project is an ongoing effort. If you know of any expulsions we might be missing and would like to help us expand our list, please email us at editor@ballotpedia.org.
---
Last week was the Federal Register's most active this year
Between April 10 and 14, 2,264 pages were added to the Federal Register for a year-to-date total of 22,322 pages. This was the Federal Register's most active week so far this year.
The next-most active week this year was between Jan. 30 and Feb. 3, when 1,836 pages were added. The least active week this year was March 13 to 17, when 1,266 pages were added.
Zooming out, this is the fourth-most active week of Joe Biden's (D) presidency. The most active was July 25 to 29, 2022, with 2,898 pages added.
Looking back over the past five years, the most active week was between Dec. 28 and 31, 2021, at the end of Donald Trump's (R) presidency, with 3,154 pages added.
The Federal Register is a daily journal of federal government activity that includes presidential documents, proposed and final rules, and public notices. It is a common measure of an administration's regulatory activity, accounting for regulatory and deregulatory actions.
President Joe Biden's (D) administration has added an average of 1,555 pages to the Federal Register each week this year. At that rate, the total number of pages would reach more than 79,000 by the end of the year.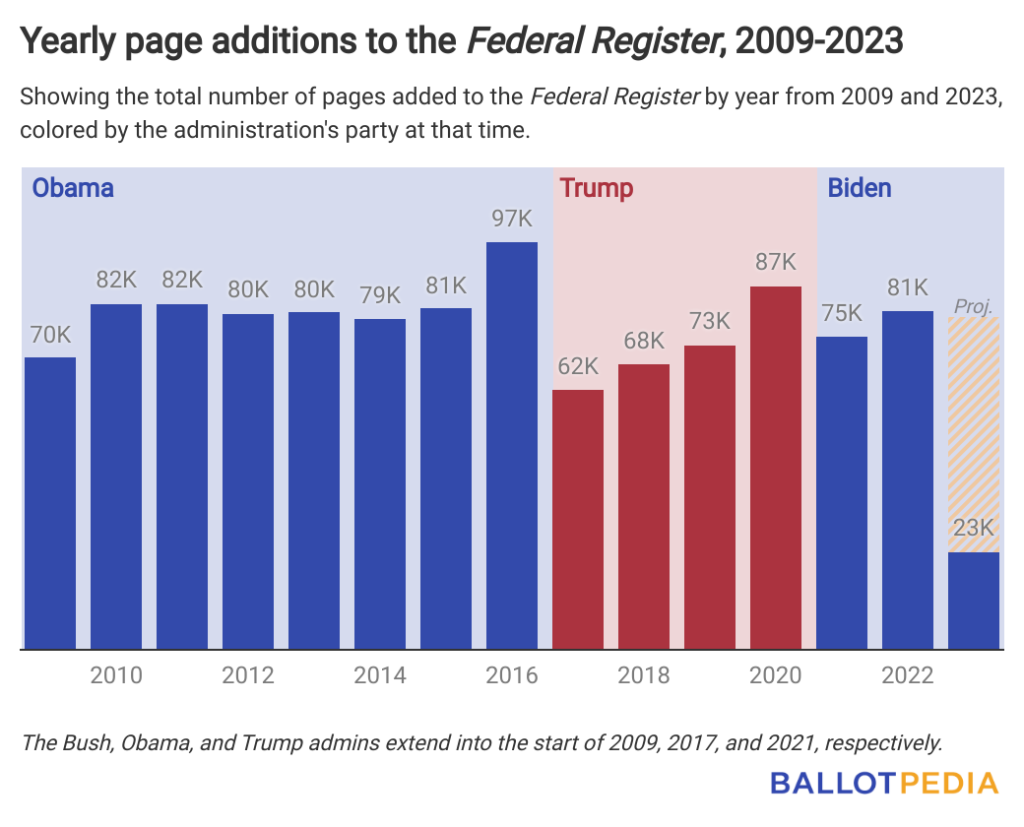 The most recent addition to the Federal Register included 442 notices, five presidential documents, 70 proposed rules, and 71 final rules.
Certain rules are classified as significant, meaning they could have large effects on the economy, environment, public health, or state/local governments.
Some of those significant additions include:
Amendments to lending criteria and affiliation standards for loan programs from the Small Business Administration; and,
Creating a reimbursement program for tribes that incur expenses exercising jurisdiction over non-Natives who commit certain crimes on tribal land from the Department of Justice.
The Biden Administration has issued 119 significant proposed rules, 75 significant final rules, and four significant notices as of April 14.
Ballotpedia maintains page counts and other information about the Federal Register as part of our Administrative State Project. This neutral encyclopedia resource analyzes the administrative state, its philosophical origins, legal precedents, and scholarly examinations. The project also monitors and reports on measures of federal government activity.