As of April 16, Ballotpedia has tracked four election-related bills in the Iowa House of Representatives since the beginning of the year. Of the four, Ballotpedia tracked one from April 10-16. No sponsors are named for this bill. The one bill is below:
IA HSB183: A bill for an act allowing for the use of ranked choice voting in city elections, and including effective date and applicability provisions, no sponsors are named for this bill.

As introduced, this bill establishes that rank choice voting may be used in city elections.
During the week of April 10-16, Ballotpedia tracked 12 House election-related bills nationally. As of April 16, Ballotpedia has tracked 1,364 House bills nationally. Ballotpedia tracked the most House bills this year in the Texas House of Representatives with 183, while Ballotpedia tracked the fewest House bills in the Massachusetts House of Representatives with zero.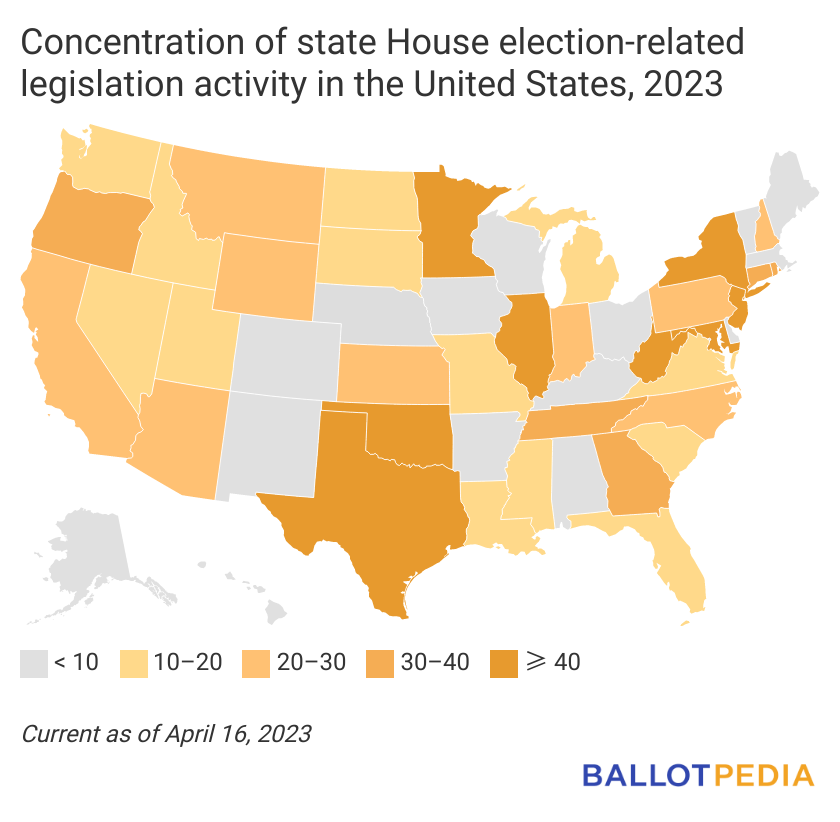 As of April 16, Ballotpedia has tracked 611 House bills in Democratic trifectas and 596 House bills in Republican trifectas. A trifecta is when one political party holds the governorship and majorities in both chambers of the state legislature. Ballotpedia has tracked 157 House bills in states where neither party holds trifecta control. 
The Iowa House is scheduled to be in session from Jan. 9 to April 28 this year. In 2022, Ballotpedia tracked five House bills related to election administration. Zero of these bills passed both chambers. Iowa is a Republican trifecta.
Additional reading: