As of April 16, Ballotpedia has tracked six election-related bills in the Wisconsin State Assembly since the beginning of the year. Of the six, Ballotpedia tracked one from April 10-16. Democrats sponsored the bill. The one bill is below:   
WI AB156: Entering into an agreement among the states to elect the president and vice president of the United States by means of a national popular vote, Assembly Members Clinton Anderson (D), Jimmy Anderson (D), Samba Baldeh (D), Ryan Clancy (D), Sue Conley (D), Alex Joers (D), Darrin Madison (D), Tod Ohnstad (D), Lori Palmeri (D), Melissa Ratcliff (D), Kristina Shelton (D), Christine Sinicki (D), and Lisa Subeck (D) and Sens. Tim Carpenter (D), Dianne Hesselbein (D), Christopher Larson (D), Kelda Roys (D), Mark Spreitzer (D), and Robert Wirch (D).

As introduced, this bill enters Wisconsin into agreement with the National Popular Vote Interstate Compact which will govern the choosing of presidential electors in the state. No later than August 1st of a presidential election year, the election commission will determine whether the compact governs the presidential election and will provide a copy of its decision to the legislative reference bureau to be published in the Wisconsin Administrative Register.
During the week of April 10-16, Ballotpedia tracked 12 House election-related bills nationally. As of April 16, Ballotpedia has tracked 1,364 House bills nationally. Ballotpedia tracked the most House bills this year in the Texas House of Representatives with 183, while Ballotpedia tracked the fewest House bills in the Massachusetts House of Representatives with zero.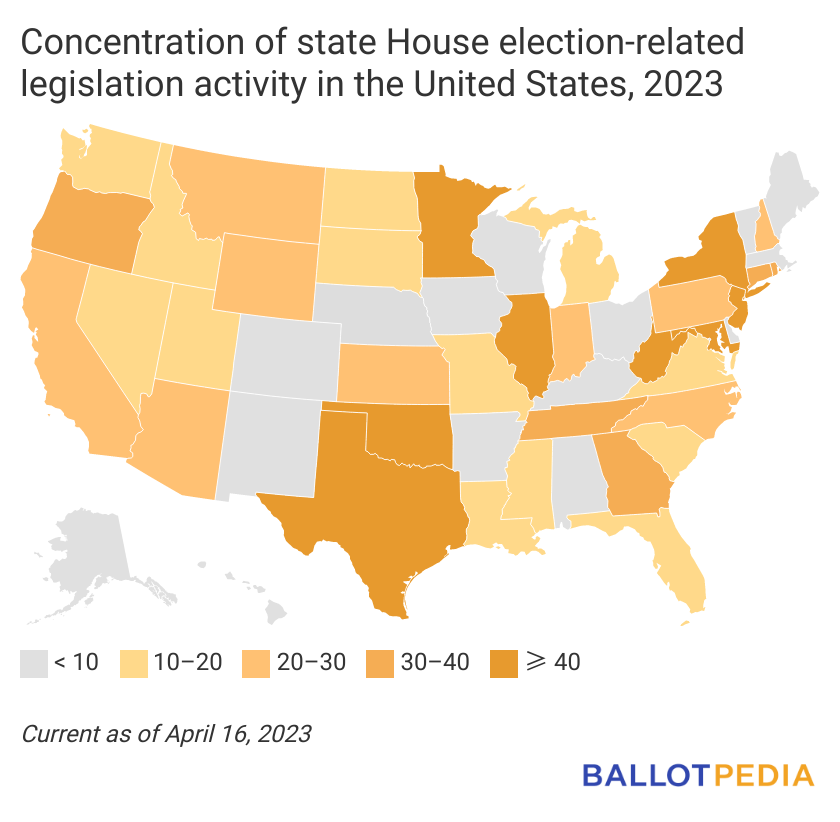 As of April 16, Ballotpedia has tracked 611 House bills in Democratic trifectas and 596 House bills in Republican trifectas. A trifecta is when one political party holds the governorship and majorities in both chambers of the state legislature. Ballotpedia has tracked 157 House bills in states where neither party holds trifecta control.
The Wisconsin Assembly is scheduled to be in session from Jan. 3 to Dec. 31 this year. In 2022, Ballotpedia tracked 45 House bills related to election administration. One of these bills passed both chambers and was enacted into law. Wisconsin is a divided government, meaning neither party holds trifecta control.
Additional reading: