As of April 23, Ballotpedia has tracked 21 election-related bills in the North Carolina House of Representatives since the beginning of the year. Of the 21, Ballotpedia tracked one from April 17-23. Republicans sponsored the bill. The bill is:
NC H641: No Soliciting Certain Funds/Elections Boards, click hyperlinked bill name for list of sponsors. 

As introduced, this bill:

Prohibits solicitation or acceptance of private funds, or anything else of value, for conducting state or local elections.
Defines "election," "person," "public funds."
Directs that all costs associated with state and local elections must be paid with public funds and that a violation is a felony.
Makes conforming changes.
During the week of April 17-23, Ballotpedia tracked 12 House election-related bills nationally. As of April 23, Ballotpedia has tracked 1,379 House bills nationally. Ballotpedia tracked the most House bills this year in the Texas House of Representatives with 182, while Ballotpedia tracked the fewest House bills in Massachusetts and Ohio with one.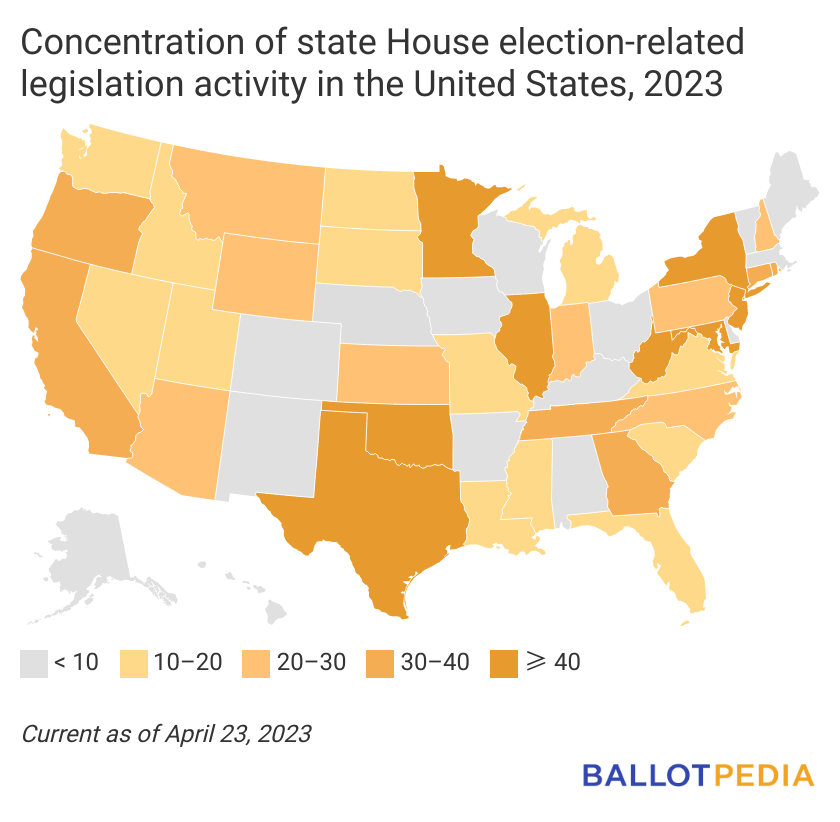 As of April 23, Ballotpedia has tracked 622 House bills in Democratic trifectas and 596 House bills in Republican trifectas. A trifecta is when one political party holds the governorship and majorities in both chambers of the state legislature. Ballotpedia has tracked 161 House bills in states where neither party holds trifecta control.
The North Carolina House is scheduled to be in session from Jan. 11 to Aug. 31 this year. In 2022, Ballotpedia tracked 17 House bills related to election administration. One of these bills passed both chambers, but it was not enacted into law. North Carolina is a divided government, meaning neither party holds trifecta control.
Additional reading: