Twenty-eight state legislative seats up for election in New Jersey this year are open, meaning no incumbents filed to run. This represents 23% of the state's legislature, a decade-high rate of open seats, and a marked increase from previous election cycles.
Newcomers are guaranteed to win all open seats since no incumbents are running for them.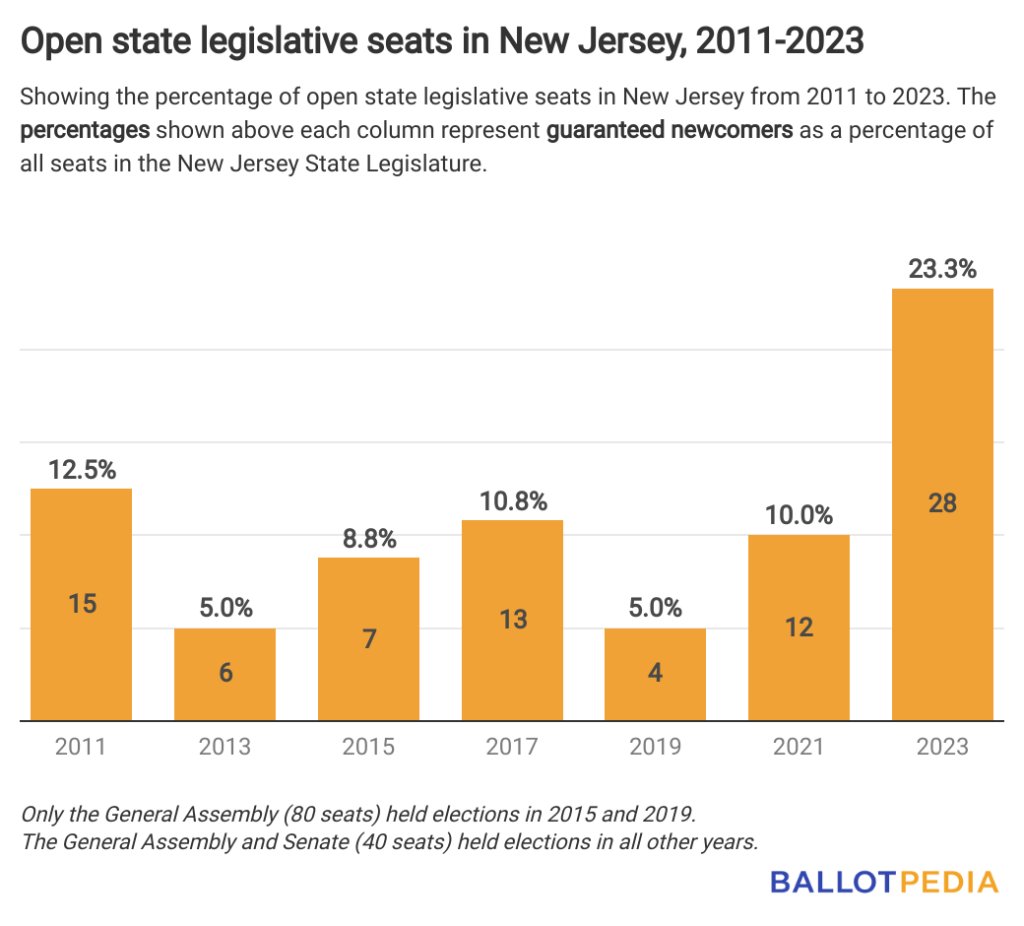 This is New Jersey's first election under new state legislative maps following the 2020 redistricting cycle.
The number of open seats tends to increase after redistricting.
Incumbents may opt against running for re-election because they now live in a district with a different partisan makeup than the one they previously represented or because they now live in a district with another incumbent.
Additionally, an incumbent might run for re-election in a new district, leaving their old seat open.
In New Jersey, three incumbents are running for re-election in new districts.
In the General Assembly, Assms. Brian Bergen (R) and Christian Barranco (R) effectively swapped districts, with Bergen moving from District 25 to District 26 and vice versa for Barranco.
In the Senate, Sen. Nia Gill (D) is running in District 27, leaving her current District 34 seat open. Gill will face incumbent District 27 Sen. Richard Codey (D) in a Democratic primary.
This year, 255 major party candidates filed to run for the state's 80 General Assembly and 40 Senate seats: 134 Democrats and 121 Republicans.
New Jersey has had a Democratic trifecta since the party won the governorship in 2017. Democrats hold a 45-34 majority in the General Assembly, with one vacancy, and a 25-15 majority in the Senate.
New Jersey will hold its state legislative primaries on June 6, the first state legislative primary date of the 2023 election cycle.
Additional reading: