Forty-five state legislative districts holding elections in Virginia this year are open, meaning no incumbents filed to run. This represents 32% of the state's General Assembly, a decade-high rate of open districts, and a marked increase from previous election cycles.
Newcomers are guaranteed to win all open districts since no incumbents are running for them.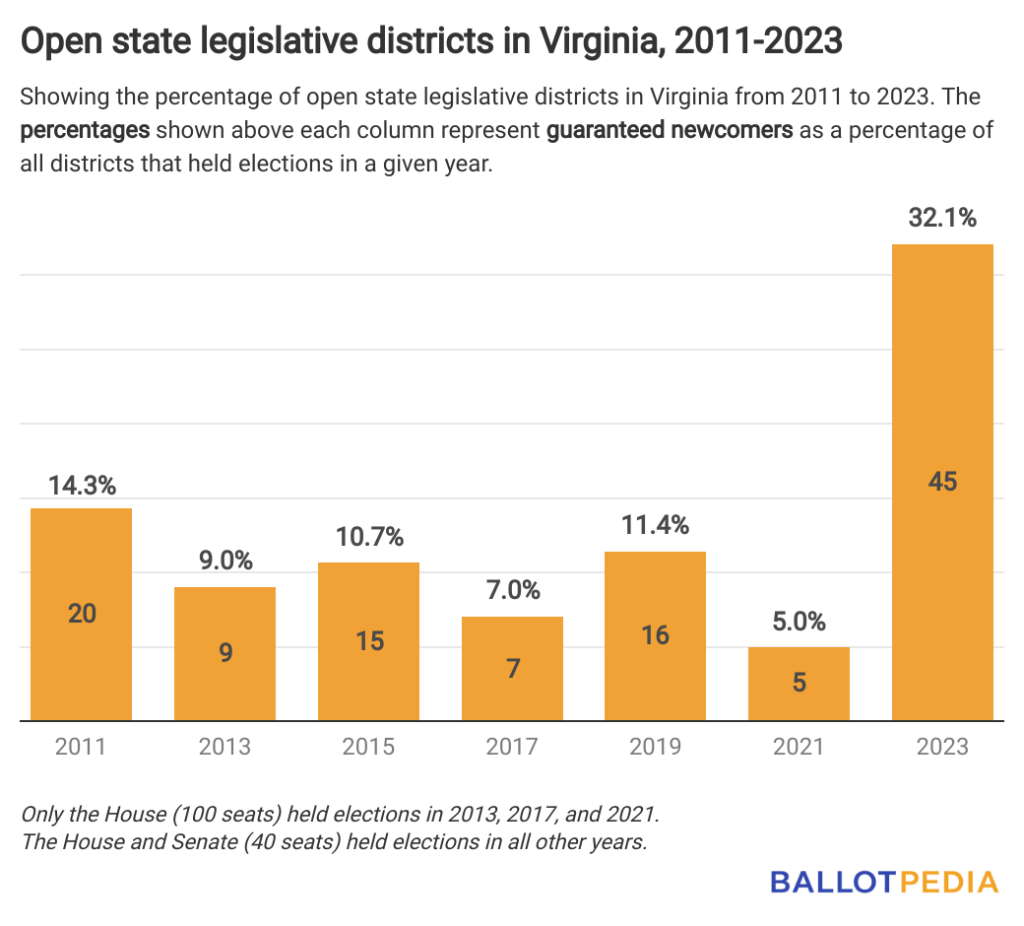 This is Virginia's first election under new state legislative maps following the 2020 redistricting cycle. The number of open districts tends to increase after redistricting.
Incumbents may opt against running for re-election because they now live in a district with a different partisan makeup than the one they previously represented or because they now live in a district with another incumbent.
Almost all of the 45 open districts are due to retiring incumbents: 22 Democrats and 21 Republicans are not running for re-election to their current districts. Virginia does not have state legislative term limits.
But redistricting can also result in open districts when an incumbent does run for re-election, but in a new district against another incumbent, leaving their old district open.
Two districts are holding incumbent v. incumbent primaries this year:
House District 47, with a Republican primary between Reps. Marie March (R) and Wren Williams (R); and,
Senate District 18, with a Democratic primary between Sens. Louise Lucas (D) and Lionell Spruill (D).
In addition to the increase in open districts, other competitiveness metrics—like the number of contested primaries—increased compared to previous election cycles.
A contested primary is one where more candidates are running than available nominations, meaning at least one candidate must lose.
This year, there are 47 contested primaries, representing 20.9% of all possible primaries, up 6.5 percentage points from 2021.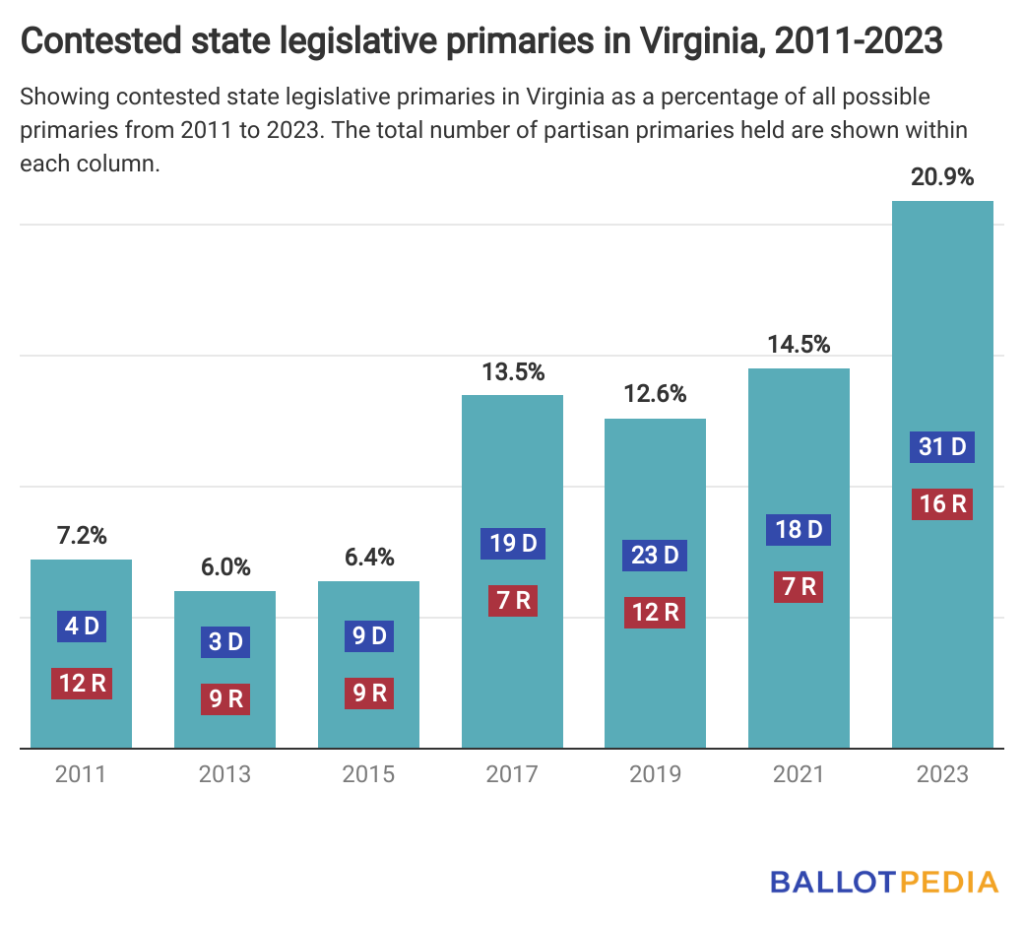 Ballotpedia calculates a legislature's contested primaries percentage by dividing the number of contested primaries by the number of possible primaries. Typically there are two possible primaries per district, one for Democrats and one for Republicans.
But Virginia is unique in that it is the only state where parties can decide not to hold a primary and select their candidates via nominating contests like conventions instead.
Ballotpedia does not count non-primary nominating contests when calculating total or possible primaries, so the more non-primary nominating contests held, the fewer possible primaries there are.
This year, Ballotpedia has identified 55 districts holding non-primary nominating contests, all for Republicans.
Since all 100 House and 40 Senate districts are up for election this year, there could be 280 possible primaries. But, with those 55 non-primary nominating contests, that total drops to 225.
Overall, 279 major party candidates are running for state legislative offices: 154 Democrats and 125 Republicans.
Virginia has had a divided government since Republicans won the governorship and the House in 2021. Republicans currently hold a 51-46 majority in the House with three vacancies. Democrats hold a 22-18 majority in the Senate.
Virginia will hold its state legislative primaries on June 20, the second state legislative primary date of the 2023 election cycle.
Additional reading: