Welcome to the Wednesday, May 3, Brew.
Here's what's in store for you as you start your day:
Texas Senate advances amendments regarding relationship between parents, children, and educators
How 2023's recall efforts stack up to previous years
Biden ends April with 43% approval rating, same as last month
---
Texas Senate advances amendments regarding relationship between parents, children, and educators
Texas voters may decide two constitutional amendments regarding the relationship between parents, children, and educators come November.
The Texas Senate recently approved Senate Joint Resolutions 29 (SJR 29) and 70 (SJR 70), described by proponents as parental rights amendments, which are now pending before the House. If approved, they will appear on the November ballot.
Proposed amendments must receive a two-thirds vote in each legislative chamber before heading to the ballot for a public vote. That equals 21 votes in the Senate.
SJR 29 would establish a state constitutional right for parents to direct their children's education, access public school teaching materials, attend school board meetings, and access the child's student health records.

The Republican Party of Texas, Texas Home School Coalition, and Texas Private Schools Association support the amendment.
The Texas NAACP, Texas State Teachers Association, and Texas AFL-CIO oppose it.
SJR 29 passed the Senate 21-10, with two Democrats joining 19 Republicans to clear the two-thirds threshold required for approval of constitutional amendments.
SJR 70 would establish a state constitutional right for parents to exercise care, control, and custody of their child, including decisions regarding education, moral and religious training, and healthcare.

Sen. Bryan Hughes (R), the amendment's sponsor, said SJR 70 would "ensure the longevity of these rights by taking them from case law, which can change … at any time, and adding them to the Texas Constitution."
The Texas Parent-Teacher Association opposes the amendment.
SJR 70 passed 28-3, with all but three Democrats voting in favor.
Republicans control both chambers, but not with veto-proof majorities. This means any proposed constitutional amendment must also receive support from Democrats.
This means in the House, where an amendment needs 100 votes to pass, at least 14 Democrats must join the chamber's 86 Republicans in order to place these amendments on the November ballot.
Officials have not yet scheduled the next steps for these proposals, but they will move to a House committee before facing a full floor vote. The legislative session ends on May 29.
In 1996, voters in Colorado rejected an amendment that would have specified "that parents have the right to direct and control the upbringing, education, values, and discipline of their children." The measure failed 58% to 42%.
---
How 2023's recall efforts stack up to previous years
With four full months down in 2023, we have identified 149 recall efforts nationwide.
We will be bringing you our mid-year recall report in June, but here's a sneak peek at where things stand right now compared to recent years.
With 149 recall efforts, this year is already outpacing the total number of recall efforts we identified at the mid-year points in 2019 and 2020. But our current year-to-date total is still lower than where things stood halfway through 2021 and 2022, the two most-active years for recalls in more than a decade.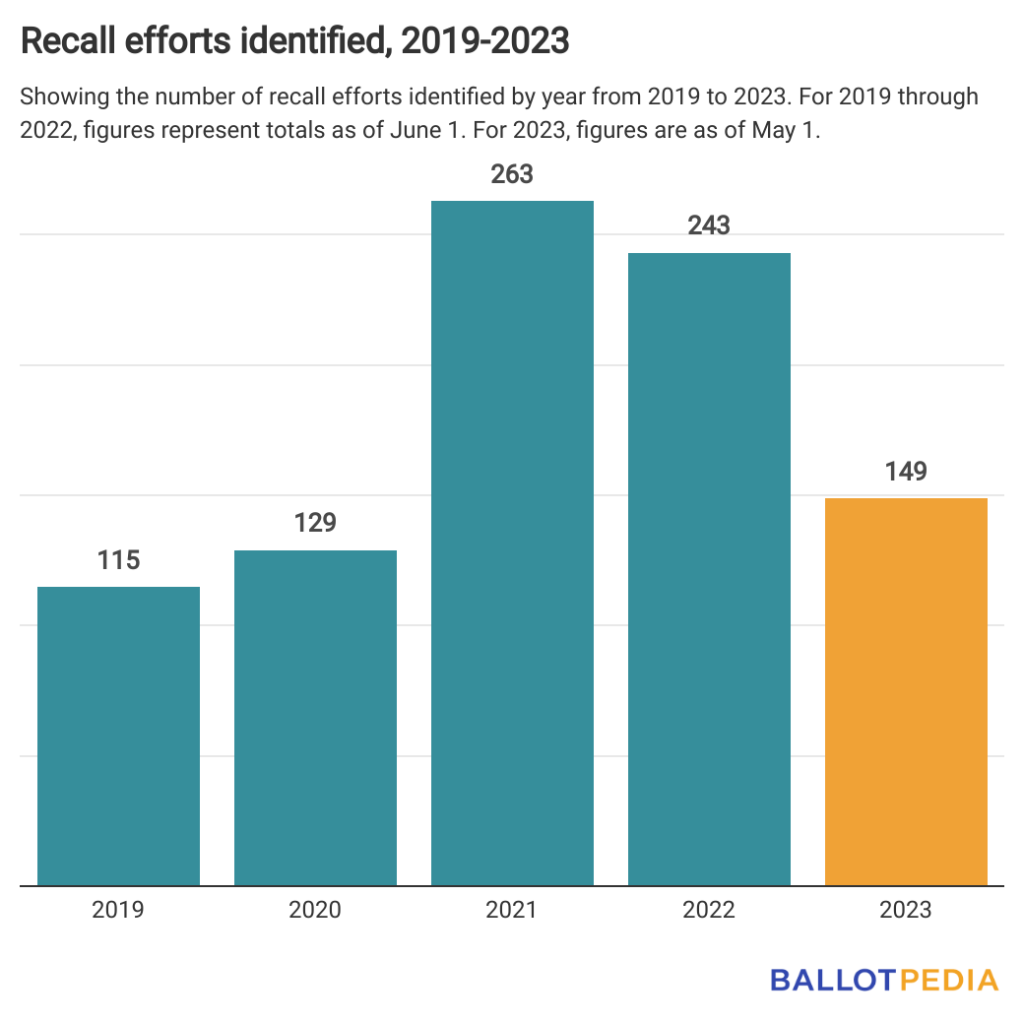 In terms of who voters are trying to recall this year, there has been a greater focus on city officials—like mayors and city councilors—who make up 70% (104) of all recall efforts so far.
Since 2019, city officials have tended to be the primary focus of most recall efforts. That changed in 2021 when school board members made up the most recall efforts at the mid-year point at 48% (126). The following year, school board recall efforts remained elevated, but 2023 has a more typical rate of school board recall efforts at 21% (32).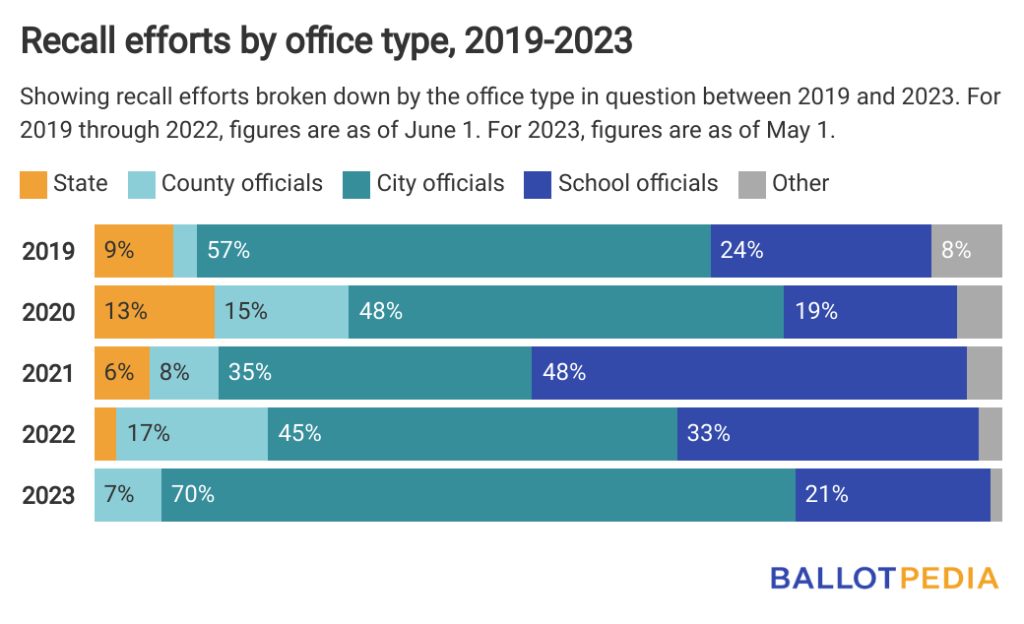 Around 62% of this year's recall efforts are still pending, meaning organizers are either gathering signatures to place a recall on the ballot (76) or officials have scheduled a recall for an upcoming election (17). These totals are all fairly common compared to the mid-year point in recent years.
But, by the end of the year, most recall efforts typically fail to make the ballot. Between 2019 and 2023, more than half of every effort initiated failed to qualify. This is often because recall supporters failed to gather the required number of signatures in time.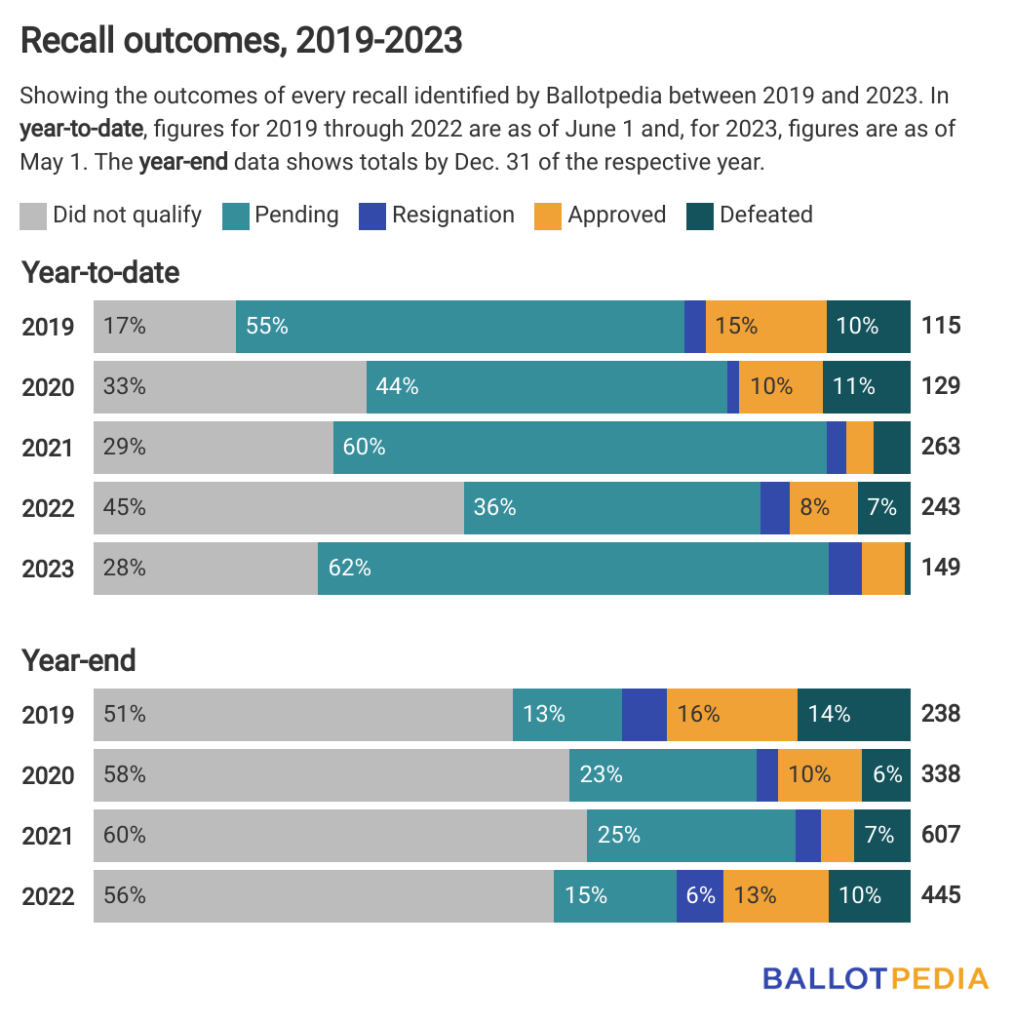 It's not uncommon for officeholders who are facing recall efforts to resign ahead of time. That's already happened six times this year but ultimately tends to account for anywhere between 3% and 6% of all recall efforts in a given year.
Only 6% of this year's recall efforts (9) have been decided. That's somewhat similar to the 8% (21) that had already gone to a vote halfway through 2021 but much lower than what we've seen in other recent years as of June 1, which have ranged from 15% to 25%.
Of the nine recalls that have already taken place this year, voters approved 89%, removing eight people from office. This is a comparatively high approval percentage compared to recent years but from a smaller sample, one that may increase as more recalls make it onto the ballot
While 2021 was the most-active year in terms of the total number of recall efforts initiated, voters approved only 43% of those that made the ballot by the mid-year point. Similar to this year, in 2019 and 2022, voters had approved a majority of recalls at this point.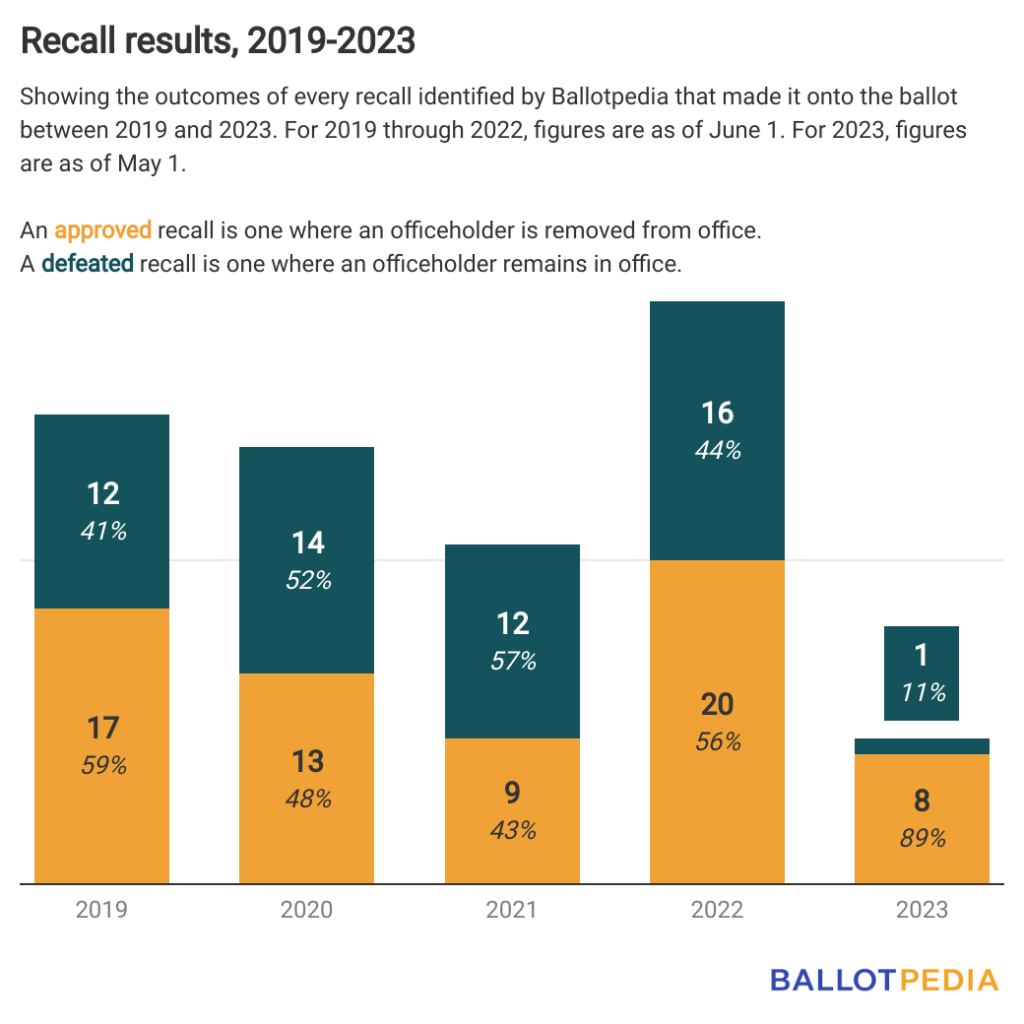 Click on the link below to learn more about every recall effort Ballotpedia has identified to date.
---
Biden ends April with 43% approval rating, same as last month
At the end of April, polling averages showed President Joe Biden (D) with a 43% approval rating. Fifty-three percent of voters disapproved of his performance.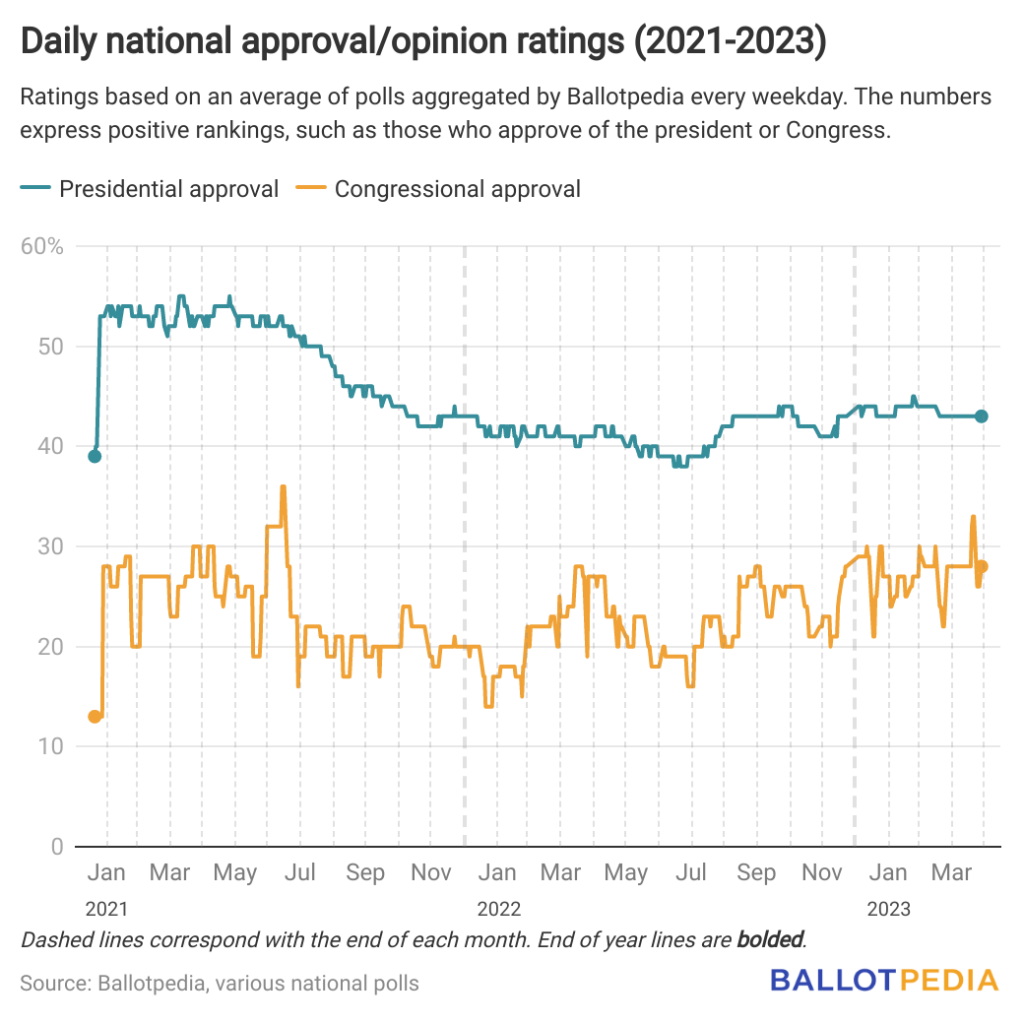 At 43%, Biden's approval rating at the end of the month remains unchanged from the end of March.
Biden's lowest approval rating was 38% on July 27, 2022. His highest was 55% on May 26, 2021.
Congressional approval ratings fluctuated between 26% and 33% throughout April, ending at 28%, the same rating at the end of March.
The lowest approval rating for the 118th Congress, which began last January, was 21% on Jan. 18. Its highest approval rating was 33% on April 20 and 21.
At this point in former President Donald Trump's (R) administration, presidential approval was also at 43%, and congressional approval was seven points lower at 21%.
We calculate these approval figures every weekday by taking an average of polls conducted over the preceding 30 days. In addition to the average, we show every poll included in our calculations side-by-side to paint a clearer picture of public opinion than one individual poll can provide.