Welcome to the Thursday, May 4, Brew.
By: Juan Garcia de Paredes
In a political galaxy far, far away, a team of dedicated researchers and writers toiled to provide their readers with unbiased information on elections, politics, and policy…
Here's what's in store for you as you start your day:
States consider 24 bills related to private funding of elections so far in 2023, down from 40 at this point in 2022
Florida marijuana legalization initiative has 94% of signatures needed to appear on 2024 ballot
President Joe Biden issues four executive orders in April, bringing his total to 113
…and May the 4th be with you! Brush up on some of the most important but lesser known galactic influencers in the Star Wars universe.
States consider 24 bills related to private funding of elections so far in 2023, down from 40 at this point in 2022
This year, Ballotpedia's Election Administration Legislation Tracker has followed 24 bills related to the private funding of election administration, down from 40 at this point in 2022. Republican legislators sponsored 21 of the bills, while Democratic legislators sponsored one. Two bills in Oregon were introduced without legislative sponsorship at the request of the Democratic secretary of state.
Private funding of elections refers to the practice of non-governmental entities providing funds for election administration efforts and expenses. In 2022, state legislatures considered 67 bills related to this practice.
Of the 21 bills Republicans sponsored this year, 20 aimed to introduce new restrictions or amend existing ones on non-governmental entities funding election administration. One, Minnesota's SF905, would require that parties requesting post-election audits cover the audit's cost.
Twenty-four states have enacted legislation restricting the use of private funds in election administration since 2021, including 21 of the 28 states where Republicans currently control both legislative chambers. The seven Republican-controlled legislatures that have not done so are Iowa, Louisiana, Montana, New Hampshire, North Carolina, and Wisconsin. Montana, Louisiana, and North Carolina are currently considering such legislation.
In Louisiana, HB311 would place a measure on the October 14, 2023, ballot asking voters to decide whether to prohibit the use of private funding for election administration. In North Carolina, H641 would direct that all costs associated with state and local elections must be paid for with public funds. In Montana, SB117 would prohibit soliciting or accepting funds from an individual or corporation to fund election administration. SB117 passed both legislative chambers and was sent to Gov. Greg Gianforte (R) on April 24.
Montana has a Republican governor, while Louisiana and North Carolina have Democratic governors.
Separately, Wisconsin passed SJR101 in 2021, a proposed constitutional amendment that would prohibit using private funds for election administration. To amend Wisconsin's constitution, a measure must be adopted in two successive legislative sessions, and the state's electorate must subsequently ratify it. As of May 2, SJR101 has not been introduced for second consideration.
Six of the bills considered so far this year aimed to amend private funding legislation enacted over the last two years. In Arkansas and Georgia, (SB255) and (SB222) expand the definition of elections officials prohibited from accepting funds or donations from non-state entities, while a bill in Mississippi would have clarified that all "expenses relating to conducting elections shall be paid for with public funds." Arkansas Gov. Sarah Huckabee Sanders (R) signed SB255 into law on March 24, 2023, while the Georgia Legislature sent SB222 to Gov. Brian Kemp (R) for his approval on April 5.
Twenty of the 24 states that have enacted legislation restricting the use of private funds for election administration had Republican trifectas at the time of enactment. Of the remaining four, three had Republican-controlled legislatures and Democratic governors, while in Virginia, Democrats controlled the Senate, and Republicans controlled the House of Delegates and the governorship.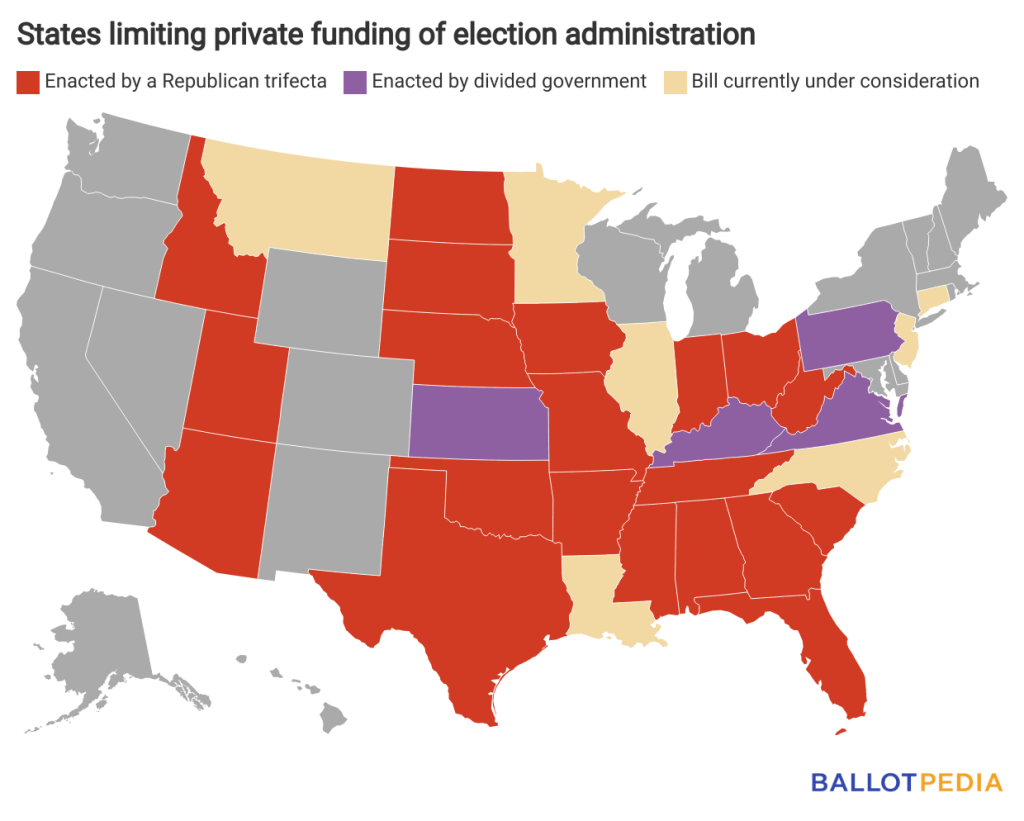 The Democratic-sponsored bill, Illinois's SB2555, would allow residents to contribute to an Election Integrity Fund. The proceeds would be used for all required election audit expenses. The two bills introduced in Oregon direct the secretary of state to conduct studies on election funding and make recommendations by September 15, 2024.
In the run-up to the November 3, 2020, general election, Facebook CEO Mark Zuckerberg and his wife, Dr. Priscilla Chan, donated a total of $350 million to the Center for Tech and Civic Life (CTCL) and $50 million to the Center for Election Innovation and Research (CEIR) to fund election administration efforts. Those donations led to much of the legislative activity surrounding the practice.
Florida marijuana legalization initiative has 94% of signatures needed to appear on 2024 ballot
Smart & Safe Florida, a campaign supporting a ballot initiative to legalize marijuana in Florida, has collected 841,130 valid signatures, 94% of the 891,523 valid signatures needed to be placed on the ballot in 2024.
The initiative would legalize marijuana for adults 21 years old and older. Individuals would be allowed to possess up to three ounces of marijuana (about 85 grams), with up to five grams in the form of concentrate. Existing Medical Marijuana Treatment Centers would be authorized under the initiative to sell marijuana to adults for personal use. The Florida Legislature could, by state law, license entities other than existing Medical Marijuana Treatment Centers to cultivate and sell marijuana products.
As of May 2023, 21 states and Washington, D.C., have legalized the possession and personal use of marijuana for recreational purposes. In seven states, bills to legalize marijuana have been enacted. In 15 states and Washington, D.C., voters approved ballot measures to legalize recreational marijuana for adult use. The average yes vote was 57.86%, and the average no vote was 42.21%, with an average margin of victory of 15.65%.
Initiatives in Ohio and Nebraska are currently collecting signatures to appear on the 2023 and 2024 ballots, respectively. Voters in Oklahoma defeated a measure to legalize recreational marijuana in March.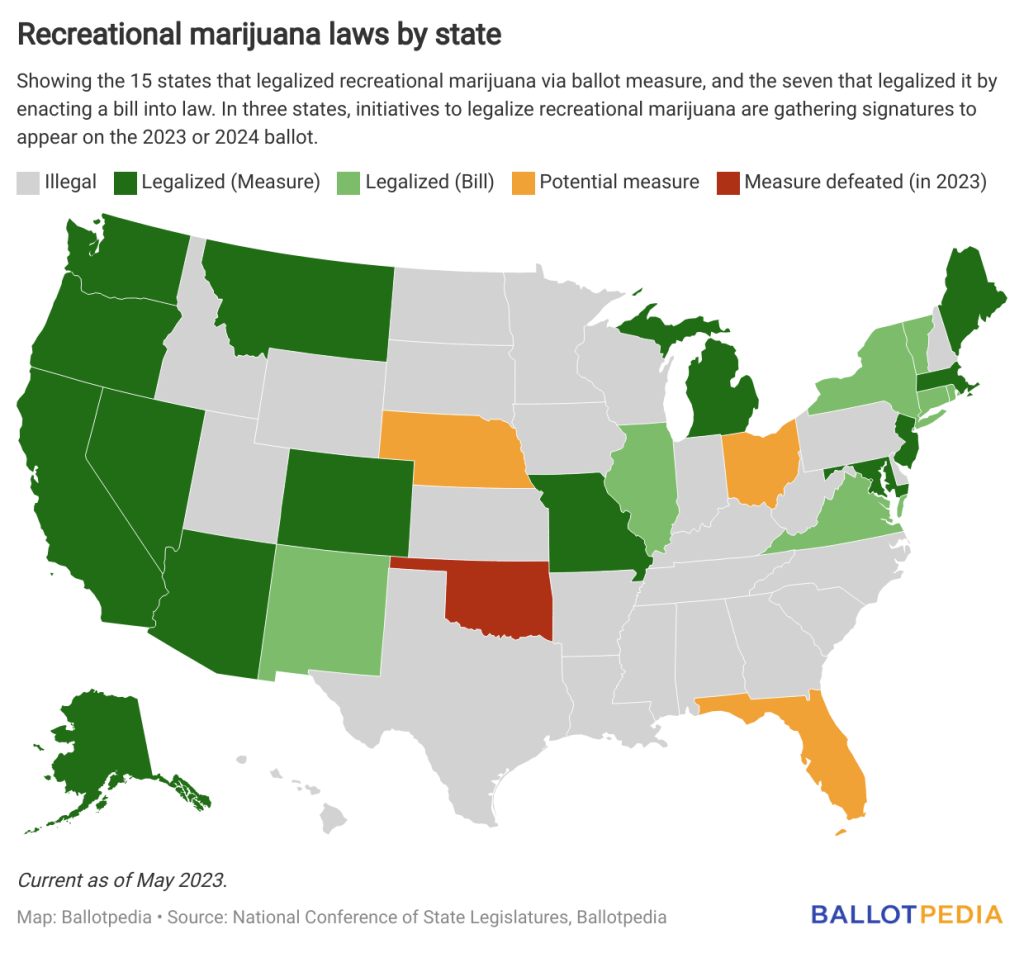 Of the 15 approved marijuana legalization ballot measures, four received a vote of approval of 60% or higher. The measure with the highest margin of victory was Washington, D.C.'s 2014 initiative, which was approved by a vote of 70.06% to 29.94% for a margin of victory of 40.12%. The measure with the lowest margin of victory was Maine's 2016 initiative, which was approved by a vote of 50.26% to 49.74% for a margin of victory of 0.52%.
The Florida initiative was cleared for signature gathering on Aug. 23, 2022. Since then, the campaign has collected an average of 23,360 valid signatures each week.
According to Florida law, the signatures must be collected from at least half (14) of the state's 28 congressional districts, and they must equal at least 8% of the district-wide vote in the last presidential election. So far, the signature distribution requirement has been met in 12 districts. The campaign has collected 99.86% of the signatures needed in District 5, which includes Duval and St. Johns counties, and 88.97% of the required signatures in District 13, which includes Pinellas County. The campaign will likely meet those districts' distribution requirements after the next monthly signature update.
The campaign has raised $30.5 million, all from Trulieve Cannabis Corp., a marijuana business that operates in several states, including Florida. The campaign has spent $27.42 per valid signature collected so far. According to campaign reports covering information through March 31, 2023, Smart and Safe Florida had paid $23.07 million to Axiom Strategies and Vanguard Field Strategies for signature gathering.
This cost is 463% more expensive than the average cost of signature drives in Florida in 2016, which was $4.1 million. The cost of running successful initiative signature drives in Florida was $4.6 million in 2018 and $6.7 million in 2020. No initiatives qualified for the Florida ballot in 2022. In four states with marijuana legalization initiatives in 2022, signature drives cost between $68,000 and $3.66 million.
Across all states with an initiative process, the average cost of a petition drive increased 297% from $1.03 million in 2016 to $4.09 million in 2022. The average cost-per-required signature increased from $6.93 to $12.70 in that time span.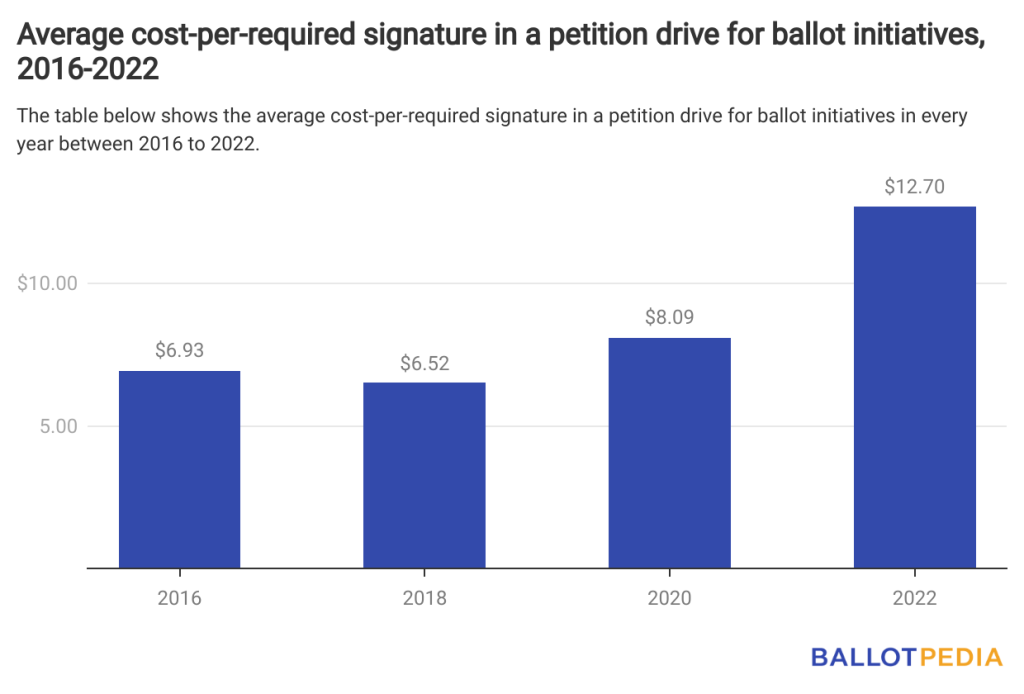 Voters in Florida legalized medical marijuana through a ballot initiative in 2016, which was approved by a vote of 71.32% in favor and 28.68% opposed. To pass a constitutional amendment in Florida, a supermajority of 60% is required. This requirement was added to the state constitution through voter approval of Amendment 3 in 2006. Since then, nine constitutional amendments, including a 2014 medical marijuana initiative, received a majority of votes in favor but failed to meet the 60% threshold, resulting in their defeat.
President Joe Biden issues four executive orders in April, bringing his total to 113
President Joe Biden (D) issued four executive orders in April, bringing his term total number to 113.
The four orders he issued last month were:
Biden issued 25 executive orders in January 2021, more than any other month of his presidency. He did not issue any executive orders in November 2022 and January 2023.
Biden is averaging 48 executive orders per year, tied with Ronald Reagan (R) for second-most among presidents since 1981. Donald Trump (R) averaged 55 executive orders per year, the most in that time. Obama (D) averaged 35 per year, the fewest in that time.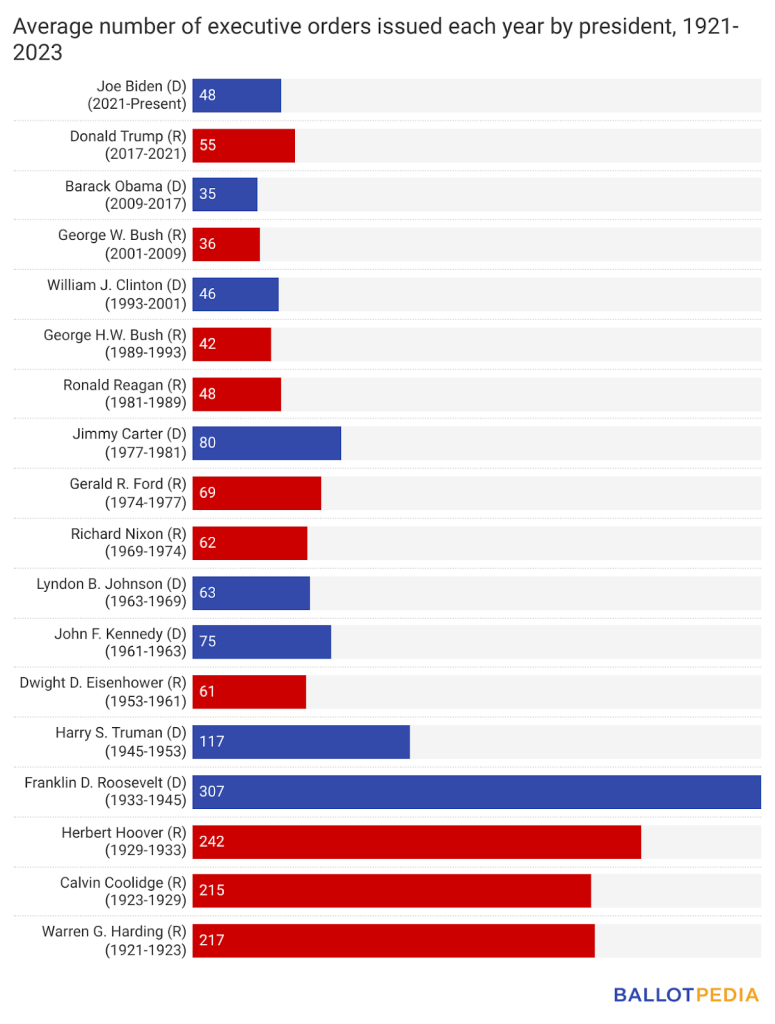 Franklin D. Roosevelt (D) issued 307 executive orders per year on average, the most of all U.S. presidents. William Henry Harrison (Whig) averaged the fewest, issuing none during his one month in office. Three presidents issued only one executive order each: James Madison (Democratic-Republican), James Monroe (Democratic-Republican), and John Adams (Federalist).